2014 World Equestrian Games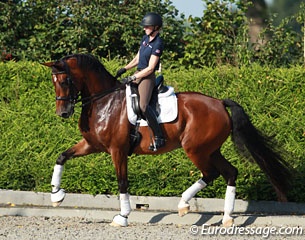 The United State WEG short listed riders have been building up towards team selection for the 2014 World Equestrian Games at Rob van Puijenbroek's gorgeous brood farm De Begijnhoeve in Belgium right after  the 2014 U.S. Dressage Championships in June.  With the U.S. WEG team announced on 14 August the group of riders has slimmed down from 8 to 5, the 4 team members and traveling reserve. Time for us to pay a visit to Retie, Belgium, a stone's throw away from Eurodressage head quarters.
The weather in Europe in August has been quite autumny. Although it hasn't really been cold, rain showers have been dampening the ruling summer spirit, yet everyone is positive and praying for nice weather at the World Equestrian Games next week. Arriving at Begijnhoeve at 9 AM on Saturday morning 16 August, I met with a clear blue sky and beautiful sunny morning weather while Laura Graves and Verdades were already in full action in the outdoor arena, practising her freestyle.
Team coach Robert Dover and U.S. Dressage Director Jenny van Wieren-Page are on hand in the WEG Training Camp to assist the riders in all their needs, training and co-ordination wise. Dover coached and motived Graves extensively, whereas team routinier Steffen Peters and Legolas only needed a few words of support and direction. Adrienne Lyle opted to ride indoors and practised the walk as well as getting her horse sharp to the aids and harmonious in the passage work. "We want a horse that bubbles with enthusiasm," coach Dover said to inspire and guide Lyle. Tina Konyot started her work-out on Calecto outdoors but had to move inside into the cathedral-like indoor arena with tall windows where her ride continued. Team alternate Shelly Francis and Doktor rode simultaneously with Konyot and wrapped up the morning training sessions.
Check out a selection of photos Eurodressage took at the U.S. WEG Training Camp.
Text and Photos © Astrid Appels - No Reproduction allowed!
Related Links
U.S. Team Holds Pre-WEG Training Camp at De Begijnhoeve in Belgium
2014 U.S WEG Short Listed Riders Announced for European Training Camp
American Team Selected for 2014 World Equestrian Games