2014 Bundeschampionate Qualifier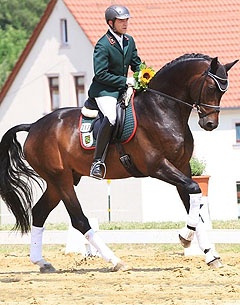 The 5-year old Furstenstern and the 6-year old Quenzel were the winners of the Bundeschampionate qualification classes at the Saxonian regional show in Burgstädt, Germany, on 6 July 2014. The classes were judged by Elke Ebert, Dieter Krull and Lieselotte Beyer, and Dieter Haubold switched with Beyer for the 6-year old class.
In the 5-year old division Kay Pawlowska and the Hanoverian stallion Furstenstern (by Furst Romancier x Dacaprio) topped the leader board with an 8.1 total. The pair got 8.5 for walk, trot, canter, 7.5 for submission and 8.0 for general impression. Pawlowska also covered second place aboard the German Sport Horse stallion Rossinimo (by Rosenstein x Florestan) with 8.0. This horse earned 8.5 for trot and canter, 7.5 for walk and submission and 8.0 for general impression
In the smaller 6-year old division, which had only six entries, Manuela Schmitt steered her German Sport Horse stallion Quenzel (by Quaterback x Londonderry) to victory with a 7.7 total score, which did not suffice to qualify for Warendorf. The pair got 8 for trot and submission, and 7.5 for walk, canter and general impression. Mike Kendzierske and the Hanoverian stallion Laudon (by Lauries Crusador xx x Donnerhall) finished in second place with 8.6. He got 8 for walk and trot, 8.5 for canter, 7 for submission and 7.5 for general impression.
Results - 2014 Bundeschampionate Qualifier - Burgstädt
5-year olds
1. Fürstenstern (by Fürst Romancier x Dacaprio) - Pawlowska,Kay  -  8.10 
2. Rossinimo (by Rosenstein x Florestan) - Pawlowska,Kay  -  8.00  
3. Quick leg (by Quaterman I x Samba Hit I) - Voigtländer,Pia-Katharina  - 7.70
4. Sally (by Don Romantic x Sandro Hit) - Teute,Antje  -   7.60  
5. Löwenherz  (by Locksley II x Rodgau) - Weber,Rene  -    7.40   
6. Father's Joe (by Florencio I x De Niro) - Hannöver,Iris  -  7.30   
7. Sarotti (by Sancisco x Dream of Heidelberg II) - Bottesi,Laura  - 7.00   
8. Rafinesse (by Simonetti x Rittersport) - Röhlig,Jasmin -  6.80   
9. Surprise (by Simonetti x Lord Swiss) - Anton-Eger,Romy -  6.70   
9. Sine Nobilitate AV (by Sarkozy x Metternich) - Vos,Franziska -  6.70   
11. Wyat (by Wolkenball x De Niro) - Clauß,Heiko - 6.20
6-year olds
1. Quenzel (by Quaterback x Londonderry) - Schmitt,Manuela  -  7.70 
2. Laudon (by Lauries Crusador xx x Donnerhall) - Kendzierske,Mike  - 7.60   
3. Quadriga's San Primero (by San Amour x Donnerhall) - Puschmann,Stefan  -  7.50  
4. Istergold (by Donauzauber x Saint Cloud) - Voigtländer,Pia-Katharina  -  7.10  
5. Frido (by Faustinus x Jazz Time) - Güssow,Nadine  -7.00   
5. Arielle (by London Swing x Anduc) - Singh-Weber,Anika  - 7.00
Related Link
Eurodressage Coverage of the 2014 Bundeschampionate