Trakehner Foal Auction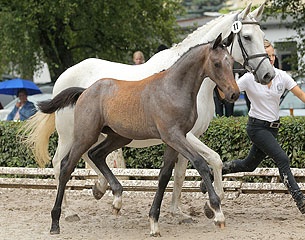 Estella became the price highlight of the Trakehner foal Auction held at the 2014 Trakehner Championships in Hanover, Germany, on Saturday 26 July 2015. Fifteen foals in total were auctioned and they achieved a strong average price of 10,313 euro.
Estella (by Guardian out of Eisköniging (by Trocadero) was the top seller. The grey filly sold for 20,000 euro to Austria.
Twelve colts and three fillies were up for auction, eight sold for over 10,000 euro! The second most expensive foal was colt Hermes (by Millennium x Le Rouge) which sold for 16,500 euro. A client from Sachsen-Anhalt acquired this dressage prospect.
The colt In Step (by Schwarzgold x Buddenbrock) moves to Bavaria for 16,000 euro and colt Portofino (by Singolo x Herzruf) sold to the same area for 15,000 euro. 
Austrian clients paid 14,000 euro for Eldino (by Easton x Benz).
Related Links
Standing O' Vation, Top Seller at the 2013 Trakehner Elite Sport Horse and Foal Auction
Pleasure, Price Highlight of the 2012 Trakehner Foal Auction
Tudor, Top Selling Foal at 2011 Trakehner Foal Auction in Hanover