2014 U.S. Dressage Championships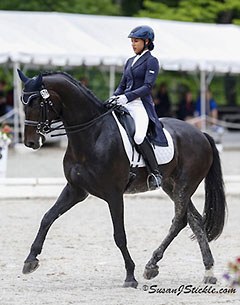 Drastic changes in weather proved to be the theme of the second day of the 2014 U.S. Dressage Championships as Young Rider, Junior, Pony Rider, and Intermediaire I competition was all on tap at the USET Foundation Headquarters, until thunderstorms cut the day short. Friday began with Young Riders and Juniors performing their respective Team Tests in deluges of rain and then, following the lunch break, rain was replaced with sunny skies for the Pony Rider Team tests.
However, the pleasant conditions did not hold for long as storms rolled back in after the first Intermediaire I test of the day, leading to the remainder of Small Tour competitions being delayed until Saturday morning.
In the Young Rider Championship Anna Buffini and Sundayboy seized the early lead with an impressive performance in the Young Rider Team Test, while in the Junior Championship, Allison Cyprus and Madoc Gareth proved unbeatable on Friday. Katrina Sadis and Poldy  produced an impressive effort to win the first test of the Pony Championship.
Young Rider Championship
The soggy conditions did little to deter the field of 10 combinations in the Young Rider Championship, as they kicked off Friday's competition by earning the first half of their weekend total in the Young Rider Team Test.
As the penultimate combination came down centerline in Young Rider competition, Buffini (Escondido, Calif.) and her own 15-year-old Dutch Warmblood performed an expressive and accurate test. The pair demonstrated why they have been dominating competitions on the West Coast as they scored 72.105% to finish nearly four points ahead of the second-placed combination.
"It was an absolutely amazing experience," said Buffini of her ride on Friday morning. "I've never ridden in (that type of wet footing) before but it was really fun."
Heading into Saturday's test, the 20-year-old will make a few adjustments but looks to replicate the effort and performance Sundayboy produced in the Team Test.
"Every time I asked for something he gave it to me. There's always little things you want to improve but I was really happy with him."
Finishing in second place in Young Rider competition were Cassidy Gallman (Poway, Calif.) and Joan Cvengros' Grand Makana. As the first combination into the arena of Friday, the Team Silver medalist from the from the 2012  North American Junior & Young Rider Championships (NAJYRC) and the 14-year-old Hanoverian gelding held the lead for much the division after scoring 68.684%.
"He was a little unsure about the footing at first but once we got going, he was great," said Gallman of Grand Makana. "He was a real trooper, I was really happy."
Finishing in third place in the Young Rider Championship was Devon Wycoff (Boulder, Colo.) and her own 17-year-old Oldenburg gelding Power Play on 67.184%.
The Young Rider Championship will crown its winners on Saturday following the completion of the FEI Young Rider Individual Test.
Junior Championship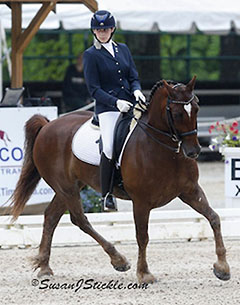 Twelve junior riders headed down the centerline to perform the Junior Team Test and earn the first 50% of their championship score. Allison Cyprus (Magnolia, Texas) and Madoc Gareth were the first  combination to execute their test in the class, taking the lead with a score of 68.162% and never looking back. She and her mother Kristin Cyprus' 10-year-old Welsh Cob gelding had a nice flow to their test, showing quality trot and canter work.
"I was really happy with my ride. He goes really well in the rain because it makes him pop his legs so I thought let's use this," Cyprus explained. "He was really on my aids and I hope to do the same tomorrow or better."
Cyprus and "Gary" are in their first year of competing in the FEI Junior division, showing great promise as the aim for the NAJYRC this summer.
Bebe Davis rode her father Michael Davis' Rotano to a second-place finish with a score of 68.135% to bring the class to an end just before the lunch break. The Bedminster, N.J., native and the 13-year-old Hanoverian gelding displayed their partnership with a lovely test.
"My horse was really super; he felt really great," Davis said. "He was super confident and really forward and expressive. I hope to improve on myself tomorrow and work on some little accuracy issues.
Davis and Rotano were the 2013 U.S. Junior Champions and are not far off from having a repeat victory.
Ending up third in the class with a score of 68.027% were Cassie Schmidt (Aledo, Texas) and Leslie Schmidt's Velasquer. She and the 12-year-old Dutch Warmblood gelding had a very nice, consistent test. Schmidt felt her mount was a little unsure about going in such wet conditions for the first time but they worked together to put forth a solid effort.
The championship comes to a close on Saturday as the combinations will ride the Junior Individual Test for the remaining half of their overall score.
Pony Championship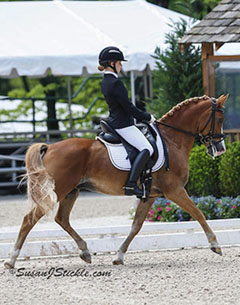 A field of 11 completed the first step in their quest for a championship by riding their  Pony Team Test for the first 50% of their overall score. Fifteen-year-old Katrina Sadis (Ann Arbor, Mich.) rode Dressage4Kids, Inc.'s Poldy 10 to the win after earning a score of 70.385%. She and the 18-year-old German Riding gelding had a beautiful test with smooth transitions to finish almost four percentage points ahead of the second place competitor.
"My ride was amazing. The pony I got on was the best he has ever been," stated Sadis. "He was with me the whole test."
Sadis has been riding Poldy 10 for seven months and has found great success with him since she began leasing him. She hopes to keep Poldy 10 a bit rounder and more attentive to have an even better performance on Sunday.
Thirteen-year-old Hanna Benne (Satellite Beach, Fla.) and her and Susanne Benne's Helluva Dream Maker had a very nice test to finish in second place on a score of 66.564%. She and the seven-year-old Belgian Warmblood gelding painted a lovely picture in their first appearance at the U.S. Festival of Champions.
"He was really on point today," said Benne. "He was really willing to do everything I asked."
Benne hopes to have "Dreamer" more awake to have a better ride for her final test.
Jessica Fan, a 15-year-old native of Lake Jackson, Texas, and Madoc Prince Phillip were the third-place finishers with a score of 65.949%. She felt Leslie Fan's 11-year-old Welsh Pony gelding was there from the beginning of the test, but plans to work on their left shoulder-in and jazzing up "Phillip" for their test on Sunday, when the riders will earn the remaining 50% from the Pony Individual Test to decide the winner of the championship.
Photos © Sue Stickle
Related Links
Scores: 2014 U.S. Dressage Championships
Peters Excels, Dagge Shines on Day One of 2014 U.S. Dressage Championships
2014 U.S. Dressage Champions and WEG Selection Trial Kick off Today