2014 World Championships for Young Dressage Horses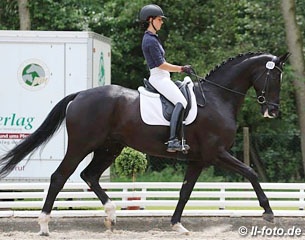 The German Equestrian Federation (FN) has announced the qualification procedure and events for German team selection for the 2014 World Championships for Young Dressage Horses in Verden, Germany, on 6 - 10 August 2014. Two selection events have been scheduled and the combinations will be nominated by a selection committee of the German Olympic Equestrian Committee (DOKR).
The two selection events will both take place at the DOKR head quarters in Warendorf, Germany.
The first trial is a two-day event on 17 and 18 June 2014. On the first day there is a training session planned, on the second day the combinations have to  ride the 5 or 6-year old preliminary test. Afterwards, the selection committee will announce a long list of horses that are allowed to appear at the second trial, which is planned for 2 July 2014. The committee will take both the training day as well as the performance in the preliminary test into account. 
On the second selection trial on 2 July, the long listed combinations have to ride the Finals Test.
German 5-year olds eligible to appear at the first German WCYH selection trial have to be born as of 1.1. 2009. They have to be qualified for the 2014 Bundeschampionate (by having scored 8.0 or more at a BuCha  qualifier this season), or they have to have placed 1st, 2nd or 3rd in a Dressage Horse L-level test with a score of at least 8.0. Finalists in the 4-year old division at the 2013 Bundeschampionate are also welcome as well as 5-year old dressage horses which have achieved good scores abroad with a foreign rider.  Similar criteria apply for the 6-year olds.
Horses can not be owned by judges who will judge at the World Championships this year.  Each rider can qualify a maximul of two horses.
Photo © LL-foto
Related Links
Eurodressage Coverage of the 2014 Bundeschampionate
Eurodressage Coverage of the 2014 World Young Horse Championships