2014 German Professional Dressage Riders Championships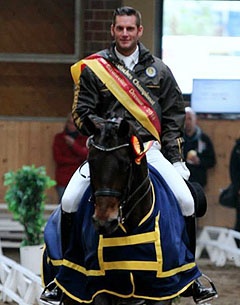 Marcus Hermes edged out Andrea Timpe in a thrilling finals with horse change at the 2014 German Championships for Professional Dressage Riders held at equestrian center Massener Heide in Unna, Germany, on 25 - 27 April 2014. The finals, in which the top three scoring riders of the first two rounds have to ride a short Grand Prix on each other's horse, were contested in the pouring rain. 
The poor weather conditions did not dampen the spirits and Hermes grabbed the national title thanks to his higher scoring final rides, whereas Andrea Timpe and her Dixieland were the high scoring pairs in the two warm-up rounds as well as in the finals. Timpe, however, did not score as highly on Hermes' Royal Mirage and Uta Graf's Lawrence, which made her drop back to a silver medal position.
Marcus Hermes, who is a former student of Hubertus Schmidt and who now works for Rudolf Zeilinger, scored 71.389% on Royal Mirage (2nd), 69.954% on Lawrence (4th), and 68.704% on Dixieland (5th).
Just like in 2004, the highest scoring horse in the Horse Change Finals was Uta Gräf's mount, which is a testimony to great rideability and training. Lawrence (by  Laomedon x Fidermark) totalled 2231 points, whereas Royal Mirage (by Rosario x Silvio I) finished on 2204.50 points and Dixieland (by De Niro x Weltmeyer) on 2244 points.
The German Profi Championships were initiated in 1995 and the event had a steady home at Hof Kasselmann in Hagen from 2003 till 2013. This year the championships relocated to Unna.
Photo © www.mieleszko.com
Related Links
Scores 2014 German Championships for Professional Dressage Riders
Thomas Wagner Wins the 2013 German Professional Dressage Riders Championships
Hartwig Burfeind Wins 2009 German Championships for Professional Dressage Riders
Photo Report: 2008 German Championships for Professional Dressage Riders
Hubertus Schmidt wins 2004 German Professional Dressage Riders Championship