2014 World Cup Finals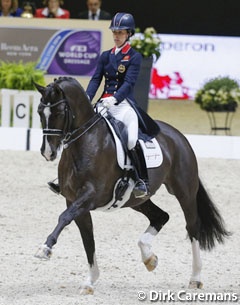 (FEI Press release) -- Britain's Dressage superstars, Charlotte Dujardin and the brilliant gelding Valegro, set yet another new world record when scoring 87.129 to win today's Grand Prix at the 2014 World Cup Final in Lyon, France.  The British duo have blazed a trail through the sport over the last two years, setting world records in Grand Prix, Grand Prix Special and Freestyle while also scooping Olympic and European gold. 
Today they re-set the Grand Prix world record target score again, and they now look well set to add the 2014 Reem Acra FEI World Cup™ Dressage title to their extraordinary list of achievements when the Freestyle takes place tomorrow afternoon. 
The Grand Prix start-list was reduced to 17 horse-and-rider combinations when Nanna Skodberg-Merrald's gelding, Millibar, did not pass reinspection first thing this morning.  But the class got off to a great start with a lovely test from the USA's Tina Konyot and Calecto V which set the tone for a day on which more Dressage history would be made.
Target score
The Netherlands' Edward Gal set the first strong target score when, fifth to go, he posted 80.029 with Undercover.  But it was clear this would be bettered as, despite spectacular piaffe and some great passage, the 13-year-old gelding showed a lot of tension.
"Today was quite difficult, my horse was already excited in the warm-up, and in the arena he went a little better but he was still very tense.  Today though he was a little better than yesterday, so hopefully we will be better again tomorrow!" said the man who claimed the coveted title back in 2010.
Defending World Cup champions, Germany's Helen Langehanenberg and Damon Hill NRW, then raised the bar even higher when following with a mark of 83.353 for an accurate but somewhat conservative test that was marked by an early halt at the very end.  "He was a bit excited on the centre line. It felt like he wanted to do passage and I thought - I don't know where this is going - so I decided to stop where I was!" the 31-year-old rider explained with a laugh afterwards.
Sweden's Tinne Vilhelmson-Silfven followed with one of those elegant performances that have long been her trademark with Don Auriello for a score of 75.086, and this would prove plenty good enough for fourth place at the end of the day.
Steal the limelight
Second-last to go it were Dujardin and Valegro who would steal all the limelight however as they cruised to victory with the greatest of ease. They never looked like they were working hard as they produced energetic passage and the smoothest of flying changes, their only mistake coming in piaffe.
"I'm so lucky to have such a horse, wherever I go he wants to perform although I was worried about this big arena.  The first day here he was very, very hot and I thought he might be on edge today, but when he goes down the centre line he does his job so I can ride to near-maximum.  I wanted to enjoy it, Carl (Hester, her trainer and mentor) gave me my instructions and I had just one blip in the piaffe so I was very happy with him (Valegro)" said the 28-year-old who now has her sights set on tomorrow's deciding Freestyle competition.
She faces a significant challenge as she will be performing an entirely new arrangement of movements to a new musical score.  But she is relishing that challenge as she pointed out today.  
First time
"I'm pretty used to riding my music for the first time in a competition!" she said.  "I love my new floorplan, I think it's quite cool actually, and there's an interesting bit at the end so I hope I can pull it off.  Carl is quite pleased with it and I'm very excited to be doing it tomorrow" she added.
Breaking records is all in a day's work for the British rider who, although she said she was "speechless" when she found out she had raised the Grand Prix target score yet again, appears to be near to unstoppable and just about unflappable.  
She tried to make little of what she had achieved when interviewed at this evening's post-competition press conference. "I wasn't thinking about the score when I was in the arena, I just did my test and felt happy about it.  Carl was very happy which is always good, so when I heard it was a world record it was fantastic!" she pointed out.
Judge at C and today's Ground Jury President, Germany's Evi Eisenhardt, described today's class as "one of the best competiitons I have ever judged, with a great top line and a good midfield".  It all bodes well for a thrilling conclusion to the World Cup Dressage Final 2013/2014 when the deciding Freestyle gets underway at 13.30 local time in Lyon (FRA) tomorrow afternoon. 
And no-one can discount the possibility of another world-record-breaking performance from Dujardin and her dancing horse.
by Louise Parkes
Related Links
Scores 2014 World Cup Finals
2014 World Cup Finals - Table of Contents