2014 World Cup Finals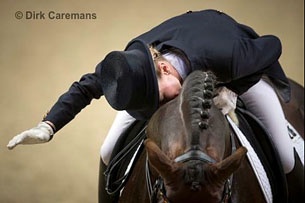 There is nothing more fascinating than witnessing two mighty talents going head to head, so the anticipation and excitement in the lead-up to the 2014 World Cup Dressage Final 2014 at Lyon (FRA) next week is at an all-time high. 
Take the precision, elegance, energy and control of the defending champions, Germany's Helen Langehanenberg and Damon Hill NRW, and pit that against the extravagance, flair, power and presence of the Olympic and European champions and multiple record-breakers Charlotte Dujardin and Valegro from Great Britain, and you have the recipe for an electrifying weekend of competition.  The lightness in their way of going has delighted the judges and spectators alike as these two dancing horses have raised the bar for all others in recent times.
The 29th FEI World Cup Dressage Final brings together 18 riders from 11 nations who have qualified from four different Leagues around the globe. And while the Western European League in particular throws up some of the strongest contenders, there is little doubt that the biggest threat to a back-to-back double for Langehanenberg comes from the sole British representative.
Powerhouses of the sport
The last time these two powerhouses of the sport met was at the 2013 European Dressage Championships at Herning in Denmark last summer when Langehanenberg helped her country clinch the team title for the 22nd time with her brilliant last-to-go ride. She did so with cool conviction, but the following day, when all the main contenders were plagued by big blunders, she had to settle for Grand Prix Special silver behind Dujardin who also made a significant mistake in her test.
Dujardin then went on to add the European Freestyle title to her ever-growing medal haul and, over the winter months, continued her amazing run of form when raising the Freestyle world record target score to a colossal 93.975 when victorious at the Reem Acra FEI World Cup™ Dressage qualifier at Olympia, London in December. This record was previously set at 92.300 by The Netherlands' Edward Gal and the black stallion Totilas at the same venue in 2009. Dujardin now holds all three world records at the same time - for Freestyle, Grand Prix Special and Grand Prix.
Those watching Langehanenberg closely, however, have noticed her personal-best Freestyle scores, first at Stuttgart (GER) last November where she posted 89.775 and then at Neumunster (GER) in February where Damon Hill NRW earned a mark of 90.375, are moving ever-closer to those of her British counterpart. When it comes to next week's showdown in Lyon, both ladies are likely to be very aware that mistakes of any kind could prove very costly indeed in the battle for the coveted trophy.
Most success

The record books show that The Netherlands is the nation with most success at this Final, with 12 wins in total. Nine of those underlined the extraordinary dominance of a single rider, Anky van Grunsven, who really put Freestyle Dressage on the map with her gift for showmanship and choreography. Over a 13-year period between her first victory with the brilliant Bonfire at Los Angeles (USA) in 1995 and her last, with Salinero on home ground at 's-Hertogenbosch (NED) in 2008, van Grunsven enjoyed a spectacular nine-time winning spree that has left her in a league all her own.
Her greatest rival down the years was Germany's Isabell Werth, the double World Cup Dressage champion, also an exceptional athlete who won her first title with Fabienne at Gothenburg (SWE) in 1992, her second 15 years later with Warum Nicht FRH in Las Vegas (USA) and she has been runner-up on no less than four occasions. And 44-year-old Werth continues to amaze, currently lying sixth on the FEI World Dressage rankings which are led by Dujardin in No. 1 spot, Langehanenberg in second and Dutchman Edward Gal in third ahead of Sweden's Tinne Vilhelmson-Silfven.
Missing out
Denmark's Anna Kasprzak lies fifth but is missing out on the Final after having to forfeit her qualifying spot due to a fall last week. She has been replaced by Mikala Gundersen who, like Lars Petersen, is US-based, and making up the Danish trio of representatives at Lyon is Nanna Skodborg Merrald, who made the cut through consistent placings on the Western European League circuit over the winter months.
Dong Seon Kim from Korea, who is also based in America, has taken the single qualifying spot available to riders not represented in any of the four designated leagues, while Tina Konyot and Cesar Parra were last week named as the North American League contenders. Inessa Merkulova will fly the Russian flag, but the prize for the most long-distance traveller already goes to Australia's Mary Hanna, winner of the Pacific League.
Youngest contender
Two of the youngest competitors are 28-year-old Jessica Von Bredow-Werndl from Germany and Holland's Danielle Heijkoop, who turns 27 next Wednesday. Heijkoop joins Edward Gal and Hans Peter Minderhoud to complete the impressive Dutch line-up, Marcela Krinke Susmelj competes for Switzerland, Tinne Vilhelmson-Silfven represents Sweden and Marc Boblet will fly the French flag with pride. 
It is of course expected that younger athletes will continue to improve and develop with the passage of time, but that only serves to make it all the more remarkable that, at just 28 years of age, Dujardin has already achieved more than all the rest put together during her short career that only really began in earnest when she was given the ride on Valegro three years ago.  
It normally takes a lifetime to develop the required skills, but the girl who worked for Carl Hester as a groom before the British Dressage rider and trainer noticed her exceptional talent has rocketed to the very top like a shooting star.
Langehanenberg, still only 31, has taken a different route. As she said before last year's triumph at the Final in Gothenburg, she owes much of her success to the experience she has gained from competing in the Reem Acra series over several years. 
No easy task
Langehanenberg knows that pinning Dujardin back will be no easy task, but the defending champion has an unerring belief in her stallion Damon Hill NRW. Taking on the British rider and her gelding Valegro, holds no fears.
She travels to this year's World Cup Final in the knowledge that, if everything falls into place and if she and her horse continue their increasingly upward scoring pattern, she can successfully challenge the British duo and, perhaps, retain the coveted Reem Acra crown. 

by Louise Parkes
Photo © Dirk Caremans
Related Link
2014 World Cup Finals - Table of Contents