American Dressage News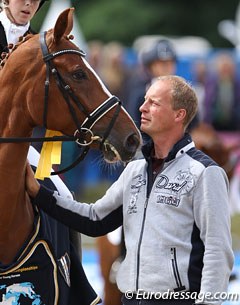 Scott Hassler and Ingo Pape will return for the 2014 USDF Sport Horse Prospect Development Forum held at DG Bar Ranch in Hanford, California on 4 - 5 October 2014.
This year's event will, again, feature a live forum approach and provide a correct, fundamental system for starting sport horse prospects.  The program is intended for trainers, owners, and breeders nationwide, with the goal of developing a consistent training foundation for all sport horse prospects as they progress from in-hand to under-saddle, and eventual competition.
Trainers and horses will be identified to participate through a selection process, and will work with the instructors throughout the forum.  The forum environment will also engage auditors, consisting of breeders, trainers, and owners, throughout the sessions, in an interactive setting  Participants and auditors will also learn the necessary tools to be able to select and evaluate sport horse prospects before purchase, as well as the key elements needed in a trainer.
The forum will be led by Scott Hassler, USEF National Young Dressage Horse Coach.  Joining Scott will be Ingo Pape, one of Germany's most respected breeders and horseman and a long-time friend of Hassler.
"The USDF Sport Horse Committee is very excited to bring the forum to the West Coast for 2014. This new program, launched in 2013, is designed to provide a consistent educational program for starting young dressage prospects. We greatly appreciate DG Bar Ranch for offering to host this year's forum, and we look forward to another great weekend with Scott Hassler and Ingo Pape," stated Kristi Wysocki, Chair of the USDF Sport Horse Committee.
Photo © Astrid Appels
Related Links
Scott Hassler Appointed as American Young Horse Dressage Coach
Sweet and Safe Scara Boa Takes the 5-year old World Champion's Title
Hilltop Rousseau In Training with Susan Draper-Pape