2014 CDI Barcelona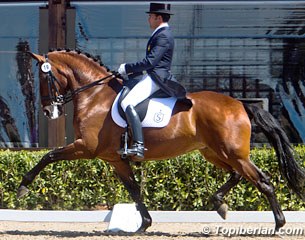 The first CDI 3* at the 2014 Barcelona Dressage Tour finished this past Sunday with a win in the Grand Prix Special for Spanish rider José Antonio García Mena and Batuta, the wonderful bay lusitano mare from Sociedade das Figueiras. The Grand Prix Freestyle victory went to French Jessica Michel aboard Haras de Hus' Oldenburg mare Riwera de Hus.
Garcia Mena and Batuta Ace the GP Special
In the Grand Prix Special, Garcia Mena edged out Spencer Wilton on Super Nova for the trophy. Another Lusitano combination climbed up up  the top three, María Caetano and Xiripiti. There were some mistakes in the Special tests but again it was a joy to watch these youngsters give their best: two very inexperienced horses such as Super Nova and Batuta with excellent riders and Xiripiti and Maria with three Grand Prix seasons and two European Championships behind them. Although Xiripiti is only 11 years old, the stallion has been built up by Maria since he entered S-level in 2011.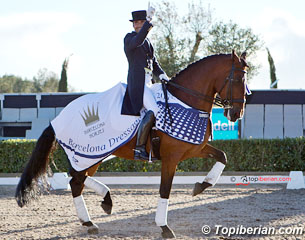 Certainly the perception is different in the saddle than on the ground. The wind, the audience, first time outdoors, it was not the easiest test for a young horse and especially theses three horses at the top with a lot of temperament and energy, didn´t give their riders an easy time. But again, in their presentations, you could see their quality and their youth - it was never the self-carriage missing but the relaxation.
José Antonio and Batuta showed wonderful half passes and a strong trot and canter which were so fluent with good transitions to passage. A score of 71,235% put them at the top. He was very happy: "the GP was easier to ride! The breeze and some noise made her a bit tense in the piaffe, she is so sensitive. She does have a strong character and she is always on the guard, it's not like Norte, my other GP horse, who is really relaxed and takes it easy. But Batuta does have an incredible strength, so much energy and super hind legs, I can always feel them. I am very happy with her. We have to get more routine now, I don't want to do two in a row here as I think it could be too much, but I will show her again at the VIII Dressage Festival in the Club de Campo Villa de Madrid next month."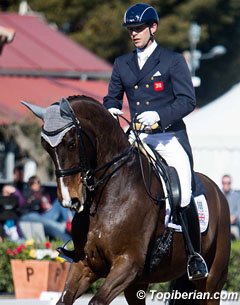 British Spencer Wilton and Super Nova followed them in second place with another quality ride, again very energetic but with expensive mistakes in the flying changes and of course again with such lovely highlights as their strong trot, passage, half passes. Spencer laughed: "Before I thought it was too early for him, but we did it and jumped in the cold water and he is doing a great job, I must say! I am very happy we came, he is such a great horse, I can´t ask for much more at this time."
Portuguese Maria Caetano and Xiripiti had a similar feeling as José Antonio. Her grey Lusitano stallion felt even better on Friday in the Grand Prix "it was more difficult for me. Of course I am very happy with him and this result but he was a litte bit more tense and we had one little slip up at the end of the extended trot. Xiripiti is always there, he always wants to work and he is a joy to ride now, I have almost gotten over it," Maria stated. She does know what José is talking about. "I am quite exited with the results and really cross my fingers that we get to show at the WEG for Portugal."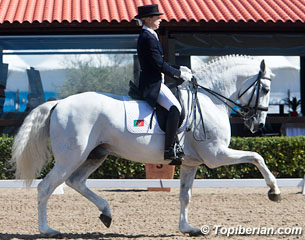 Paulo Caetano, her farther and trainer, stated that they were very happy with the test and the show "for us it is fabulous that we don't have to travel thousands of kilometers to be at a top quality show. We appreciate it so much, the footing is top, boxes are super and we feel very much at home which makes competing a pleasure here. Our next show will be the Dressage Festival in Madrid."
French Rider Bertrand Liegaard and his Star Wars (by Show Star x Rosenkavalier) finished fourth with a 69,275 followed by Juan Antonio Jimenez Cobo on Sunny Boy (by Stedinger) and Jordi Domingo and his new Kwpn mare Wonder, a beautiful daughter of Waterford, all of them showed very young and promising horses in their first season.
Michel Wins the Grand Prix Freestyle
In the Superwagen Grand Prix Freestyle French rider Jessica Michel and her mare Riwera (by Welt Hit II x Noble Roi xx) took the lead with the nicest Grand Prix Freestyle scoring 73.232%. Her beautiful music by Vangelis composed by Jean Michel Jarre supported the combination very well. Her test showed high quality in all exercises, especially in the trot and canter half-passes, collection seems to be less of a problem for this rather big wonderful mare.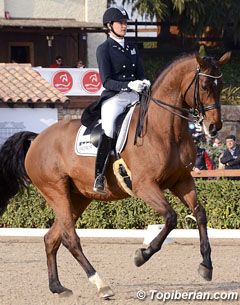 Australian rider Hayley Beresford and Jaybee Alabaster (by Alabster x Glorieux) climbed up to a 72.929% to finish second. The half-passes and changes in the canter work were the highlights of their test.Wilma Wernsen and Oklarette slotted in third with 72.286%. They showed quality piaffe and passage as well as very correct transitions.
The Spanish rider with the best results was Lauro Aguiló, who placed 6th on the Spanish crossbreed Hierro C scoring a 72.018%. The ride was very expressive and harmonious; their outstanding musical composition received the highest artistic marks of the night. Andalusian rider Cristóbal Roldán Belmonte followed in 8th place with his young Belgian warmblood Diavolo II de Laubry (by Alibi de Laubry x Dimandra de Laubry) on a 70'929%. Victor Álvarez  presented the highest ranked PRE, ANCCE Curioso XXV JLE" (69.696%) in 10th place.
Bastings Wins Intermediate I Freestyle Sponsored by Albany Trustee Company
Remy Bastings and the Krack C offspring Zecchino really earned their win in the Freestyle on Saturday afternoon. Their ride was consistent in quality and expressive in spite of confronting a failure in the music due to 5 minutes of sudden hard rain. Remy, with a positive winning attitude, was so concentrated that he continued his test by singing the rest of the song out-loud to himself, which made the crowd go crazy. He scored 75.425%. It was a nice performance of this winning couple! And then the sun came out again.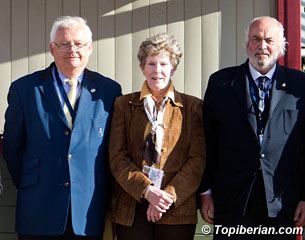 Great Britain's Paul Friday and Christine Trendell's Winston Bond (by OO Seven x Metall) were last year's British Small Tour champions and they proved form in Barcelona finishing second in the Kur. The pair showed a very harmonious test, scoring a 73.650%. "I could keep his rather cheeky character under control, he was great today," said Friday.
Another Dutch rider took third place, Joyce Lenaerts and Show Boy (72.100%). The trot work of her test was very good, some mistakes in the canter pirouttes and changes were expensive. Annabelle Collins and Alfa (by A-Dur x Rossi) were breathing down Lenaerts' neck with a 72.050% after a very correct test and riding. The 15-year-old bay mare has found her rider with Annabelle who rides her calmly through the test. Still we hope to see her Stern next weekend in the CDI4*, which is her bet for this year's season.
Medium Tour
The Intermediate A and B Farnon Trophy sponsored by the Farnon family, featured Jordi Domingo and his Ferro offspring "Hecom's Ventoux" in both tests in the lead. In the Inter A with 69.029% and in the Inter B with 67817%. Domingo's former top horse Prestige had an amazing canter and Ventoux, his full brother, is as expressive and ground-covering which was very nice to watch.
Claudio Castilla and Alcaide (by Lobito x Novilheiro), the Lusitano stallion from Stud La Perla, finished second. In the Inter A with 68.800% and in the Inter B with 67,222%. Their piaffe and passage were very good, as well as the flying changes. They are another Spanish pair on its way to the Grand Prix. In third place with an Inter A score of 66.371% and an Inter B score of 67,103% were British rider Kirsty Mepham and Calderon (by Come Back II x Libelle Aalykke). Trained by Dane Rawlins, the pair had highlights in the impeccable trot half passes in both tests.
Rosin Fradera, former Spanish International 4* judge, commented on this brand new Medium Tour and she pointed out that "it is so much easier to judge, the most complicated judging is when you have too much gap within a level. It happens when you see very young and very experienced horses in the same test. I think the Medium Tour is a great idea!"
In the U25 Grand Prix sponsored by Beatriz Ferrer Salat's Villa Equus Erik Balasch claimed victory once again with Dorado scoring a 63.488% in their debut in this category. "Their passage will improve. It was still not at their best, but the piaffe was very expressive with good rhythm," said Lucas Elias who is training him. Nuria Vila's student Estefanía Ríos on Casparo (60,302%), another host team combination, showed good rhythm in the extended trot and in the passage, the neck was a little bit too short and they can still improve their expression and jump, but she made a very solid third place. The Swedish rider Sanna Nilson and Don Dorn (by Don Schufro) placed second with a 63'326%. The horse had a very uphill tendency with expressive trot work, although there was tension in the poll and topline in the lateral work. Beatriz does know how hard it can be to start in a new class "it is fun but it is also not easy in the beginning. I do remember my times back in Germany, I wish there would have been a class like this to make a smoother transition and I want to encourage the young riders to keep on going and live through it."
Young Rider Individual
In the YR class, Spanish Cristina Torrent from Menorca, a pupil of Antonio Segui, placed 1st with De Vic (by Caagac x Espiga) on a 70.342%. They showed lovely tempi changes and in the lateral work, there was crossing. Germany's Esther Brühe and Quebec (by Quattro B), the winner of the team test, were second with an average of 69.447%. They rode good extended walk and the tempi changes looked flawless. These two took the lead on Sunday in the Kür again (73,95%). Maria Dolores Moncayola and her Zchufro C (Don Schufro x Gicara) scored a 66'211% to finish third. Her test was very well ridden, knowing her horse, she choose a conservative presentation. This grandson of the great Donnerhall is not always easy to handle and Mios had to retire in the freestyle, as Zchufro C can be naughty. Lauro Aguiló, her trainer, stated "we will crack the nut, Mios has learned so much over these years and she is a very talented, sensitive rider!"
Young Riders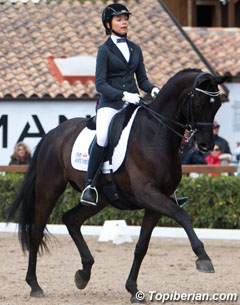 The Young Rider from Saint Petersburg, Ksenia Milyukova and her Saturday Night (x Sandro Hit) scored a 70.658%. They make a lovely horse-rider combination. This time she won the category. She had started her season in Vidauban like some other Russian riders did. Kevin Roegele placed second with Wieske (69'693%), he led the team test, then in the freestyle it wasn't their best day. Carlos Torrell's young student is now in his second season with his mare, a daughter of Obelisk. In third position the Danish rider Signe Andersen and A Larming Charm (68.816%).
Children's class
Dominated by Spanish riders, the winner of this class was the young National Champion, Joan Llargués, with the Pure Bred Spanish horse Obvio F (70.747%). The pair trains with Erik Balasch. Maria Comas with 15-year-old pony Jockers-Golden Boy (69.598%) came close in second place. Francisco Estebez and Laia Barranco were working on the ground with their young pupil. In third position, Abril Serdà and Actor VI scored a 65.287%.
Ponies
Sofia Argelich and Desparo (71.068%) claimed victory again with a very correct ride. Sofia is from the CAVA riding center. Behind her was Diego Martínez with Picachu (70'299%) and Italian Alice Campanella scored a 69'829% with Flamenco Star to finish third. She rose in the ranking in the pony Kür on Sunday. Campanella is now also competing in the Junior class with her brand new horse Varisto (by Jazz), a horse her mother Anna Paprocka Campanella recently bought for her.
Consolation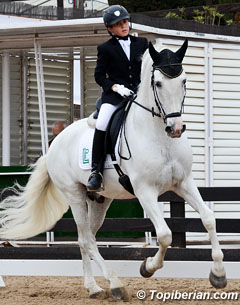 And then of course, last but not least, there were the consolation classes. The British rider Beverly Brightman won the Prix St Georges with Hexagons Platina (67,5%) and in the Grand Prix Swedish rider Charlotte Haid won with her second mount Roberto des Frettes (63,8%). Charlotte brought both of her horses. Triviant finished 10th in the GP, Charlotte was happy with him. She is in the A-Selection for the Swedish national team at the WEG. Her home is a beautiful stud in the south of Sweden which she runs with her husband Rasmus. They have 22 horses "I love the climate and the footing is excellent, that's real treat in this show. And then it is really nice here, we are thinking of coming down next winter to the south of Spain," said Charlotte.
The first CDI3* at the Barcelona Dressage Tour sponsored by Banc Sabadell, Mango and Superwagen, came to an end last Sunday 23 March 204. It was great fun this week and big time stars such as Carl Hester, Edward Gal, Hans Peter Minderhoud and Beatriz Ferrer Salat are already in place and will compete new and well known horses next weekend.
Don´t miss the show, if you can't come and join you will have live streaming on www.topiberian.com for the whole show plus lots of fun interviews with your top riders and new stars.
For scores and any information about the show http://scores.topiberian.com and www.events-barcelonahorses.com.
For more information www.event-barcelonahorses.com
e-mail: springtour@topssporthorses.com
Text and Photos © Top Iberian
Related Links
Scores 2014 CDI Barcelona
Youngsters on the Road to Rio: Super Nova and Batuta Shine in CDI3* Grand Prix at Barcelona Dressage Tour 2014
Victory for Anders Dahl in Albany Trustee Prix St. Georges Kicks Off CDI3* BCN Dressage Tour 2014
Barcelona Horses Opens 2014 CDI Season in Spain with Barcelona Dressage Tour
Barcelona Horses Celebrated Marvelous King's Cup 2013, Warm Up for Spring Tour 2014