2014 CDI-W 's Hertogenbosch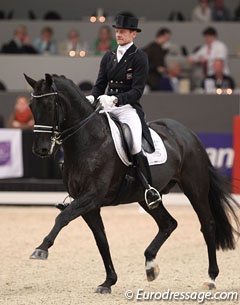 Dutch riders claimed five of the top seven places at the last qualifying leg of the 2014 World Cup Dressage 2013/2014 Western European League series at 's-Hertogenbosch, The Netherlands today where the winner, Edward Gal, was in a league all his own
Riding Undercover the 44-year-old Dutchman produced a fabulous test but for a mis-step in extended trot.  Discussing it afterwards he pointed out "at this level of the sport you cannot afford any mistake at all - not even a tiny one".  But his score of 86.700 would leave him a massive seven points clear of runner-up Danielle Heijkoop (Siro) who is looking very comfortable in top-class company these days.  Third place went to Italy's Valentina Truppa (Eremo del Castegno) while Germany's Isabell Werth (El Santo NRW) slotted into fourth.
Strong representation
There was a strong home-side representation with Dutch riders filling nine of the 15 starting places, and each and every one of them made it count.  The rapid development of a whole new generation of both horses and riders makes this a very exciting time for Dutch Dressage, and the experience and confidence gained through participation in the pilot Nations Cup Dressage series was very much in evidence today. 
Tommie Visser, a member of the team that won the opening leg of the 2014 Nations Cup™ Dressage series at Vidauban, France three weeks ago was leading the field at the half-way stage following a brilliant ride with Vingino.  The big black gelding has tremendous presence and their cool, calm way of working together was a joy to watch.  The only moment Visser looked under any real pressure was when he asked his powerhouse of a horse to come back from extended canter, but their piaffe was near-perfect and despite a little mistake before their first canter pirouette they racked up a mark of 74.950 as the first-half target score. 
Visser's decision to put his TV presenting career on the back-burner in order to concentrate on Dressage looks to be seriously paying off and based on recent results, it is no surprise that the rider who will turn 30 next month has been promoted to the Dutch Olympic A team.
New target
Fellow-Dutchman Hans Peter Minderhoud threw down a new target when second to go after the break.  Riding the 12-year-old stallion, Johnson, he was awarded 77.975 for a test that demonstrated all the trademark skill of this hugely experienced horseman.  Minderhoud's ability to transition from really forward extended canter to a pirouette was just one example of his polished performance with this ever-improving horse.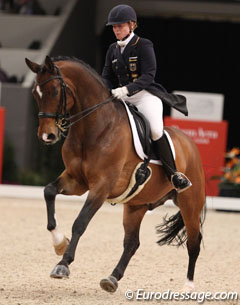 His lead was short-lived however as Isabell Werth threw down one of those brave and brilliant rides that have kept her at the centre of the sport for decades and which keep everyone on the edges of their seats.  The German rider marched into action from the outset with El Santo NRW to put together a floor-plan that showed pace, timing, rhythm, accuracy and a strong degree of difficulty, and the bay gelding's co-owner, Madeleine Winter-Schulze, and German Dressage team trainer Monica Theordorescu had smiles almost as wide as Werth's as she left the arena to go out in front on a score of 78.575.
But Gal put the whole competition into a different context as he pumped out amazing passage and piaffe with the impressive gelding Undercover.  At the London International Horse Show at Olympia last December, Gal produced his best result with this horse when posting 87.425, and today he was only a little short of that when awarded 86.700.  It was highly unlikely anyone else could do better, and the audience of 8,500 spectators rose to their feet to give their hero a standing ovation as he left the arena.
Down the line
Italy's Valentina Truppa pushed Werth down the line when taking temporary runner-up spot for one of her typically entertaining tests with  Eremo del Castegno.  The fearless rider included one-handed one-tempi changes and even one-handed pirouette as she executed her floorplan to her Italian-themed musical accompaniment for a score of 79.475. But the Dutch weren't finished yet.
Last in was the young lady who slotted in behind Gal on the night that Olympic champions Charlotte Dujardin and Valegro stormed to a new world-record Freestyle score on home soil at Olympia in London last December.  Danielle Heijkoop was still only a relative rookie to the top end of the sport when brought into the Dutch team for last summer's European Championships in Denmark where she helped her country to silver medal position, but the 27-year-old has been a winner all her life with Junior and Young Rider gold medals amongst her incredible winning haul so far. 
Her horse, the 15-year-old Siro, showed huge quality of movement, flicking his toes in extended trot and producing the loveliest piaffe and passage.  When the Ground Jury's score of 79.650 rocketed her into second place it was the ideal end to a great day for the home crowd.
Now qualified
Heijkoop could hardly believe that she is now qualified for the 2014 World Cup™ Dressage Final which will take place in Lyon, France from 17-21 April.  "For the first time I am going to the Final, I'm very excited!  I was never expecting to qualify, but now that I have the opportunity I will definitely go!" she said, delighted with Kingsley Siro's performance which she said was "full of energy!"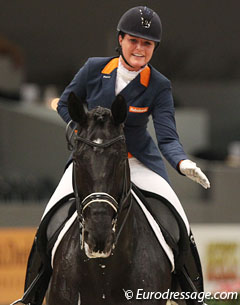 For Gal, today was all about a job well done.  "He (Undercover) was quite relaxed. In the first extension we had a mistake but for the rest he was fabulous, really good.  He worked with nice expression and we even managed to stand still at the end!" he pointed out with a laugh.
Further analysing his performance he said - "the one-tempi changes went a bit to the left.  Now it's down to improving the small things, we are getting better and better together.  His walk is good at home but it was not quite so good here - it is getting better but we need to work on that some more also".
And he wasn't just pleased for himself.  With so many talented young Dutch riders lining up behind him he said "they did great today, and it's great to see the younger ones getting a chance to show what they can do".
Today's result for Heijkoop also proved pivotal in another way, because her promotion to tenth place on the World Cup™ Dressage Western European League table has pushed Great Britain's Charlotte Dujardin out of a qualifying spot for this season's Final.  The British Federation must now apply for a wild card for the Olympic champion and World No. 1 if she wants to challenge for the title that will be staunchly defended by World No. 2 and 2013 World Cup™ Dressage champion, Helen Langehanenberg from Germany.
World Cup™ Dressage 2013/2014 Western European League - Standings after Round 8 at 's-Hertogenbosch (NED):

1.    Tinne Vilhelmson Silfven SWE                -    74
2.    Edward Gal NED                         -    71
3.    Isabell Werth GER                        -    63
4.    Jessica von Bredow-Werndl GER            -    60
5.    Anna Kasprzak DEN                    -    55
6.    Hans Peter Minderhoud NED                -    52
6.    Nanna Skodborg Merrald DEN            -    52
8.    FabienneLutkemeier GER                -    48
9.    Marcela Krinke Susmelj SUI                -    46
10.    Danielle Heijkoop NED                    -    42
11.    Charlotte Dujardin GBR                    -    40
12.    Terhi Stegars FIN                        -    36
13.    Patrick van der Meer NED                -    30
14.    Marc Boblet FRA                        -    27
15.    Tommie Visser NED                    -    25
16.    Kristian von Krusenstierna SWE            -    24
17.    Matthias Kempkes GER                    -    23
18.    Malin Hamilton SWE                    -    21
19.    Ellen Birgitte Farbot NOR                -    20
19.    Sofie Lexner SWE                        -    20
By Louise Parkes
Photos © Astrid Appels
Related Links
Scores: 2014 CDI-W 's Hertogenbosch
Eurodressage Coverage of the 2014 World Cup Finals