2014 Dutch Indoor Pony Championships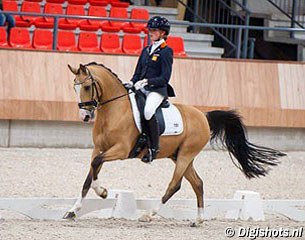 Febe van Zwambagt and her buckskin Coco Jambo won the 2014 Dutch Indoor Pony Championships held in Ermelo, The Netherlands on 15 March 2014. The Dutch team rider made experience count and topped the leader board with 72.74%. The silver went to Demy Kurstjens, the bronze medal was for the title favourite Lisanne Zoutendijk.
Van Zwambagt and Coco Jambo (by Champion de Luxe) aced the FEI pony level championship by scoring 72.74%. The seasoned pony rider claimed her tenth national title in her career, her second consecutive Indoor title at FEI pony level.
"I'm feeling great," van Zwambagt commented after her victory. "It was so exciting."
Febe referred fellow team mate Demy Kurstjens on the chestnut gelding Ciske (by Composer van de Beekerheide) to a second place. Kurstjens stayed very closely on Van Zwambagt's heels and got the silver medal with a 72.69% score.
"Cissie is back," said an ecstatic Kurstjens. "I'm so proud of my big friend."
Title favourite and the virtually unbeatable pair in The Netherlands - Lisanne Zoutendijk and Champ of Class (by Champion de Luxe) - had to settle for bronze after posting a score of 71.58%. There were two small mistakes at the beginning of the test, but canter work was solid. Zoutendijk had to deal with a major judge's discrepancy. Her scores varried from 77,051%, to 74,359% and 63,333%.
Results - 2014 Dutch Indoor Pony Championships
1. Febe van Zwambagt -  Coco Jambo – 72.74%
2. Demy Kurstjens – Ciske – 72.69%
3. Lisanne Zoutendijk - Champ of Class – 71.58%
4. Joelle Peters - Haasendonk's Sultan  -  71,03
5. Esmee Donkers -  Boticelli -  69,70
6. Daphne van Peperstraten - Don Camillo Du Bois  -  69,32
7. Zoe Kuintjes- Elin's Nonsisdador  - 68,85
8. Mercedes Verwey -Brouwershaven's Nairobi  -  68,76
9. Zoe Schipper - Dolce Vita -  68,08
10. Guusje Van Heeswijk  - Klavertje Character - 67,61 
11. Romée van Paassen -  Keulse Hoeve's Zico - 65,98
12. Yoeki Bos - Hof Ter Eekter's Jinx  -  65,90 
13. Celine Jeurissen  - Donnertraum - 65,64 
14. Kirsten van der Hauw -   Golden Princess - 64,62
15. Laura van Eyken -  Poseidon B  - 64,53
16. Bo Oudhof - Day Of La Divinia - 64,53
17. Michelle Van Berkum - Orchid'latyssa   - 64,53
18. Marit Golsteijn -  Bo  - 63,80
19. Lisa Bekkers -  Anjershof Harmony  -  63,29
20. Jill Hendriks  -  Keulse Hoeve's Zorro -  62,78 
21. Judith Werkman -  Brouwershaven's Thomas - 62,39
22. Manon Remmits -  Nikita Van Den Hout  - 62,22
23. Annemijn Boogaard -  Akeem -59,66
24. Ilse Vergouwen - Denver   -  56,92 
Milou van Engeland  -  Campsterhoven's Baldato - DNS            
Frédérique Siebenheller -  Romy  - DNS
Photo © Leanjo de Koster
Related Links
Febe van Zwambagt and Coco Jambo Win 2013 Dutch Indoor Pony Championships
Sanne Vos, 2012 Dutch Indoor Pony Champion
Michelle de Jonge, 2011 Dutch Indoor Pony Champion
Maria van den Dungen, 2010 Dutch Indoor Pony Champion
Dana van Lierop, 2009 Dutch Indoor Pony Champion
Maria van den Dungen Claims Second Dutch Indoor Pony Champion's Title
Maria van den Dungen Wins the 2007 Dutch Indoor Pony Championships
Laurens Sliepenbeek, 2006 Dutch Pony Indoor Champion