2014 CDI-W Amsterdam
Great Britain's Charlotte Dujardin and Valegro were like an unstoppable force as they marched to another spectacular victory at the fifth leg of the World Cup Dressage Western European League series in Amsterdam, The Netherlands today.  With a mark of 91.275, the Olympic double-gold and individual European Championship winning partnership were 2.7 points short of the world-record Freestyle score
they posted at the previous leg at Olympia, London in December. 
But today's result underpins their position at the very top of their game, and sets them firmly on the road to the World Cup Dressage Final at Lyon, France in April.
The Netherlands' Edward Gal had to settle for runner-up spot once again despite a lovely performance from Undercover, while Denmark's Anna Kasprzak and Donnperignon really impressed when lining up third.  Former FEI World Cup™ Dressage champion, Isabell Werth, headed German counterparts Fabienne Lutkemeier (D'Agostino FRH) and Jessica von Bredow-Werndl (Unee BB) when slotting into fourth with Don Johnson FRH, while Frenchman, Marc Boblet, produced a charming test from Noble Dream to stand seventh in the prizewinner's line-up.
The start-list was reduced to 14 when The Netherlands' Hans-Peter Minderhoud withdrew Romanov, but it was another day of sparkling competition.  The Dutch crowd was captivated by the British duo who continue to take the sport of Dressage by storm, and there is no doubt that their presence is having a very positive effect as so many others have been encouraged to raise their game again this season, bringing a freshness and energy to the prestigious and long-established indoor series.
Great start
The competition got off to a great start when Dutch rider, Madeleine Witte-Vrees, posted a score of 74.500 with the 11-year-old Vitana V, and that remained the target until the French partnership of Boblet and Noble Dream set sail.  This pair, who finished seventh at Olympia last month, soared into the lead when scoring 76.125, and the spectators showed their appreciation of this expressive performance filled with lightness and enthusiasm. 
When the German contingent went into action however they were instantly demoted, firstly by Jessica von Bredow-Werndl and Unee BB who edged them out with a score of 76.650 and then again by Fabienne Lutkemeier and D'Agostino FRH who posted 77.575.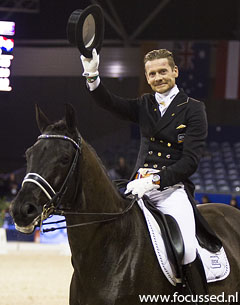 With only four left to run the Dutch took back the advantage.  The 12-year-old Undercover produced a focused, calm and concentrated test for Edward Gal whose relationship with this horse seems to be cementing with every outing.  They looked rock solid as they strode purposefully to a mark of 85.125 which would now be the one to beat.
With just three riders per nation permitted to compete at the Final, the battle for a qualifying spot amongst the German contingent is a fierce one, but double World Cup Dressage champion, Isabell Werth, threw down the best German score of 80.850 to stake her claim with Don Johnson FRH before Denmark's Anna Kasprzak took her turn as the penultimate contestant.
The 24-year-old rider and her 15-year-old horse, Donnperignon, have developed into a dynamic duo over the last two years and were impressive from the moment they entered the arena today.  Confident and composed, they produced a very classy test for a mark of 82.000 that would always keep them well within the frame.  But the best was saved until last.
Magic
There's a magic about Dujardin and Valegro that is difficult to explain, and such is their appeal that every time they appear in competition something sensational is expected to happen while their very presence is an occasion in itself. 
Once again they didn't disappoint, setting off in spectacular extended trot to the strains of the very first musical score they used together.  Dujardin said at Olympia that she wouldn't use her Olympic score again, and so decided to go back to where it all began.  "I love riding to that music.  I know how I am with it, so I could relax and have fun - and my horse did too!" she after posting another whopping mark of 91.275. Stillness and balance, control and rhythm, straightness and lightness - it was all there but for a moment in canter when, according to the rider, Valegro was "spooked by a camera".  In everything they do together, however, this horse and rider seem to be in perfect harmony.  And Valegro looked just as happy and satisfied as his rider when it was all over today. 
Asked if the gelding she calls Blueberry prefers to perform indoors or in an outdoor environment, Dujardin replied, "it doesn't really matter to him. I just feel feel I always have his trust, and if something happens then I just tell him its OK and he believes me so we can just get on with what we are doing - I'm so lucky with him!" she said of the horse with which she has enjoyed such phenomenal success over the last few years.
Remarkable
Making today's result all the more remarkable was the fact that Dujardin has been abroad for the past few weeks so didn't get to ride her horse.  She had a good deputy however, in her trainer and mentor Carl Hester who kept Valegro in work. 
"I've been away for two weeks in New Zealand and only got back on Sunday so only rode for two days before here and I'm not used to that, but Carl kept him going for me" Dujardin explained.  "Yesterday (in the Grand Prix) he was very good, but today he was even better, I felt we were back in the flow of it again," she said, adding after a momentary pause - "you know, it's a massive honour every time I ride this horse!". 
Now her sights are set on adding the World Cup Dressage title to their long list of extraordinary achievements.  Talking about her plans with Valegro for the coming months, Dujardin explained, "we will go to Den Bosch (NED) and I will ride my new floor plan and music there.  Then it will be on the Final in Lyon, and I'm really looking forward to that!" she said.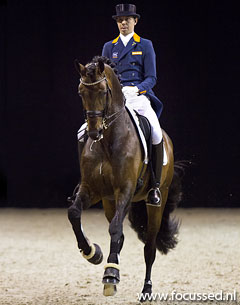 Lying equal-sixth in the World Cup Dressage Western European League rankings which continue to be headed by Sweden's Tinne Vilhelmson-Silfven followed by Gal in second, Werth in third and Germany's von Bredow Werndl and Switzerland's Marcela Krinke Susmelj in joint-fourth, it seems Charlotte Dujardin and Valegro are well set to make their mark at the Lyon Final where victory would ensure yet another entry into the record books. 
Because, in the 28-year history of the World Cup Dressage series, a British rider has never come out on top.  The best British result previously registered was second place for Christopher Bartle and Wily Trout at the inaugural Final in 's-Hertogenbosch, The Netherlands in 1986.
Facts and Figures:
Amsterdam in The Netherlands presented Round 5 of the World Cup Dressage 2013/2014 series.
The Dutch fixture is celebrating its 55th anniversary this year.
14 horse-and-rider combinations competed in today's qualifying leg following the withdrawal of Dutch rider Hans Peter Minderhoud and Romanov.
Competitors from 7 nations took part - Denmark, France, Germany, Great Britain, Netherlands, Sweden and Switzerland.
Just three further qualifying rounds will take place before the series final at Lyon, France in April. 
The next leg will take place at Neumunster, Germany on Sunday 16 February.
The Ground Jury for today's competition was -  At E, Adriaan Hamoen (NED); At H, Katrina Wuest (GER); At C, Francis Verbeek van Rooij (NED); At M, Jean-Michel Roudier (FRA); At B, Susanne Baarup (DEN).
Today's winning horse-and-rider combination, Great Britain's Charlotte Dujardin and Valegro, won double Olympic gold at the London 2012 Olympic Games, individual gold at the Ecco FEI European Championships in Herning, Denmark last summer and hold all three world records in Grand Prix, Grand Prix Special and Freestyle.  They set the new world Freestyle record at Olympia, London in December 2013.
 
World Cup Dressage 2013/2014 Western European League - Standings after Round 5 at Amsterdam, The Netherlands:
 
1. Tinne Vilhelmson Silfven SWE - 74
2. Edward Gal NED - 51
3. Isabell Werth GER - 48
4. Jessica von Bredow-Werndl GER - 43
4. Marcela Krinke Susmelj SUI - 43
6. Charlotte Dujardin GBR - 40
6. Hans Peter Minderhoud NED - 40
8. Anna Kasprzak DEN - 35
8. Fabienne Lutkemeier GER - 35
  Nanna Skodborg Merrald DEN - 26
Photos © Anniek van Schaik
Related Links
Scores 2014 CDI-W Amsterdam
2014 World Cup Finals - Table of Contents