Dutch Dressage News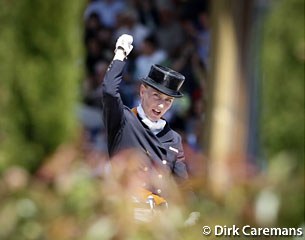 Dutch Olympian Imke Schellekens-Bartels has received the ride on a new rising Prix St Georges level horse, Bellatre, while she is waiting for her number one Grand Prix horse to recover from a nagging injury which has sidelined the horse for a year now.
A few months ago, the Schimmel family decided to offer the ride on their brood mare Bellatre (by Serano Gold x Rubinstein) to Imke. The chestnut mare already produced two foals and has been competed up to Fourth level by Kristel van Duren-Bodewes. She also jumped at Dutch L-level. Since October Imke has been training the mare and she proved talented enough for Bartels Academy to buy a 50% ownership share.
"I'm very happy with Bellatre," said Imke. "She's very lightfooted and has a fantastic character. She's not very tall (1.69m) but that makes everything sit snuggly together. My goal is to prepare her for Prix St Georges and then compete her."
Schellekens has been struggling to stay at the top of Dutch Dressage. After her super star mare Sunrise got injured and was retired, the huge black gelding Toots (by Jazz) was supposed to follow in her footsteps. The black Toots participated in the Dutch Olympic selection trials but at the World Cup Qualifier in 's Hertogenbosch in 2013 the horse became unfit and has not returned to the show ring since.
Schellekens had to withdrawn from Den Bosch because her horse coughed in the warm up. The initial diagnosis was a respiratory tract infection, but it soon turned out that a nerve was infected and its recovery has been painstakingly long.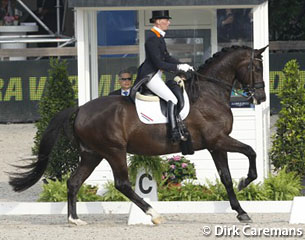 "In first instance the symptoms looked like an allergic reaction," Schellekens told Dutch equestrian magazine De Hoefslag. "We had different vets and experts look at it. Toots would start coughing out of the blue and he always had the urge to scratch his head from the itch. Finally we discovered that he had an airway infection and an infected nerve. The recovery of the nerve takes a lot of time and rest is the only remedy. Slowly it's going the right way."
Schellekens had to make the mental switch that she could no longer perform at international top level. In order to cope with that, she focused on her young horses and relied on the support of her team.
"What definitely helped me was the great group of people surrounding me," she admitted. "They knew how to motivate me each time and showed me the value of everything I did have, like the company and the students. There were some advantages to this obligatory rest period. I was able to spend a lot of time with Joep (her husband). Together we went to look for young horses and bought several."
Schellekens competed in the 2013 KNHS Subli Cup Finals, the Dutch Young Horse Dressage Championships, held at the end of December. She finished 8th with Eduard (by Vivaldi) and 14th with Enoeska (by Johnson).
"Despite everything, I experienced 2013 positively. I hope to get a new future top horse from the new trained youngsters. I'm looking forward to that."
Photos © Dirk Caremans
Related Links
2014 Excellent Dressage Sales, New Auction in The Netherlands on 12-13 April 2014
El Diablo, Devil Diamant N, Chardonnay Win 2013 KNHS Subli Championships
Imke Schellekens' Sunrise Retired to Become a Broodmare
Imke Schellekens' Sunrise Injured in Lunging Accident
Hunter Douglas Ends Sponsorship of Imke Schellekens-Bartels