2013 French Foal Championship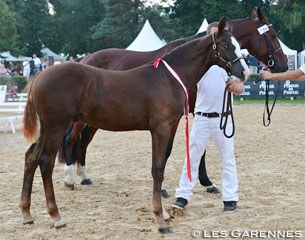 The colt Sinatra de Hus and the filly Nacre des Pres became the winners of the 2013 French Foal Championship held at the French National Equestrian Centre in Saumur, France, on 26 - 29 September 2013. Sinatra de Hus was also proclaimed Grand Champion as high scoring foal of the show.
The colt division was judged by Max Dobretsberger, Franz Rupp and Wouter Meessens and the trio put the Hanoverian branded Sinatra de Hus (by Solimon de Hus x Rubin Royal) in first place with a total of 83.667 points. The Hanoverian bred Beach Party d'Arion (by Benicio x Dancier) became the reserve champion with 79.333 points. The Hanoverian bred Dans Mon Coeur Oaklor (by Delatio x Locksley II) completed the top three with a score of 77.333 points.
In the filly division the Belgian warmblood registered Nacre des Pres (by Soliman x Welt Hit II) topped the leader board with a score of 83.000 points, awarded by judges Wouter Meesens, Max Dobretsberger and Mr. Van Guethen. The Selle Français registered Djingizz des Feeries (by Sandreo x Don Ricoss) became the reserve champion with 82.333. This foal tied in second place with the Oldenburg branded Delicious d'Echallens (by Don Juan x Sandro Hit).
Photo © Les Garennes
Results - 2013 French Foal Championships
Colts
1. Sinatra de Hus (Hann, by Soliman x Rubin Royal) - 83.667
2. Beach Party d'Arion (Hann, by Benicio x Dancier) - 79.333
3. Dans Mon Coeur Oaklor (Hann, by Delatio x Locksley II) - 77.333
4. Donatello de Merindol (SF, by Sandreo x Nepture d'Alary) - 76.667
4. Quod'Keuyr du Payrol (OLD, by Quatergold x Weltmeyer) - 76.667
6. Don Soluman du Parc (SF, by Soliman x Sandro Hit) - 75.000
7. Renoir Rilke Z (Z, by Rilke x Weltmeyer) - 74.333
8. Herby Sid du Fayard (SBS, by Charmeur x Remondo) - 73.333
9. Dino Figerro (SF, by Don Juan x Baulieu du Carre) - 73.000
10. Bombastic d'Arion (Hann, by Benicio x Baroncelli) - 72.667
11. Dior de Grez Neuville (SF, by Don Juan x Youssouf) - 69.333
12. Quidditch d'Estive (Han, by Quaterback x Egmont) - 68.667
13. Disco Dancer Couparie (SF, by Fidelio du Thot x Calvaro) - 64.000
Fillies (top 10 only)
1. Nacre des Pres (BWP, by Soliman x Welt Hit II) - 83.000
2. Djinfizz des Feeries (SF, by Sandreo x Don Ricoss) - 82.333
2. Delcious d'Echallens (SF, by Don Juan x Sandro Hit) - 82.333
4. Dginger Birmane (SF, by Don Juan x Jazz) - 79.000
5. Dallas de Hus (OLD, by Don Juan x Argentinus) - 78.667
6. Istoria De Rima (SF, by Renville x Voltaire) - 74.333
7. Detonation de Hus (OLD, by Don Juan x Ferro) - 74.000
7. Dedicace de Serres (SF, by Don Juan x Oceanique) - 74.000
9. Ilunda MC (KWPN, by Jazz x Democraat) - 73.667
10. Fee du Payrol (OLD, by Furst Romancier x For Edition) - 73.333
Related Links
Soleio d'Arion and Atomic Kitten LH Win 2011 French Foal Championships
Erasme de Voulx and Fantasy Boderes Win 2010 French Foal Championship
Shenandoah and Sambejah Win 2006 French Foal Championship