Danish Warmblood Breeding News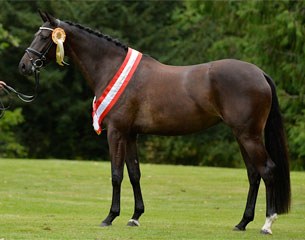 Stigma has been proclaimed 2013 Danish Warmblood Dressage Mare of the Year at the 2013 Danish Warmblood Elite Mare Show in Vilhelmsborg, Denmark on 6-8 September 2013.
Stigma is used to doing laps of honour as she has previously been proclaimed Dressage Filly Foal of the Year and 2-year-old Dressage Filly, completing a hattrick with the 3-year old Champion's title.
The newly graded mares were the focal point today at the Danish Warmblood Elite Show, where breeders' medals in gold, silver and bronze were awarded and the dressage and jumping mare of the year proclaimed.
Today all the dressage mares were shown under saddle and where knowledgeable and very informatively commented on by the breeding committee's dressage specialist, Bjarne Nielsen.
The judges selected the mares for the Gold ring: Fiontina (by Fassbinder x Romanov x Solos Carex) owned and bred by Henrik Hansen & Hanne Lund, Springborgs Acaia (by Fürst Romancier x Rubin-Royal x De Niro) owned by Susanne Frederiksen and bred by Stutteri Springborg, and finally Stigma (by Tailormade Temptation x Sandro Hit x Master) owned by Hanne Hertzberg and Ulrik & Lena Kristensen and bred by Lena Nyström from Sweden. Stigma is a full sister to the American owned Oldenburg licensed breeding stallion Tomahawk.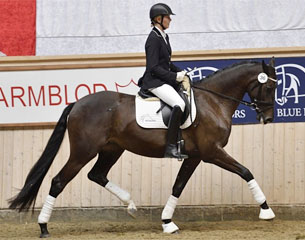 All three mares where awarded breeders medal in gold and the judges chose to appoint Stigma as Dressage Mare of the Year 2013. Today Stigma was beautifully presented under saddle by Sophie Christensen.
"Stigma is a delight to the eye. She is expressive, noble, feminine and of a excellent type. She is extremely supple with powerful and very active movements," said breeding consultant Karina Christiansen.
It was obvious that the audience agreed with the judges' choice for Stigma and the expectations for this beautiful mare have also been high.
Related Links
Stigma Named 2-year old Champion at 2012 Danish Warmblood Elite Mare Show
Dancing Boy and Stigma, Danish Dressage Foals of the Year 2010
For Romance 2011 Oldenburg Licensing Champion, Tight Junction Steals the Show
Fabrix Miss Ésandri, 2009 Danish Warmblood Mare Champion
Bøgegaardens Don Romina, 2006 Danish Warmblood Mare of the Year