2013 British Youth Riders Championships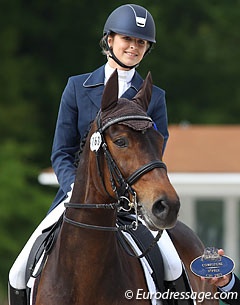 British young dressage riders from across the country gathered in Lincolnshire for the 2013 British Under 25s Dressage Championships on 19 – 24 August 2013. British Pony rider Amber Barton, junior rider Maisie Scruton and young rider Jessica Knapton took out the FEI titles in their division by winning the individual test.
This was the Championship's thirteenth birthday which, thanks to the generosity of 2013 sponsors, had a total prize fund in excess of £10,000 up for grabs for riders who had gone to compete in over 40 classes ranging from prelim to advanced, including FEI Pony, Junior and Young Rider tests.
Amber Barton won the the Pony Individual on her 14.2hh chestnut gelding Doctor Little. The pony division was thin layered with none of the British European Team combinations competing at the Nationals, which left lenty of room for Barton to ride to the title.
Junior Rider and British European Championship team rider Maisie Scruton captured the Junior Individual with her fiery mare Hot Chocolate, edging out Jessica Blackmore on Don Romeo with a full 2% point advantage.
With nineteen riders in total contesting the individual test, young rider Jessica Knapton aced the class on her Dimaggio gelding Di Spirito, ahead of Eilidh Grant on Comanche Crumble. The latter had to withdraw from competing on the British team at the European Young Riders Championships in Compiegne, France, in July, but successfully returned to the show ring at Sheepgate.
British Dressage Junior and Young Rider selector, Islay Auty, who attended the Championships, said "I honestly cannot put into words how fantastic this event was; I have been going to the Under 25's Championships for ten years and over that time it has evolved phenomenally. Sarah and the team at Sheepgate have, through their hard work and dedication, provided all young riders with an opportunity to experience an extended competition atmosphere, which they wouldn't be able to access elsewhere without going through a selection process. The environment was fabulous; extremely welcoming, and the facilities for riders, spectators and judges were second to none."

Auty continued her praise by adding that "Sheepgate provided British Dressage with the opportunity to showcase the development of youth dressage in the UK and we were privileged to see polished riders across all sections over the six days, with good positions and work that is clearly building correct and solid foundations for their own progression through the levels. Sheepgate certainly showed us that the future is looking very bright for dressage in the UK!"
Photos © Astrid Appels
Results - 2013 British Youth Riders Championships (top 3 only)
Pony Preliminary Test
1st Louise Crutcher & Rosewater I Claudius, 66%   
2nd Angus Corrie – Deane & Grayswood Orlando, 64.50%

Junior Preliminary Test
1st Jessica Blackmore & Don Romeo, 70%

Young Rider Preliminary Test
1st Jade Struthers & Far Afield, 63.33%
2nd Jade Struthers & Knighthawk, 61.67%
3rd Deborah Christie & Ravallo Tanesia, 56.64%

Pony Team Test
1st Amber Barton & Doctor Little, 68.85%
2nd Angus Corrie – Deane & Grayswood Orlando, 67.05%
3rd Megan Roberts & Machno Countryman, 66.92%

Junior Team Test
1st Maisie Scruton & Hot Chocolate 43, 68.78%   
2nd Emily Hedger & O'Donner, 67.70%
3rd Philippa Corbett & Saphire VH Overwater, 67.03%

Young Rider Team Test
1st Jessica Knapton & Di Spirito, 71.71%
2nd Eilidh Grant & Comanche Crumble, 70.53%   
3rd Emma Jablonski & Cor IV Z, 67.24%

Pony Individual Test
1st Amber Barton & Doctor Little, 67.93%
2nd Angus Corrie – Deane & Grayswood Orlando, 67.80%
3rd Lara Kuropatwa & Don Joshi, 66.40%

Junior Individual Test
1st Maisie Scruton & Hot Chocolate 43, 67.63%
2nd Jessica Blackmore & Don Romeo, 65.53%
3rd Philippa Corbett & Saphire VH Overwater, 64.74%

Young Rider Individual Test
1st Jessica Knapton & Di Spirito, 70.99%
2nd Eilidh Grant & Comanche Crumble, 70.33%
3rd Emma Corbett & Furst Diamantino, 69.61%

Pony Freestyle to Music
1st Angus Corrie - Deane & Grayswood Orlando, 70.50%
2nd Alexandra Rowe & Ferrari, 69.50%

Junior Freestyle to Music
1st Harriette Williams & Diamondez, 72%
2nd Emily Bradshaw & Jamaraki, 68%

Young Rider Freestyle to Music
1st Eilidh Grant & Comanche Crumble, 73%
2nd Jessica Knapton & Di Spirito, 70%
3rd Catrina Leckie & Donatello, 68%
Related Links
Grant Out, Woodhead to Join British Team for 2013 European Young Riders Championships
2012 British Youth Riders Championships Underway
Fry, Davis, Woodhead Win 2012 British Youth Riders Championships
Williams, Knapton, Woodhead Win 2011 British Youth Riders Championships
Harris, Bates, Cartwright, 2007 British Youth Rider Champions