2013 Dutch Young Pony Championships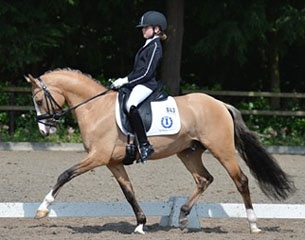 The 4-year old Don Ducky C-Two, the 5-year old Morning Sky, and the 6-year old Boldermans Brasil surfaced at the top of the leader board and claimed the national title at the 2013 Dutch Young Pony Championships held on Saturday 17 August 2013 at Gert van den Hoorn's yard in Kootwijk, The Netherlands.
The best 20 ponies per age division were invited to compete at the Dutch National young pony championships, which were set in perfect weather conditions. The judges at the event were Monique Peutz and Jeroen Hulsman. Three guest judge riders were invited: Dinja van Liere, Anne Meulendijks and Michelle van Lanen.
Under Anouk Strikkers the super cute buckskin Don Ducky C-Two (by Don't Worry) won the 4-year old division after receiving two 10s from the guest judge riders. Bred by the Belgian Christophe Carmeliet and owned by Carmeliet and Coby van Baalen, the young stallion is NRPS licensed. The judges praised him for his "very good trot, beautiful front leg usage and much balance and cadence in his gaits." The reserve champion in the 4-year old category was the palomino licensed Welsh pony stallion Desperado (by Bowe) under junior rider Marjan Hooge. The pony received 8s for his gaits and rideability.
The 5-year old Morning Sky (by Kielshoop Honey Hill) enthused guest judge riders Van Liere and Meulendijks, who both awarded him a 9.5 for gaits and rideability. Presented by Paulette Kral, Morning Sky impressed with his swinging trot. Kristy de Roo and Holthousen Elassar (by Jasper) were the runners-up. This stallion excelled in canter, for which he received a 9.
Kim Noordijk and the 6-year old Boldermans Brasil (by Sandokans Leonardo) became the champions in their age class. The gelding was already a finalist in 2011 and 2012 but now claimed the highest step on the podium. He received a 9 and a 9.5 from the guest judges and was praised for his ability to collect and extend, especially in canter. Laura Hoogstraten and Cezaro CWS (by Painted Black) were the reserve champions. Judge Monique Peutz said that this pony was lightfooted in trot but could have showed more engagement from behind in canter.
Photo © Arlette Beukenkamp
Results - 2013 Dutch Young Pony Championships
4-year olds
1. Don Ducky T-Two DvB – Anouk Strikkers – 266 points
2. Desperado – Marjan Hooge – 245,5 points
3. Bosvallei's Vin – Nicole van Niedek -243 points
4. Steerwoldes Vip – Rachell Fokker – 242,5 points
5. Devine van de Prinsenhof – Lotte Dibbits – 228,5 points
5-year olds
1. Morning Sky – Paulette Kral – 266 points
2. Holthausen Elassar – Kristy de Roo – 254 points
3. Ronaldo – Liza de Rijk – 244,5 points
4. Jonkers Pieter – Lisa Bekkers – 242 points
5. Goldwins Movie Star – Marten Luiten – 231 points
6-year olds
1. Bolderman's Brasil – Kim Noordijk – 248,5 points
2. Cezaro CWS – Laura Hoogstraten – 243,5 points
3. Dailonka – Iemke Bens – 243 points
4. Blockland's Hoeve's Czarina – Anne Kin – 239,5 points
5. Zip – Sidney Trimp - 228,5 points
Related Links
Roetsenest Enzo, Kielshoop Honeybee's Valentino, El Diego Win 2012 Dutch Young Pony Championships
Nero van den Hout, Tiesto and Hertenshof Nairobi Win 2011 Dutch Young Pony Championships
Tiesto, Heidehofs Don Diego, Champ of Class, 2010 Dutch Young Pony Champions
Heidehofs Don Diego, Guardian B and JDJ Keimpe Win 2009 Dutch Young Pony Championship