2013 Bundeschampionate Qualifier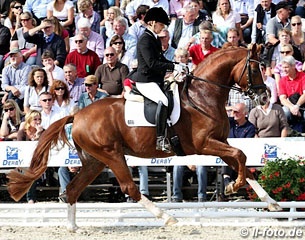 The 5-year olds Quasar de Charry and Hollywood and the 6-year old Domenikus were the winning horses of the Bundeschampionate qualification classes at the big regional competition in Elmlohe, Germany on 1 - 4 August 2013. With 23 five-year olds lined up to contest the 5-year old division and 20 six-year olds entered to compete, the field was packed at this event.
British born Susan Pape-Draper took over the ride on the Hanoverian stallion Quasar de Charry (by Quaterback x Wolkentanz II) from husband Ingo and rode the chestnut stallion to victory with an 8.3 score in the first group of 5-year olds. The combination seems ready to represent Great Britain at the 2013 World Young Horse Championships in Verden this week, although it's pity Susan's second horse and auction price highlight Lemony's Nicket won't be campaigned in Verden as well.  Claudia Rüscher and the Oldenburg bred Dynasty (by Dimaggio x Wolkentanz II) were the runners-up with 7.6.
The second group of 5-year olds only featured three horses and Steffen Frahm and the Hanoverian stallion Hollywood (by Herzensdieb x Worldly) put the high score on the board with their 7.7. French Raphael Thomas was second aboard the Oldenburg stallion Quentin Tarantino (by Quaterback x Wanderkonig) with 7.5.
Holga Finken and the 6-year old Hanoverian gelding Domenikus (by Don Marco x Rosentau) won the M-level dressage horse test with 8.2 and edged out Heike Kind on the Oldenburg gelding Hilfiger (by Hotline x Argentinus) who finished second with 8.0.
Results - 2013 Bundeschampionate Qualifier - Elmlohe
5-year olds - Group 1
1. Susan Pape - Quasar de Charry - 8.3
2. Claudia Ruscher - Dynasty - 7.6
3. Tessa Frank - Feodor Nymphenburg - 7.4
3. Tessa Frank - Nymphenburg's Front Rox 7.4
3. Eckhard Wahlers - Dow Jones- 7.4
6. Andreas Schoffner - Furstino - 7.3
7. Andrea Engeler - Con Primero - 7.2
7. Silvia Busch-Kuffner - For Christmas - 7.2
9. Hermann Burger - Desiderius L - 7.0
9. Sandra Frieling - Sugar - 7.0
9. Daniel Fritz - Dancing Shadow - 7.0
12. Marco Buhrig - Likedeeler - 6.9
12. Rebecca Horstmann - Friend of Mine - 6.9
14. Hermann Burger - Flexio - 6.8
14. Dirk von der Lieth - Quantanamera - 6.8
14. Susanne Ersil - Dieffenbach - 6.8
14. Nina Gropper - Senza Mo - 6.8
18. Jasmin Nussbaumer - Furst Doncolo - 6.7
19. Steffen Henjes - Soleil de Vie - 5.9
Oliver Wienser - Weiyaro - RET
5-year olds - Group 2
1. Steffen Frahm - Hollywood - 7.8
2. Raphael Thomas - Quentin Tarantino - 7.5
2. Ole Kohler - Spörcken - 7.5
6-year olds
1. Holga Finken - Domenikus - 8.2
2. Heike Kind - Hilfiger - 8.0
3. David Taylor - Simple Noble - 7.7
4. Raphael Thomas - Sohn der Sonne - 7.6
5. Sophie Ludewig - Cantano SL - 7.5
5. Raphael Thomas - Santo - 7.5
5. Friederike von Waaden - Happy Texas Moonlight - 7.5
8. Insa Hansen - Horares - 7.4
8. Lena Stegemann - Leocadio - 7.4
10. Marco Buhrig - Riva del Garda - 7.3
11. Peter Koch - Stanley - 7.2
12. Angelica Bystrom - Douro - 7.1
12. Alix van den Berghe - Florimax - 7.1
14. Marco Buhrig - Hot Chili - 7.0
14. Caroline Karrenbauer - Carlotta - 7.0
14. Ann Christin Wienkamp - Fairy Tale - 7.0
17. Pedro Almeida Pavao - Dialog - 6.9
18. Iris Wulschner - Dolce Vita - 6.8
19. Lesley Wulff - Fraulein Salome - 6.2
Insa Hansen - Duty Free - RET
Photo © LL-foto
Related Link
Eurodressage Coverage of the 2013 Bundeschampionate