KWPN Breeding News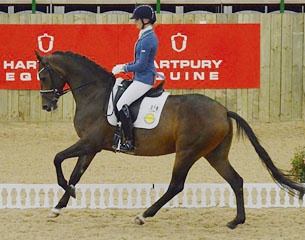 The 4-year old Dutch warmblood mare Eva Vita became the winner of the 4-year old division at the U.K. Pavo Cup qualifier held at the 2013 CDI Hartpury on Thursday 4 July 2013.
Only nine horses in total gathered in Hartpury to compete in this U.K. based Pavo Cup Qualifier. Seven horses contested the 4-year old division, just two the 5-year old division. The judges were Ine van Deurzen, Hanneke Gerritsen and Isobel Wessels/
The high scorer of the day and only horse to be invited to compete at the 2013 Pavo Cup Semi-Finals in Ermelo, The Netherlands, was Emma Woolley's Eva Vita (by Wynton x Houston). The combination scored 79.5 points in total. Woolley was also the runner up in the 4-year old category aboard Eldorado (by Special D x Damiro). They scored 73 points.
Eva Vita is owned by Christine Twigg who was beaming with pride. "I bought this mare especially for Emma in The Netherlands," she said. "On a cold January day we saw about fifty horses and eventually chose her. We are planning to go to The Netherlands for the Pavo Cup Semi Finals. I don't know how, maybe I'll have to sell a horse, but this was our goal."
The winner of the 5-year old class was SAm Rahmatalla on Seagry Sanay (by Stedinger x Wolkentanz). With a total of 77 points, the pair ranked far ahead of second placed Diana Fisher on Diego V (by Spielberg x Welt Hit II) with 68.5 points.
Results - 2013 Pavo Cup Qualifier Hartpury
4-year olds
1. Emma Woolley - Eva Vita (by Wynton x Houston) -79.5
2. Emma Woolley - Eldorado (by Special D x Damiro)  -  73
3. Olivia Towers - Edjena (by Apache x Cabochon) - 72
4. Emma Leech - Euphoria E (by Uthopia x Sandro Hit) - 69
5. Charlotte Dujardin - Edison H (by Ampere x Riverman) - 68.5
6. Lynne Mcleod - Emily (by Westpoint x Samber) - 61.5
Jessica Smith - Elliot (by Spielberg x Welt Hit II) - RET
5-year olds
1. Sam Rahmatalla - Seagry Sanay (by Stedinger x Wolkentanz) - 77
2. Diana Fisher - Diego V (by Spielberg x Welt Hit II) - 68.5
Related Links
Cashmir Excels at 2012 Pavo Cup Qualifier in Hartpury
Pavo Cup Qualfiier to be Held at 2012 CDI Hartpury