2013 Bundeschampionate Qualifier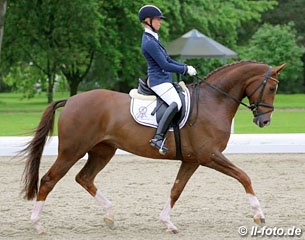 The 5-year olds QC Flamboyant and High Point and the 6-year old Sarotti won the Bundeschampionate qualifier held in Hagen, Germany, on 1 June 2013. Ullrich Kasselmann of Hof Kasselmann in Hagen was so kind to step in after the qualifier in Hille had been canceled due to extremely bad weather last week. The judges at the event were Harms, Düring, and Wiete.
The 5-year old division was split up into two groups. The winner of group one was Marita Pundsack aboard the Belgian owned Oldenburg stallion QC Flamboyant (by Fidertanz x De Niro). The combination scored 8.2 to win the class and become the sole pair in this group to qualify for Warendorf. The runner up was Sabine Egbers aboard the Westfalian gelding Roger Moore (by Rock Forever x Pilot) with 7.8. Two more combinations tied in second place with the same score: Claudia Ruscher on the Trakehner stallion Banderas (by Le Rouge x Friedensfurst) and Eva Möller on the Hanoverian gelding Follow Rivers (by Fidertanz x De Niro).
Two combinations became winners of group 2. Christina Hammann steered the Oldenburg gelding High Point (by Hotline x Donnerhall) to an 8.0 final score and this was matched by Eva Möller on the Oldenburg mare Bella Donna (by Belissimo M x Rubinstein). Erik Butjer and the Oldenburg stallion Sir Kinley (by Sir Donnerhall I x K2) as well as Anja Engelbart on the Hanoverian stallion Foundation (by Fidertanz x De Vito) completed the top three with a 7.7 score.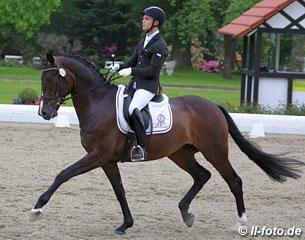 The Spanish Victor Alfonso Pomares and the Oldenburg gelding Sarotti (by Sir Donnerhall I x Cagliostro xx) won the 6-year old division, in which the combinations had to ride the 6-year old preliminary test. Pomares scored 8.2 and referred Dora Schomerus on  Royal Ascor to a second place with 8.0. Three riders tied in third place with 7.6.: Eva Moller on Double D (by Dimaggio x Diamond Hit), Fabienne Lutkemeier on Fats Domino (by Fidertanz x De Niro) and Zelecktion (by Zorro Son x Midt West Ibi Light).
Photos © LL-foto.de
Results - 2013 Bundeschampionate Qualifier - Hille/Hagen
5-year olds - Group 1
1. Marita Pundsack - QC Flamboyant (by Fidertanz x De Niro) - 8.2
2. Sabine Egbers - Roger Moore (by Rock Forever x Pilot) - 7.8
2. Claudia Ruscher - Banderas (by Le Rouge x Friedensfurst) - 7.8
2. Eva Möller - Follow Rivers (by Fidertanz x De Niro) - 7.8
5. Claudia Feldmann - Sacharow (by Swarovski x Donnerhall) - 7.6
6. Sissy Nadine Braband - Fernet (by Florestan x Rubinstein) - 7.4
6. Angelica Bystrom - Helios (by Herzensdieb x Lemon Park) - 7.4
6. Lillian Schilling - Diba (by Damon Hill x Dream of Heidelberg) - 7.4
6. Hayley Beresford - Rebana W - 7.4
6. Annika Sluter - Rosen's Sunday (by Sandro Hit x Weltmeyer) - 7.4
11. Angelica Bystrom - Del Rey (by Desperados x Rotspon) - 7.3
11. Sabine Egbers - Sky (by Scolari x Worldly) - 7.3
11. Anja Kreitel Haberhauffe - Secret Kiss (by San Amour x Rubinstein) - 7.3
11. Verena Oberscheidt - Back in Black O (by Painted Black x Davignon) - 7.3
11. Gerhard Stute - Franca (by Furst Piccolo x Montmartre) - 7.3
16. Gerhard Stute - Delmagio (by Dancing Dynamite x Concepcion xx) - 7.2
17. Leonie Richeter - Finest Feeling (by Fidertanz x Rubin Royal) - 7.1
17. Claudia Ruscher - Steppo (by Spielberg x Hohenstein) - 7.1
17. Christina Stamm - Captain Brownie (by Captain Fire x Levante) - 7.1
20. David Lessnig - Rock me Amadeus (by Rock Forever x Lenardo) - 7.0
20. Merethe Wempe - Sir Bo Bo (by Sir Donnerhall x Rubin Royal) - 7.0
20. Anja Wilimzig - For Set (by Florianus x Royal of Loh) - 7.0
20. Lisette Doodhagen - Fabious (by ) - 7.0
20. Rebecca Horstmann - Friend of Mine (by For Compliment x Rubinstein) - 7.0
20. Stefanie Kerner - Solitaire Black P (by ) - 7.9
26. Ariane Dierkes - Fidelia (by Fidertanz x Alabaster) - 6.8
5-year olds - Group 2
1. Christina Hammann - High Point (by Hotline x Donnerhall) - 8.0
1. Eva Möller - Bella Donna (by Belissimo M x Rubinstein) - 8.0
3. Erik Bultjer - Sir Kinley (by Sir Donnerhall x K2) - 7.7
3. Anja Engelbart - Foundation (by Fidertanz x De Vito) - 7.7
5. Sandra Frieling - Quintaner (by Quaterback x Weltmeyer ) - 7.5
5. Antonia Sturm - Sam Simon (by San Remo x Heraldik xx) - 7.5
5. Ralf Hannover - Quentin Tarantino (by Quaterback x Wanderkonig) - 7.5
6-year olds
1. Victor Alfonso Pomares - Sarotti (by Sir Donnerhall x Cagliostro xx) - 8.2
2. Dora Schomerus - Royal Ascot (by Royal Highness x Warkant) - 8.0
3. Eva Moller - Double D (by Dimaggio x Diamond Hit ) 7.6
3. Fabienne Lutkemeier - Fats Domino (by Fidertanz x De Niro) - 7.6
3. Stefan Blanken - Klosterhedens Zelecktion (by Zorro Son x Midt West Ibi Light) - 7.6
6. Annika Sluter - Sir Credic ( by Samarant x Argentinus) - 7.5
7. Marion Wiebusch - Sir Hayfield (by Sir Donnerhall x Davignon) - 7.4
8. Insa Hansen - Horares (by Hotline x Donnerhall) - 7.3
8. Iris Werner - Heuberger (by Imperio x Michelangelo) - 7.3
10. Claudia Ruscher - Donauwelle (by Dimaggio x Mon Cherie) - 7.2
10. Heike Ingebrand - Rybot (by Rittmeister x Munchhausen) - 7.2
10. David Lessnig - Royal Romanov (by Romanov x Don Gregory) - 7.2
13. Anne Horstmann - Lifetime (by Londontome x Argument) - 7.0
13. Claudia Ruscher - Dynastie (by Damon Hill x Florestan) - 7.0
13. Charlotte Elizabeth Hay - Sunrise (by Sir Donnerhall x Rohdiamant) - 7.0
16. Michael Rhode - Lebensleicht R (by Lord Loxley x Maurice) - 6.9
16. Gerhard Stute - First Time (by Furst Piccolo x Montmartre) - 6.9
Juan Manuel Vidal Testal - Sandro Star (by Sandro Hit x Wonderful) - RET
Related Link
Eurodressage Coverage of the 2013 Bundeschampionate