Australian Dressage News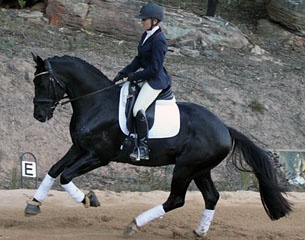 The Australian equestrian federation (EA) announced the National Dressage Futures Squads for 2013. Selectors travelled around Australia as part of the Talent Identification assessment days with more than 100 combinations taking part.
Now in its second year, the Talent Identification Program forms an important part of the national High Performance Program as it identifies promising horse and rider combinations competing at the lower levels who show potential to be future members of the Dressage elite and A squads.
Inclusion in the Futures Squad is designed to assist the combination in preparing for national and eventually international competition.
Futures Squad members will be invited to EA National High Performance squad clinics and will have access to a range of additional support mechanisms, established under the National Pathways Program.
The Australian Dressage Futures Squad includes:
NSW - Ali Foye - Whistler GP
NSW - Amanda Shoobridge - Revelwood Destiny
SA - Angela Donaldson - Danson Destiny
SA - Angela Donaldson - Danson Don Prestige
NSW - Brett Parbery - Furstin Friendship
NSW - Carolyn Henley - James 007
NSW -Cassia Montgomery - Rebel M
NSW - Courtney Larard - F1 Shiraz
QLD - Danielle Shearer - Riverview Cinderella
NSW - Denise Rogan - Virtuel I
WA - Deon Stokes - Royal Oak
QLD - Emma Flavelle - Caberet C
Vic - Georgina Cattermole - Bellaire Cannavaro
Vic - Gitte Donvig - Brioni
Vic - Hayley Gilbert - Dicavalli Dior
SA - Heather Currie - Emporio Van De Zwarte Mouwen
Vic - Holly Cutler - Diva Royale
QLD - Jayden Brown - San Andreas
QLD  - Jessica Shaw - Amage Wasabi
Vic - Kerry Mack - Mayfield Limelight
Vic - Lilah Nieuwland - Wajama
NSW - Linda Foster - HV Her Highness
NSW - Lisa Martin - First Famous
WA - Louise Hillman - Lord Louie
TAS - Lydia Jackson - Flashazz
Vic - Maree Tomkinson - Debstar
Vic - Maree Tomkinson - Saddle Up Romper Stomper
QLD - Melissa Van Den Berg - Dornkaart
Vic - Monica Bird - Quinlin
NSW - Nadia Coghlan - Fiderdanz
TAS - Phillipa Cassidy - Voltaire
SA - Ria Grivell - Acacia Ridge Galileo
NSW - Robbie Soster - Danora
SA - Ruth Schneeberger - PS Royal Dancer
TAS - Ruth Walker - Walden Park Columbus
WA - Sally Rose Mayall - Hollingrove Sunburst
Vic - Sharyn McCombe - Yarramee B Bear
Vic - Sidney Hoffman - Freedom C
Vic - Sue Chandler - Tasman Park Fanfare
QLD - Tor Van Den Berg - Lady Sinatra
NSW - Vanesa Midwinter - New World Prince of Pzazz
WA - Vanessa Dunstan - Lord Deniro
Equestrian Australia is in the process of recruiting for the positions of National Performance Director of Dressage and Dressage Selectors – once these positions have been filled the national elite and A squad members for Dressage will be announced.
Related Links
Australian Equestrian Federation Reforming Dressage High Performance Program
Dressage Talent Identification for Australian Futures Squads
Australian Dressage Squads for 2012 Announced