FEI Dressage News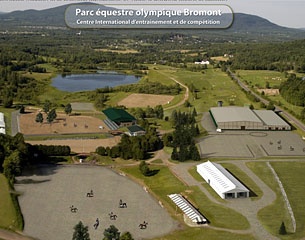 The Canadian bid team hoping to host the World Equestrian Games in 2018 will present to the FEI Evaluation Commission next month as part of the bid process prior to a final decision on the host city in June.
Canada has nominated Bromont, which staged the equestrian events for the 1976 Olympic Games, as the venue for 2018.
The bid committee, which is expected to include the Mayor of Bromont, Pauline Quinlan, and Equine Canada President Mike Gallagher, will travel to FEI Headquarters in Lausanne (SUI) on 26-27 February for meetings with the Evaluation Commission.
A five-strong FEI delegation, representing the Federation's sports, veterinary, commercial and financial departments, conducted a site visit of the Bromont venue at the end of November last year.
Following the Bromont presentation on 27 February, the FEI Evaluation Commission will produce a report for the Bureau. The Bromont bid team will then return to Lausanne for the in-person Bureau meeting in June and will make a formal presentation, prior to the Bureau vote that will decide the allocation of the FEI World Equestrian Games™ 2018.
The FEI confirmed this week that no signed host agreement had been received from the Austrians before the December 2012 deadline, meaning that Vienna is no longer in the running to host the FEI World Equestrian Games™ 2018.
"It is of course disappointing to have lost Vienna as one of our bid cities for the FEI World Equestrian Games™ in 2018," said FEI Secretary General Ingmar De Vos, "but we are very much looking forward to seeing the presentation from Bromont when the Canadians come to FEI Headquarters in Lausanne at the end of next month to present their bid book to the FEI Evaluation Commission."
Related Links
Austria Fails to Meet FEI Deadline in Bidding Process 2018 World Equestrian Games
Bromont Applies for 2018 World Equestrian Games