2012 CDI-W London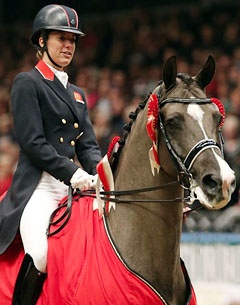 There may not have been another world record to celebrate, but the sold-out crowd was nevertheless euphoric to witness Charlotte Dujardin and Valegro perform their patriotic kür once again at the 2012 CDI-W London on Tuesday evening 18 December 2012, accompanied by what seems to be the last international performance of Uthopia under Carl Hester.
Twenty-four hours after setting a new Grand Prix record (84.447%), and still suffering a little from the bout of bronchitis that left her feeling quite ill in the past few days, Charlotte Dujardin had a less than ideal start to her test as Valegro spooked and got unsettled just before entering the arena at A, which led to a couple of mistakes in the first part of the test. Valegro was a little edgy in the first piaffe and, while the second was perfect, there was again loss of rhythm in their third. Charlotte regained complete control in the second half of the test, bar a couple of transitions lacking smoothness, and performed a virtually flawless canter tour to score 87.975%.
"It didn't really go according to plan tonight", said Charlotte in the press conference. "Just as we were coming in, something spooked him and it just messed everything up. He was on edge and I couldn't quite get what I wanted. He settled down by the canter tour and, overall, I was happy with lots of things, of course. It's a great way to finish the year", she said, before adding that "at Greenwich, 24,000 people didn't feel like there was one single person in the arena, but here you can almost touch them – it's a completely different kind of atmosphere", which clearly affected Valegro more.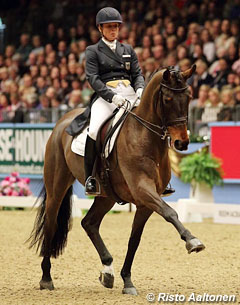 Second place was taken by Isabell Werth and Don Johnson, who admitted such a result on a fairly inexperienced horse was beyond her own expectations when up against two gold medal-winning horses. Madeleine Winter Schulze's 11-year-old gelding (by Don Frederico x Warkant) performed an obedient, willing test with plenty of elasticity; expressive half-passes were accompanied by a challenging floor plan that left no margin for error and included canter pirouettes to counter pirouettes in piaffe. The test was rewarded with 80.075% and second place.
"I am really happy to be here – this is a great show with great atmosphere. I am so pleased with Johnny, he has done two very good tests - today was even better than yesterday. Johnny's given me my Christmas present!" smiled Isabell. "He's improved a lot in the past six months; I hope he goes on like this. When I came (to Olympia), I didn't expect to finish second twice. To sit between these two Olympic champions is a great feeling, with a young horse," concluded the German rider, who now plans to attend the Amsterdam leg of the World Cup circuit.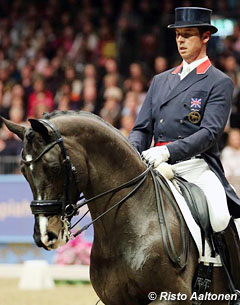 Carl Hester bowed out of international competition on Uthopia with a third place (79.9%) and a much better test than Monday's GP (when they placed 6th on just over 71%): just as well, as Carl joked afterwards that "if (our final competitive ride together) had been Monday's GP, I'd have hung myself – I am really glad I won't have to take those pills tonight!" In their freestyle on Tuesday night there was far less tension, and the piaffes in particular were much better (although some were still on the small side), thanks to some late fine-tuning courtesy of Richard Davison's wake-up call: "Richard needs a pat on the back for our improvement in the piaffe: he told me to 'wake up and do something about it'. We were far more focused today and did piaffe pirouettes instead of going in a straight line, and that seemed to have solved the problem".
Confirming that he won't be riding the Metall stallion anymore, Carl stressed once again that "the plan was always for him to be sold. I like to remember the fact that I was allowed to keep him for so long in the first place: we know that without any of those three horses our chances for Olympic gold would have been much weaker". Asked whether there are any promising youngsters with Rio potential at their yard, Carl joked that "We are sure we'll have some future stars for Rio: we are busy buying everything we see! Charlotte calls me every day claiming she has found the one," he concluded tongue-in-cheek.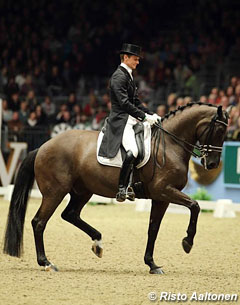 Minna Telde and Santana, who clearly got into the festive spirit donning a Santa hat with reindeer antlers for the prize-giving, finished in fourth place with 77.05% riding to a Queen medley. Theirs was an athletic test only marred by double propping in the right canter pirouette and by a disobedience in their final piaffe pirouette at A. They were followed by Michael Eilberg and the Deverills' Half Moon Delphi (76.225%), who performed their Shakira kür. Despite a small mistake in the two tempis on a circle, the Dimaggio mare looked in great shape. Michael concluded his test with one-handed passage. In sixth place, Sidsel Johansen and Schianto on 76%; their elegant classical freestyle was characterised by a high degree of difficulty and included two tempis on a circle immediately followed by ones on the diagonal – twice.
Edward Gal and Undercover, third in Monday's GP, only finished eighth in a freestyle undermined by tension (74.050%). This talented gelding, still relatively inexperienced at the level, clearly found the Olympia atmosphere a bit too much and looked really electric. Despite Edward's trademark quiet riding, mistakes crept into the test here and there. Undercover's hindlegs were so active that they were almost touching his belly at times. This was particularly evident in the first extension when such a crescendo of activity led to the Ferro offspring inevitably breaking into canter. Highlights of the test were the textbook, tiny pirouettes.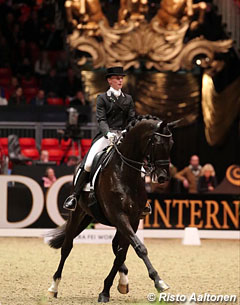 In the rest of the field, the surprise of the evening was Luis Principe and Washington, first to go in: the horse is probably in the best form he's been in and performed a really fluent test with just a minor disobedience in the first, extensive, piaffe. They finished on 70.575%. Particular crowd favourites were Imke Schellekens-Bartels' re-interpretation of Sunrise's Wibi Soerjadi kür, although Toots showed slight unevenness in the piaffe with the right hindleg far more active than the left, and Nikki Crisp and Pasoa, whose feather-light Japanese-inspired tones in the trot work really suited, almost by contrast, the mare's extravagant trot.
by Selene Scarsi for Eurodressage

Photos © Risto Aaltonen
Related Links
Scores 2012 CDI-W London
Eurodressage Coverage of the 2012-2013 World Cup circuit
The Curtain Falls for Carl Hester and Uthopia: 2012 CDI-W London Kur Final Show