German Dressage News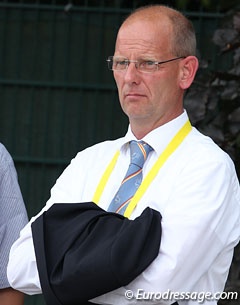 Matthias Rath and Totilas are no longer part of the German A-Team. Because of their unclear future for 2013, the dressage selection committee of the German Olympic Equestrian Committee (DOKR) has decided to remove the pair from the German Olympic A-team.
The German Dressage Selection Committee made this bold but realistic decision at their meeting on Tuesday 4 December 2012.
"The DOKR does not have any information when they can expect a come back to the international competition sport (from Rath)," the committee stated in a special press release.
The 27-year old Rath and Paul Schockemohle and Ann Kathrin Linsenhoff's 12-year old licensed Dutch warmblood stallion Totilas have not been  in the competition ring since begin June 2012. The rider was sidelined due to mononucleosis and missed out on the CDIO Aachen and Olympic Games.
After switching to Sjef Janssen as trainer, Rath announced that he will not be showing at any indoor competitions in 2012 and no 2013 date has been set for a return. It will be unlikely that Matthias will be competing at any of the World Cup competitions this winter.
Klaus Roeser, chair of the DOKR Dressage Committee, stated that "of course we regret this very much but we have to treat all team members equally. Naturally this pair will become a member of the championship team again as soon as we get a perspective on the first concrete show starts for the 2013 European Championships in Denmark."
The German A-Team includes:
Anabel Balkenhol - Dablino
Helen Langehanenberg - Damon Hill NRW
Fabienne Lütkemeier - D'Agostino
Kristina Sprehe - Desperados FRH
Isabell Werth - El Santo NRW and Don Johnson FRH
Photo © Astrid Appels
Related Links
German Senior Grand Prix Teams for 2013 Announced
The World Keeps Turning: Totilas to Stand at Stud in 2013