Oldenburg Breeding News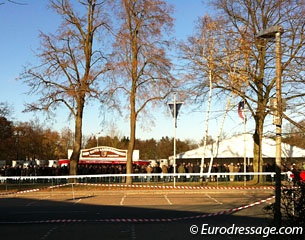 It was a beautiful autumn day today. The sun was shining brightly and as the leaves have turned colour, the scene was totally picturesque for a fun filled first day at the 2012 Oldenburg Stallion Licensing. Browns, yellows and reds coloured the scene while the 2012 Oldenburg stallion licensing candidates presented themselves on hard surface at the Oldenburg equestrian centre in Vechta, Germany, on 21 November 2012.
While it was quite chilly, the late November weather was absolutely perfect for today's outdoor performance. While hands and feet got slightly hypothermic, hearts were filled with warmth at the sight of an oustanding 2012 colt collection at the Oldenburg licensing. Modern type dressage stallions with strong movements, especially trot, came one after the other. The hard surface preview was just the amouche gueule of the mandatory lunge line session which followed in the late afternoon.
Some stallions excelled on hard surface, but disappointed on the lunge line (like a young Bordeaux x Rosier). Others sparked interest on hard surface but truly stood out once tied in side reins and assisted by a handler on the lunge (De Niro x Sion x Figaro). However, some colts made one's stomach fill with butterflies and that feeling did not go away once these colts were presented on the lunge.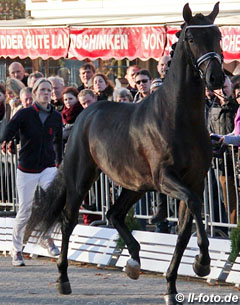 Two stallions so far seem to have become the crowds' favourite: a drop dead gorgeous, compact yet modern Furstenball x Donnerschwee x Alabaster and a Grand Prix horse in the making by Sir Donnerhall II x Don Schufro x Sevillano xx. The former is a true charmer. The Furstenball is dark bay colt with a higly noble head, super expressive face, beautiful cresty neck and his suppleness is beyond this world. The colt moves with a very active hind leg, though it could be stronger, but is always uphill. The colt is very compact and could have been more developed in the whithers, but he is a strapping lad without doubt. He would be named People's Magazine Sexiest Colt of the Year 2012. The latter has such a powerful, quick hind leg. He is always cadanced, strong, with good self carriage. In canter he shows nice flexion of the hock. This colt does not have the prettiest face but once he builds some muscle he's an international calibre dressage horse. 
While Sir Donnerhall II was quite skimpy and disappointing himself at his licensing when he was a 2,5 year old, this now talented 5-year old dressage stallion seems to be surpassing his full brother, Sir Donnerhall I (by Sandro Hit x Donnerhall), passing on a better back, a stronger loin, and a more active hing leg that moves towards the gravity point.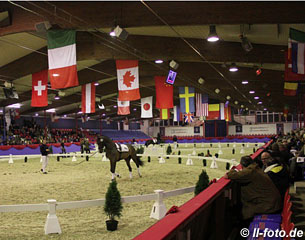 The 2012 Oldenburg stallion collection included MANY more very interesting colts. The Spanish owned Quaterback x Stedinger is probably the best mover in trot, with such a powerful cadanced movement, but he fails to impress in walk so far. This bay Quaterback is the most uphill moving QB offspring we have seen so far, but just like all his siblings he prefers to trot instead of canter. The Finnish bred and owned San Amour x Riant x Come Back II x Sorell is an absolute show stopper with his fabulous hind leg and willingness to work. Unphased by his surroundings, this black colt was totally focused on the job and showed the work ethic of a world class horse. We could imagine this horse in the Grand Prix ring.
The Dutch bred Chinook x Rousseau x Flemmingh is an absolutely charming horse, but did not come to full expression on the lunge line, being presented a bit below tempo. Still the dark bay colt has star quality. Another eye-catcher is the chunky, slightly too compact chestnut Desperados x Manhattan x Kostolany. The colt showed a fantastic hindleg, active, quick and carrying but the half-Trakehner was tense and impressed by his surroundings, which corrupted the quality of his walk. Nevertheless this young stallion is one to watch.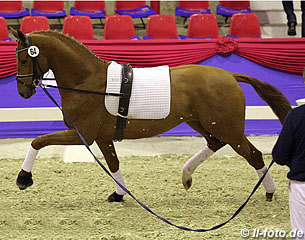 The Diamond Hit x Brentano I x Askan, which attempted to get licensed in Verden a few weeks ago, is a gorgeous horse to look at with a nice uphill canter, a good trot and an oustanding walk but this beauty might be more the sport horse type than the breeding stallion. Time will tell. The Fidertanz x Latimer x Corlando displayed a quick hind leg, a beautiful front and much elasticity but appeared quite stressy and paced in walk. The Furst Romanciers this year were not our cup of tea. The Gribaldi's were all elegant movers but all lacked freedom in the shoulder and lift in the forearm.
Blue Hors Stud brought two horses to Vechta: a lovely Romanov x Donnerhall x Pik Bube I,  which is a spitting image of his sire, and a strapping chestnut Vivaldi x Donnerhall x Pik Bube. Both colts are out of full sisters to Don Schufro. The Romanov was not so spectacular on hard surface but showed his qualities on the lunge line. The hind leg was willing to work, but not yet strong. The front was totally charming. The Vivaldi was a very impressive, long legged, modern colt but just like most Vivaldi's he's active behind but not really pushing nor carrying. Still the colt has very interesting blood and genetics to offer for the Oldenburg breeders.
Tomorrow the action continues with an at liberty presentation of the dressage colts at 14.00 h
Text by Astrid Appels - Photos © Astrid Appels - LL-foto.de
Related Links
Forty-Eight Stallions Selected for 2012 Oldenburg Stallion Licensing
German Stallion Licensings, Commerce over Quality and Welfare?
Furstenstein, Champion of the 2012 Oldenburg Spring Stallion Licensing