Young Guns in Dressage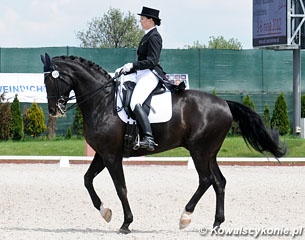 Claiming the Czech Republic's Dressage Rider and Dressage Horse of the Year titles in 2011, Ema Jancarova has earned even greater success in 2012, taking out the Grand Prix and Special at the CDI3* in Fót aboard her 15-year old Czech warmblood Athos (by Adriano x Dietward).
"Percentage-wise we got an even better result in the Grand Prix at the CDI-W in Kaposvár, so hopefully I now have the necessary scores to attend the European Championships next year," said the 28-year old. "However, my greatest personal success is that I have now been riding my horse for ten years, five of those at an international level, without compromising his physical or mental health, and yet achieving better results each season."
Led into the sport of dressage when her small-fence showjumping career came to an end, Ema switched to dressage back in the days when whe was a working student in the US at Cloverlea Farm (CT) run by Beth and Jennifer Baumert.
"I was 17 at the time, so I got a pretty late start in the sport," she explained. "I started riding at the age of six at a university riding barn, attending six-week courses like anybody else with no equestrian background, learning to post the trot, turn, and stop, with seven other struggling beginners and various instructors. More importantly it was at this time that the rest of my family who accompanied me to the barn (mom, dad, sister) were also infected by the equestrian virus, and as everyone knows, you have that one for life."
Versatile Training with Feedback from Different Coaches
Training alongside her equally talented sister Ida, who is currently ranked third nationally, the pair were initially taught the solid basics by Czech trainers, M. Siwkova and V. Vojackova, and for the seven years following worked with Belgian Denis Soyer.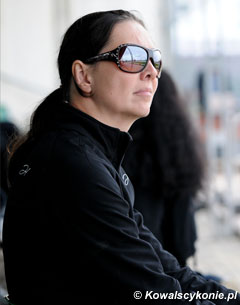 "We came to know Denis as an FEI delegated dressage trainer for dressage in third world countries, such as the Czech Republic, and it was under his guidance that I began to show internationally at the small tour level," Ema explained. "For the past two years, I have been traveling to Germany, namely Wiesent, and working with Michael Deters, Swiss national trainer and former long-time apprentice of the Rehbeins. We also have Arthur Kottas coming to the Czech Republic to do clinics, but given his tight calendar, they are not as frequent as we would like."
At home, Ema regularly trains her horses with cavaletti and gymnastic jumping work supervised by the current Czech showjumping champion, J. Kincl, jr. "I think my Grand Prix horse Athos still really regards himself as a showjumper, he has so much fun with this work," she joked.
Unable to choose her best ever trainer, Ema got so much from each one and is grateful to every one of them.  "We had the luck that all of them actually complemented each other with straightforward classical riding."
The best lesson of her career so far was with Michael Deters, during her last stay at his barn. Ema started by engaging her horse behind with the use of trot-halt-reinback-trot transitions, and then moving onto really active trot-passage-trot-passage and then passage-piaffe transitions, on a small-circle figure of eight.  Delighted at how easy everything was once Athos was in front of her leg from those start-up excersises, Ema remembers the steady and light contact, him taking weight behind; smooth transitions, while he remained really regular and active. Even in the canter work, Ema was able to keep that coming, making effortless tempi changes, which were the pair's least favorite movement.
"The feeling I had that day was that everything was just working so unbelievably easily with some true harmony," she said. "It is these 'aha' moments that really give you a kick forward by motivating you to reproduce that awesome feeling!"
Czech Republic, a Developing Dressage Country
Acknowledging that the communist era had a marked negative influence on the Czech equestrian world, Ema remembers that before the war a Czech dressage rider placed 12th at the Olympics and a showjumper actually took out a gold medal.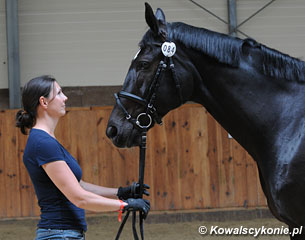 "When the communists took over, the borders were basically sealed, prohibiting our equestrians from importing horses, trainers or know-how necessary for the sport to develop," she stated. "The home-bred horses were not specialised, they had to do a little bit of jumping, little bit of dressage, and perhaps even plough the field. So I guess the biggest challenge for our nation now is to catch up with our western colleagues."
Fortunately, the popularity of the sport is increasing each year with the starting lists get bigger and bigger and dressage riders not just being recruited from ex-showjumpers. "There are also better horses being imported, more quality training performed, and I am sure that the sport will grow at an exciting rate in the years to come," she said.
With a dressage competition held in the country nearly every week during the outdoor show season, some weekends are really busy with as much as three events going on. "The competitions are definitely smaller compared to Western Europe with around 20 horses per class at the bigger shows. Like in any other country, there are more prestigious events as well as smaller, less fancy ones. There is no indoor season, however, but our riders frequently travel to the neighbouring countries' CDNs. From Brno for example, it is a two-hour drive to Vienna, five hours to Poland, and about the same for Hungary."
Certain that her nationality makes her competitive career that bit more difficult, Ema feels that politics also get in the way. "At any international show, the judges may already be biased by the fact that the rider is coming from a developing dressage country.  At the show circuit that I am riding, one can frequently see German or Dutch riders 'getting away' with stuff that I surely wouldn't!"
A Field Accident Exceeding Expectations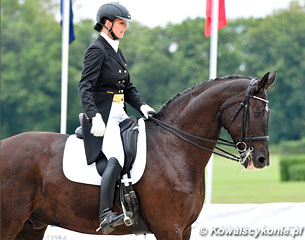 With three of her own horses and another in permanent training, Ema has very little time left in her day, particularly as she is busy finishing her PhD studies and also undertaking a job as regional secretary for equestrian sports. "I've been lucky that so far, most of my horses have found me!  Also my budget does not really allow us to acquire pricey superstars."
All of Ema's horses come with "funny stories," she said. Her current Grand Prix horse Athos was a breeding "accident" when her hobby riding father bought a mare from an owner who reassured him that she was only bred once but hadn't caught. "Everyone laughed at how fat she was getting! We did try to sell the scraggly colt on numerous occasions, as he lacked talent for any kind of sport when he was young," Ema reminisced. "When he didn't sell my sister backed him and did the first competitions with him in both show jumping and dressage. I took over the ride when he was five. As the years went by, we could see the effect dressage has on a horse as he just kept getting more beautiful!"
Jancarova admits that Athos is not the world's most elastic mover, but the comments in the judges' sheets changed from "not really suitable" to "nice mover". "He got all the time he needed for reaching Grand Prix and this year we have managed to achieve the qualification for next year's European Championship, which is something that has never been done during the entire existence of the Czech Republic," she said.
Planning on showing Diplomat, Athos's brother, in the small tour next year, he is her Grand Prix horse's polar opposite.  "Diplomat is unfortunately an orphan, as the mare died while in a high state of pregnancy, and boy, did we have an adventure with him," Jancarova explained. "We travelled back and forth to the vet clinic with the tiny colt wrapped in a blanket in the trunk of our jeep and later on took turns working shifts to feed him.  He has always been more attached to humans than other horses. Unlike Athos, Diplomat is the prototypical dressage horse, really good movement, refined and light-footed with that 'look at me' attitude. I hope that he has a big future ahead of him, he has already been really successful at M-level."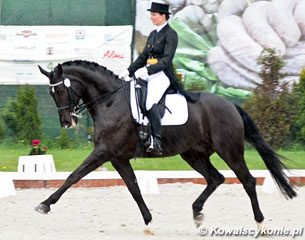 Ema's third horse is the 5-year old mare Viva La Vida, who she purchased at a 'clearance sale'. When one of Czech's national studs came into financial trouble, they sold a large part of their horse stock. "I was nearby on vacation, so we took a trip over and I decided that instead of buying a new living-room sofa, I would preserve a little piece of the Czech stud and buy a mare," Ema remembered. "I picked a random tall black 2-year old filly and was pretty happy with myself. A week later, this gangly chestnut with huge ears arrives in our yard. I called the stud and they apologized, saying that they must have read the number on the brand wrong and sent me the wrong horse."
Ema could not live with the thought of sending back the chestnut filly, which was making a home for herself at her barn. Viva La Vida is now doing some young horse classes. "I like to take it easy with the youngsters, as I really want them to have a long career in good health."
Wishing she had some form of financial help, Ema and her sister fund everything themselves with their main supporters being of course their parents.
"Both mum and dad are college professor, and they still manage to give us their all," she said. "Really without them none of this would be possible. Dressage is not nearly as popular as showjumping in our country, and we have not yet been able to find a sponsor."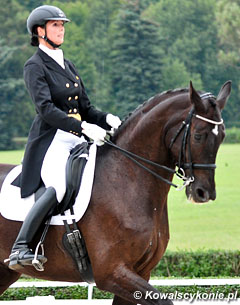 Regularly giving clinics to show jumping rider's, Ema finds that these sort of riders appreciate good dressage training, interestingly enough often more than the dressage riders themselves!  With her sights now set on "a horse vacation" in Rio 2016, Ema has a few busy years ahead of her and hopes that her horses are up to the challenge.
"Athos is definitely getting a little vacation after our long show season, with hacking and some social paddock activity. The youngsters on the other hand will work a little more and start building up muscle and strength for the next level. I sure hope to finish my PhD. during the winter/spring, but I did also tell myself that last year," she laughed. "It will definitely allow for more time with the horses, which will be necessary in order to manage everything well for the European Championships."

Her main goal, though, is to not let the sometimes unfair realities of the sport get her down. "As a dressage rider, my goals also include maintaining a sunny soul, in spite of the frustrations that our sport may bring," she stated.
by Sarah Warne for Eurodressage
Related Links
Scores 2012 CDI Fot - CDI-W Kaposvar