2012 Olympic Games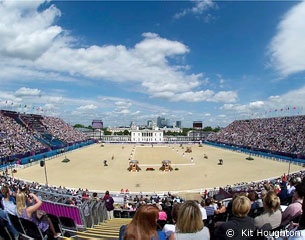 As the dressage riders have slowly settled in at the Greenwich Park Equestrian Venue for the 2012 Olympic Games, the moment is fast approaching that the dressage horses will get a first opportunity to inspect the main stadium on Sunday 29 July 2012. The last horses arrive on Sunday.
Sjaak van der Lei, partner of Adelinde Cornelissen and truck driver of the Dutch horses, explained that the security checks in London were severe. At quite a distance before Greenwich the Dutch lorry was stopped up. "We had to unload the horses and they were all check by a veterinarian. Scenting dogs inspected the truck for drugs and bombs," van der Lei explained. "The horses were loaded again and the truck was sealed from the outside. Even when I sat back behind the steering wheel our dours were sealed and I was no longer allowed to leave the truck."
Initially dressage riders were allowed to inspect the main stadium with their horses on Saturday afternoon after the eventing dressage, but this was changed. "The organizers cancelled this because it would unfair to the horses/riders arriving only on Sunday at Greenwich," said Cornelissen.
At the 2012 World Cup Finals back in April Cornelissen mentioned she might ride to new music at the Games but those plans have been wiped off the table. Adelinde will rely on her old Swan Lake/Nutcracker freestyle, which she has been riding for three years. "It's better for Parzival, he knows that music," Cornelissen told Horses.nl.
Van Grunsven has been busy training her 18-year old Salinero for the dressage competition, while coaching students both in dressage and eventing. "I did some basic work with Salinero. Besides that I coached my student Tim Lips in his Olympic dressage test, and I trained my students Yessin Rahmouni, Elaine Pen and Morgan Barbancon." Lips scored 51.70 (39th) and Pen got 52.20 points (43rd) on her Jazz offspring Vira.
Spanish Morgan Barbançon spent her day shopping at Harrods after having trained Painted Black in the morning.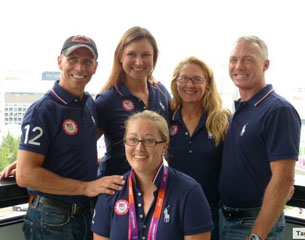 The American team riders came out of their isolation at Layham Hall and have arrived in Greenwich. The U.S. team has trained hard to put them in the mix with the Netherlands, Denmark, Spain and Sweden for a team bronze medal. American's biggest hope for an individual medal, Steffen Peters and Akiko Yamazaki's Ravel, are on great form. "I have to agree with (U.S. coach) Anne Gribbons' exitement that he's fit and ready to go," said Steffen, the only Olympic veteran on the U.S. squad with London being his third Games. "If Ravel goes as well as he has in the last couple of weeks I can't ask for anything more," Peters told Ken Braddick.
British team reserve Emile Faurie wrote that he has been "sharing some downtime with my friend Anna Merveldt whom is competing for Ireland at the Olympics where I'm helping her."
British 2010 WEG team silver medal winning Fiona Bigwood hosted the Swedish team at her farm Bourne Hill. "It was lovely to have the Swedish dressage team staying with us the last few days and we wish them all the best at the Olympics. Their horses looked great," Bigwood wrote.
Photos © Private - Kit Houghton
Related Link
Eurodressage On the Scene at the 2012 Olympic Games