2012 Olympic Games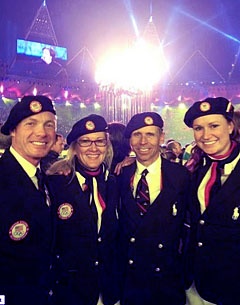 The first dressage horses have arrived at Greenwich Park, the official venue for the equestrian events at the 2012 Olympic Games. Most teams, who were at training camps in the vicinity of London, have made the journey to Greenwich early Saturday morning. The riders attended the opening ceremony and were thrilled by the experience.
The German arrival into the London area was a time-consuming effort. After a 2,5 hour tube ride to Greenwich Park to pick up the accreditation for the German riders, it turned out that someone has taken Jurgen Koschel's pass. It took a lot of convincing of the staff that the true Jurgen Koschel was with them. "After 45 minutes of discussion and convincing the lady we got the accreditation. We don't know if a Koschel doppelganger is wondering the London streets or whether it was a mistake in the system," a German rep said.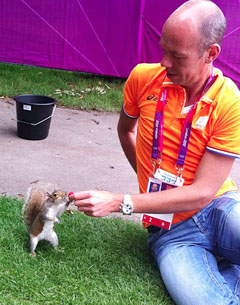 Hans Peter Minderhoud found himself a new friend in Greenwich Park. Check out the photo!
Kim Boyer, owner of Spain's reserve horse Grandioso, attended last night's Opening Ceremonies and wrote that it was "a thoroughly spectacular show! Hope you all caught it on TV. Being there was a thrill."
Australian Kristy Oatley also had a blast at the opening ceremony: "I had the best night! It just keeps getting better," she wrote. "Without the amazing support from my family and friends and team this would all not be real. My third Olympics are here."
Canadian Jacqueline Brooks felt inspired by the ceremony. "What a night!!! I am speechless, ecstatic and so inspired! Let the Games begin!"
The 19-year old Spanish Olympian Morgan Barbancon had a thrill of a lifetime. "I have just lived the most amazing moment an athlete could ever experience! This ceremony will be forever in my heart! It is unforgettable, no words can describe how I feel."
Dutch trainer Nicole Werner was very emotional about the ceremony. "In 2004 I watched it with tears in my eyes because of Lingh, now I watched it with tears of joy for Ed and Undercover," she said. In 2004 Edward Gal was unable to compete at the Games because Lingh injured himself right before departure. The current world champion and world record holder will now be competing in the first Games of his career!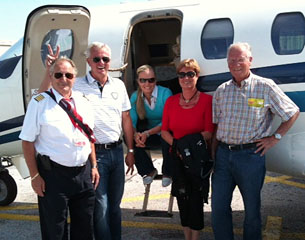 Austrian Victoria Max-Theurer has been based at Jill and Jules Walker's Southern Cross Stud in Kent before trekking to Greenwich. She brought Augustin OLD as well as Eichendorff along and has jetted her trainer Wolfram Wittig over from Munster, Germany.
Dutch Imke Schellekens-Bartels, who is sad about missing out on Olympic selection this year, gave a thumbs up to her mom Tineke Bartels. "Proud of my mum! After riding four Olympics, coaching me on two, she now is 2,5 weeks in London as board member of the Dutch Olympic Committee. Go mum!"
While the majority of the athletes take residency in the Olympic village, Anky van Grunsven and her family are moving into the house the Spanish Barbancon family has rented 15 minutes from the show ground. "We have a great house in Greenwich, about 15 minutes walk from the showground. The cross country course is only 200 meters from our house. We share the house with the Barbancon family. It's a super house, built in 1735 by a British general. Two majors of London used to live here. We have Dutch tv in the house, so we can follow the Olympics on Dutch tv if we want to."
Photos © Private
Related Link
Eurodressage On the Scene at the 2012 Olympic Games