2012 Olympic Games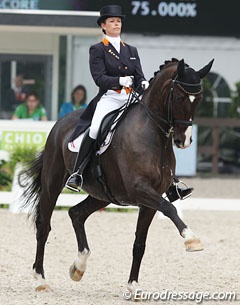 Going for her ninth Olympic medal, one Dutch dressage great is out to prove that wisdom is what will lead to gold in London. Defending Individual champion, and the only Dressage rider ever to take three back-to-back Olympic titles – at Sydney (AUS) in 2000, Athens (GRE) in 2004 and Hong Kong (CHN) in 2008.
About to set a new record as the first dressage rider to compete at seven Olympic Games, Anky currently share's the record for most Olympic medals in Dressage with Germany's Isabell Werth and Reiner Klimke.
Qualifying for the 2010 World Equestrian Games and a different equestrian discipline, Anky hasn't dropped the reining, but is focusing on her dressage career after scoring herself a spot in the 2012 Dutch team.
"I'm very excited to have made another Olympics!" says Anky. "I do miss reining, and at the moment I still continue to train in this discipline, but only train at home. But I will return to reining competition after the Olympics!"
The only Dressage rider ever to take three back-to-back Olympic titles Anky says she did not start preparing for London at any particular moment, but just continues to work hard and focus on her training with partner Sjef.
"My path to London has had both it's ups-and-downs, however I finally feel I found the right way....up!"
With such a momentous event on the horizon I wondered what other aspects Anky adds to her training, to ensure she arrives at the games in tip top form?
"I don't have special mental training," says Anky. But physically I have spent the last 8 months working with a personal trainer."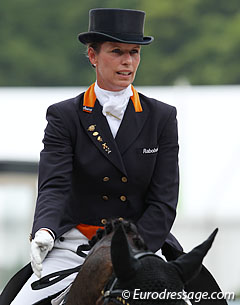 Helped along by this extra muscle power, Anky's dream for London is to achieve, well... perfection!
"I hope we can do a test that is as good as possible for us to produce in that moment. But the percentage I would be happy with...100% ;)"
Having been recently named in the Dutch team along side Adelinde Cornelissen on Parzival and Edward Gal on Undercover, Anky will enter the arena on Salinero, her 18-year old Hanoverian gelding, proving that with the right partner a horse can remain at the top for a long time.
Having beaten the Dutch and the German team at the 2011 European Championships in Rotterdam, the British are again looking strong, but Anky knows the longstanding dressage greats will not give up!
"The horses to watch will be Valegro, Parzival and Damon Hill," says Anky. "The British and the German teams will be the nations to beat! But I think the Germans can get back on top... they always do!"
Text by Sarah Warne for Eurodressage.com
Photos © Astrid Appels
Related Link
Eurodressage On the Scene at the 2012 Olympic Games