2012 Olympic Games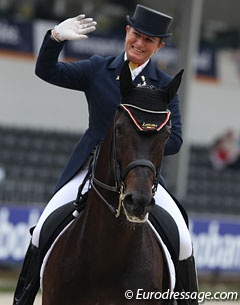 Claudia Fassaert and not Jeroen Devroe has been selected as Belgian individual representative at the 2012 Olympic Games in London on 2 - 9 August 2012. The Belgian Olympic Committee (BOIC) approved the nomination of the Belgian Equestrian Federation on recommendation of the Belgian Dressage Committee and team coach Volker Moritz.
The Belgian Olympic Committee held a meeting on Tuesday 3 July to discuss the Belgian dressage representative. Afterwards the BOIC board approved the candidate proposed and released the name of the rider to the public.
After a highly successful winter show season at the World Cup Qualifiers, Jeroen Devroe and Apollo van het Vijverhof unlocked the individual slot for Belgium by finishing in the top 50 of the FEI Olympic Riders Ranking by 1 March 2012. The BOIC ordered the Belgian Equestrian Federation that Devroe had to prove fitness at an outdoor competition to guarantee his Olympic representation. The Nieuwrode based rider achieved this at the 2012 CDIO Saumur in April.
However, due the growing form of Claudia Fassaert's Donnerfee and Vicky Smits-Vanderhasselt's Daianira van de Helle, Belgian team coach Volker Moritz asked for an additional outdoor performance from Devroe in a ride-off against the other two short listed Olympic candidates. A hoof abcess sidelined Apollo van het Vijverhof and the horse could not compete at the CDIO Rotterdam, where Fassaert shone aboard her Belgian bred Donnerfee (by De Niro).
While the Belgian show jumpers have the CSIO Aachen as final Olympic selection trial, for the dressage riders Aachen could strangely no longer be included in the selection process, despite requests.
The Belgian dressage committee and Volker Moritz now nominated Claudia Fassaert as Belgian Olympic representative.
Photo © Astrid Appels
Related Links
Eurodressage "On the Scene" at the 2012 Olympic Games
Three Belgian Combinations Short Listed for 2012 Olympic Dressage Nomination
Cavalor Has Exclusive Contract with Belgian Olympic Committee