KWPN Breeding News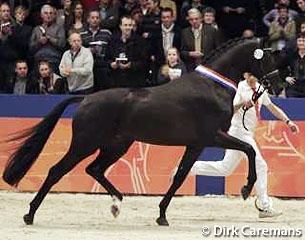 Etoine was proclaimed champion of the 2012 KWPN Stallion Licensing at De Brabanthallen in 's Hertogenbosch, The Netherlands on Saturday afternoon 4 February 2012. Twenty-eight 3-year old stallions in total were approved and need to move onwards to the Stallion Performance Test to obtain full licensing, the 5-year old Oldenburg Jack Sparrow was accepted as well and needs to do a shortened 21-day performance test.
The licensing committee made the surprising decision to place the black colt Etoine at the head of the line in the champion's ring and not, for instance, the favoured Excalibur (by Ampere) nor Emerson (by Wynton). Etoine is bred by S.P. de Lange and owned by Ad Valk, Tom Coomand and T. Bos. The black is by Vivaldi out of the interesting dam line of preferent mare Janette (by Balzflug x Amor x Hurricane). The colt sold at auction for a modest 58,000 euro to President Dressage Stables.
"The large framed black stallion convinced with his good self carriage and movement mechanism," the KWPN committee reported.
The gorgeous bay colt Expo (by Wynton x Belisar) was named reserve champion, while Excalibur (by Furst Romancier x Krack C) was ranked third. The former colt is bred by A. Roefs from Son, The Netherlands, and descends from the Negro damline. The latter is bred by J. Notebomer.
While forty-two colts were accepted for the third phase, the KWPN stallion licensing committee thoroughly weeded out the group to keep only 28 promising colts. Sire Vivaldi ended up with four out of eight third-phase stallions approved and Ampere had three out of five accepted. Furthermore not a single Apache offspring made it in the end as they failed to produce a proper walk despite their sporty look and good trot.
Seven colts were invited for the champion ring and four of them had direct German blood in their lines: Excalibur (by Ampere x De Niro), Excalibur (by Furst Romancier x Krack C) and Emerson (by Wynton x Flemmingh), Etoine (by Vivaldi x Balzflug), Elcapone (by UB40 x OOSeven), Escobedo (by Vivaldi x Havidoff) and Expo (by Wynton x Belisar).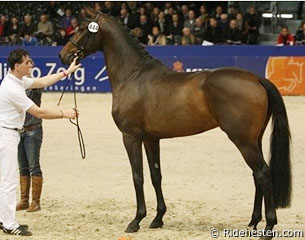 Danish Blue Hors stud has always been a big shopper at the KWPN Select Sale after the licensing. In the past they bought two licensing champions (Zack, Denzel) as well as Don Olymbrio; this year they paid 150,000 euro for the licensed Jazz x Rhodium son Erlando. Crowd pleaser Emerson sold for 70,000 euro to the Dutch VDL stud in partnership with the Swedish Gransbo Stuteri. Etoile DES (by Don Schufro) was acquired by Russian buyers for 48,000 euro.
Thirty-one licensed and not-licensed stallions were offered for sale at auction and 26 of them switched owners. The average price for a stallion was 35,500 euro. 
Photos © Dirk Caremans - Ridehesten
The approved KWPN colts are:
Excalibur (by Ampère x De Niro) - premium
Eastwood S (by Ampère x Juventus)
Elton Sollenburg (by Ampère x Fidermark)
Etoile D.E.S. (by Don Schufro x Rubinstein I)
Esteban (by Florencio x Jazz)
Excalibur (by Fürst Romancier x Krack C) - premium
Escobar (by Fürst Romancier x Flemmingh)
Erlando (by Jazz x Rhodium)
Edison (by Johnson x Houston)
Edison O (by Johnson x Rousseau) 
Everdale (by Lord Leatherdale x Negro)
Exellent (by Negro x Tenerife VDL)
Enzo Ferrari Texel (by Painted Black x Krack C)
Eucebio (by Scandic x Balzflug)
Esperance (by Sorento x Rousseau)
Empire (by Tuschinski x Rousseau)
Easter (by Tuschinski x Ferro)
Elcapone (by UB 40 x OO Seven)  - premium
E Toi (by United x Jazz) 
Escobedo (by Vivaldi x Havidoff)  - premium
Etoine (by Vivaldi x Balzflug) - premium
Eye Catcher (by Vivaldi x Partout)
Expression (by Vivaldi x Vincent)
Eastpoint (by Westpoint x Negro)
Emerson (by Wynton x Flemmingh) - premium
Expo (by Wynton x Belisar) - premium
Excellent (by Wynton x Flemmingh)
Estoril (by Zhivago x Gribaldi)
Jack Sparrow (by Johnson x Wolkentanz II)
Also read: Forty-Two Colts Selected for Third Phase of 2012 KWPN Stallion Licensing
Related Links
Diebrecht, Champion of the 2011 KWPN Stallion Licensing
Cover Story, Champion of the 2010 KWPN Stallion Licensing
Bordeaux, Champion of the 2009 KWPN Stallion Licensing
Ajong (aka Ampere), Champion of the 2008 KWPN Stallion Licensing
Zagreb (aka Blue Hors Zack), Champion of the 2007 KWPN Stallion Licensing
Wamberto, Champion of the 2006 KWPN Stallion Licensing
Johnson, Champion of the 2005 KWPN Stallion Licensing
Ustinov and Uptown, 2004 KWPN Stallion Licensing Champions
Tornado, Champion of the 2003 KWPN Stallion Licensing
Symfonie, 2002 KWPN Licensing Champion
First KWPN Select Sale at 2001 KWPN Stallion Licensing
Paddo, 2000 KWPN Stallion Licensing Champion