2012 CDN Thermal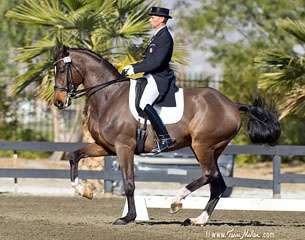 American WEG double bronze medallist Steffen Peters achieved a double whammy at the national dressage competition Dressage Getaway in Thermal, California, on 13 - 15 January 2012. Twice riding a score above 80%, Peters proved himself a force to be reckoned with setting the tone for the 2012 Olympic show season.
Peters competed both Ravel and his new star Legolas in the Saturday Grand Prix at the CDN Thermal and achieved results beyond his expectation. Judge Liro Fore gave Ravel's test a winning score of 80.426%, while Peters and Legolas achieved 80.213% on their show debut. Kathleen Raine and the Hanoverian mare Breanna (by Brentano II) completed the top three with 73.298%.
While Ravel has hit the 80% marker in the past, the 80% score of Legolas on his show debut positively shocked the dressage world as Peters now seems to have an excellent second iron in the fire for his Olympic campaign this year. Legolas is a 9-year old Westfalian gelding  (by Laomedon x Florestan II x Profi), which Peters' sponsor Akiko Yamazaki acquired at Hof Kasselmann in Germany only one month ago.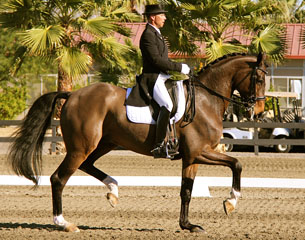 "The original plan was to take Legolas just for schooling in a show environment. He was very sensitive, but calm," Steffen Peters told Eurodressage. "Shannon (Peters' wife) and Akiko convinced me to show him. I'm glad they did."
The bay gelding had a mistake in the two tempi's and the right pirouette was a bit big, but these issues did not prevent the pair from dropping below 80%. "He felt wonderful in the test. Legolas received 6 times 10's for piaffe, passage and transitions."
Peters explained that despite their short time together, the horse has been coming on magically. "He needs to become a bit more confident in the flying changes, but for riding him only three weeks, 20 days to be exact, it was a great start. The fact that Legolas and I were able to enter the show arena relatively quickly, certainly says a lot about Ulli Kasselmann's and Insa Hansen's training. Both did a great job."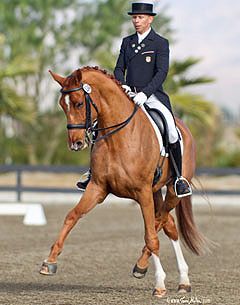 Legolas' dream show debut raises hope for the United States in this important Olympic year. While Ravel remains to be Peters' number one choice, Legolas will a brilliant back-up horse. "At this point we are planing our first CDI at the end of February," Steffen explained. "From there on, Legolas needs to tell us how to move forward. As always, we
will listen."
Steffen Peters also competed his new small tour horse Sundance (by Shakespeare in Love) for the first time and won the Prix St Georges with  71.974% ahead of David Blake on Theresa and Willard Simmon's 10-year old Oldenburg stallion Royal Prinz (by Royal Diamond x Dream of Glory) with 70.000%
Photos © Terri Miller - private
Related Links
Scores 2012 CDN Thermal
Legolas, New Grand Prix Ride for Steffen Peters
Steffen Peters Unveils New Star Horse at 2011 USDF Symposium