Hanoverian Breeding News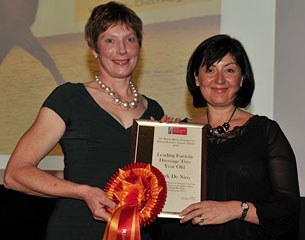 Breeders of British top performance horses of 2011 converged in London on Saturday 7 January 2012 for the annual Breeders Dinner and Awards Ceremony, organised by the British Horse Foundation at the Grange City Hotel.
There has been much to celebrate for British Breeding in 2011 and the Awards dinner gives the breeders of these world class horses some very special recognition.
Guests arrived at the Competition Stallions-sponsored drinks reception before moving on to a three course dinner followed by the hugely entertaining after dinner speaker, former jockey Luke Harvey. The evening then moved on to the much anticipated Awards ceremony.
Awards recipients ranged from breeders of best of the youngsters in the 2011 Futurity and on to the best British bred young horses in the three main disciplines. The breeders of stallions and mares whose progeny have had great success were also recognised.
Award winners included both professional and amateur breeders alike.
On the big stud end of the scale Lynne Crowden of Woodlander Stud collected awards for the reigning 5 year old young horse world dressage champion, Woodlander Farouche (by Furst Heinrich), the young stallion Woodlander Wavavoom (by Weltregent) and Farouche's Wavavoom colt foal by embryo transfer, Woodlander Wild Child.
Caroline Evans' UK Warmbloods picked up the four year old award for Duke Ellington (by Dimaggio) and Suzy Mainprice's Morgan Equine took home the six year old award for Donnergrollen (by Donnersohn).
Anne Dunham's Paralympic mount Teddy, of Welsh origin was awarded the BEF Europeans Excellence Award for his Gold medal in Moorsele.
This packed and entertaining evening also recognises the achievements of former racehorses in the UK. South Essex Insurance Brokers and Retraining of Racehorses once again sponsored the valuable Elite Performance Awards at the dinner for the best former racehorses now competing in showing, dressage, eventing, showjumping and endurance.
Photo courtesy: BEF/British Breeding - © Trevor Meeks
Dressage Awards
British Breeding/ BEF Futurity Certificates of Merit
Dressage yearling: Woodlancer Rock Music (by Rockstar) - Breeder: Lynne Crowden
Dressage 2-year old: Dark de Niro (by De Niro) - Breeder: Mark Massarella
Dressage 3-year old: Raincheck (by Rubinero) - Breeder: Vinca Boorman/ S Amos
Dressage mare: Barcelona (by Breitling W) - Breeder: Suzanne Lavandera-Davies
British Breeding / BEF Future Awards
Foal Award: Woodlander Wild Child (by Wavavoom) - Breeder: Lynne Crowden
Yearling Award: Let's Dance (by Revolution) - Breeder: Vianne Bayles
2-year old Award: Gold Rush (by Romanov) - Breeder Karen Neild
3-year old Award: Danny Kannan (by Kannan) - Breeder: Jonathan Parrott
Stallion Award: Legrande (by Lefevre) - Breeder: Lothar Kappe
Stallion Award: Woodlander Wavavoom (by Weltregent) - Breeder: Lynne Crowden
Mare Award: Tanderfoot (by Be My Chief) - Breeder: JR Furlong
British Dressage Young Horse Awards
4-year old Award: Duke Ellington (by Dimaggio) - Breeder: Carolien Evans and E. Blass
5-year old Award: Woodlander Farouche (by Furst Heinrich) - Breeder: Lynne Crowden
6-year old Award: Donnergrollen (by Donnersohn) - Breeder: S. Mainprice
Sports Pony Studbook Society British Bred Competition Pony Award
Falaza (by Libro x Embla George) - Breeder: Jane Fowles
Complete results here.
Source: British Dressage
Related Links
Great Results for British Young Breeders at 2011 World Young Breeders Championships in Lyon
British Breeders Rewarded at 16th Annual Awards Dinner in London