KWPN Breeding News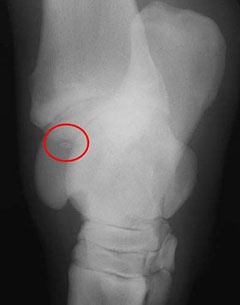 In January 2012, the KWPN will publish the first results of the structural offspring inspection for osteochondrosis (OC). The heritability of OC will be published together with the sport breeding trait (dressage or jumping)
and the traits for conformation, free-movement / free jumping, and height so that breeders can evaluate OC health relative to other traits.
Traits may be presented in a sufficiently balanced manner from the time a stallion's oldest offspring are age three. Therefore, data on stallions approved or recognized in 2007 (the Z-year) will be published in January 2012, as well as data on several stallions which were approved at a later date but already had offspring at the time. Conformation traits will be presented in the familiar diagram system, which includes a horizontal beam to show the degree to which a stallion passes on each trait.
Effective immediately, this system will also be applied to traits for sport, health, and height. Publishing these traits relative to one another creates a convenient genetic profile of stallions which can be read at a glance. The same system will be applied to harness horse stallions and Gelder horse stallions for relevant traits, provided enough information is available.
On Wednesday, February 1, at the KWPN Stallion Show in 's-Hertogenbosch, a KWPN College will be held on OC, including a discussion on how the new data can be used to choose pairings for breeding talented and willing sport horses. The KWPN's goal is to provide breeders with better information. More information about this educational session will be posted soon on www.kwpn.org.
-- KWPN press release
Related Links
Osteochondrosis, a Growing Pain for Young Horses
Dance Royal Not Accepted by Re-Approval Commitee
Doi Doi Doi Rejected from KWPN Licensing Process after Poor X-ray
Bretton Woods Sold to Paul Schockemohle!