Oldenburg Breeding News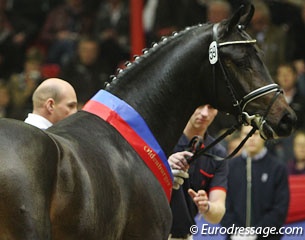 The dark bay For Romance (by Furst Romancier x Sir Donnerhall I) became the champion of the 2011 Oldenburg Stallion Licensing in Vechta, Germany, on Saturday morning 19 November 2011, but it was the Swedish warmblood Tight Junction (by Temptation x Sandro Hit x Master) that stole the show and was the clear crowd favourite.
Bred by Swedish veterinarian Lena Nystrom and owned by Nystrom and Wilhelm Schwierking, Tight Junction is by Temptation (by Tuschinski x Haarlem) out of Sigma (by Sandro Hit x Master x Maraton). The modern bay stallion impressed with his sweet looks, superb elasticity, swing and bounce in trot and canter. His walk was good. The gelding worked well on the lunge line, sparkled in freedom. Only during the auction he appeared slightly tired and less active from behind which is not so surprising after almost four strenuous days of approval.
Tight Junction did not make it into the premium ring because he is Swedish warmblood branded, but his star appeal proved at the auction where he became the top selling horse. American former model Jamie White-Welling, whose husband Tom Welling is a Hollywood actor in the sci-fi drama Smallville, had the highest bid of 800,000 euro.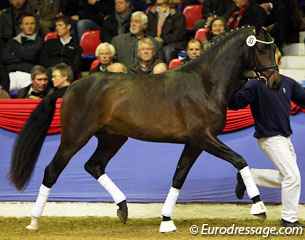 White-Welling, who is trained and assisted by Markus Gribbe, won the bidding duel against Urs Schweizer of Dressage Performance Centre Lodbergen. Tight Junction will remain in Germany to be trained by Gribbe and to stand at stud at Bockmann's.
"A couple of years ago I wanted to sell dam Sigma and had her for sale on the internet for one year, offering her for 8,000 euro," Lena Nystrom told Eurodressage. "Nobody bought her, so I decided to keep her and breed her to Temptation." Nystrom's breeding program was started by her aunt in the 1970s with the Maraton great grand dam and Lena took over several years ago. Dam Sigma has had foals by Dionysos, Rush Hour and three by Temptation. Last year's foal Stigma, a full sister to Tight Junction but Danish warmblood registered, became the Danish Foal of the Year 2010. Dam Sigma now has another full sibling at her side and is in foal to Tuschinski.
(see video of Tight Junction here)
For Romance Gets Champion's Sash
In the absence of the best horse of this year's collection in the premium ring, the licensing committee named Paul Schockemohle's For Romance (by Furst Romancier out of Gesina (by Sir Donnerhall I x Don Schufro x Sandro)) the champion of the licensing. Out of 44 presented stallion at the licensing, 25 of them were approved and 8 made it to the premium ring.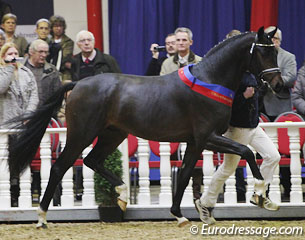 For Romance showed himself well on hard surface, but the long-legged beautiful bay colt was poorly presented on the lunge line: chased forward by his handler in a far too high tempo. In hand he was gorgeous: beautiful face, smooth top line, active hind leg. In general the connection in the back should be stronger in order for the horse to have more uphill tendency and swing forwards, but it was an exciting horse nonetheless.
It is always good business to own the licensing champion, so after missing out on Tight Junction, Urs Schweizer put all his money into the champion and got the highest bid for 750,000 euro. He will move to the Dressage Centre in Lodbergen
The stallion, who descends from the damline that produced foundation stallion Voltaire, was originally not for sale, but as soon as he got the champion's sash the horse came up for auction as there was much money to be made.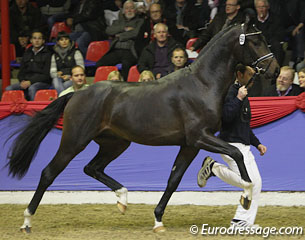 Many owners, who present young stallions for licensing in Oldenburg, are pressured by the Oldenburg society to offer their colts for sale in the auction. Promises (or hidden threats) are made that their colt will only be licensed, or boosted into the premium ring (or even get the champion sash) unless it will be for sale.
"I get stomach pains that half the stallions are not for sale. In Hanover almost all are for sale," said auction director Uwe Heckmann. "So we were glad we were able to sell the champion. It improved the overall auction result."
Tight Junction was the first horse to appear in the auction to start it off with a bang. Heckmann said they put him up first to honour the open breeding policy of the Oldenburg society. "We did it in the European mind. We are an open breed society and want to put that in the forefront." Furthermore in the show jumping licensing, the top three ranked stallions in the premium ring were bred and owned by Danish, Belgian and Luxembourg breeders.
Quinzanos Named Reserve Champion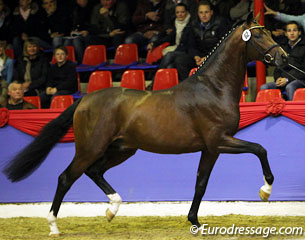 Sissy Max-Theurer's beautiful bay colt Quinzanos (by Quaterback out of Verb. Pr. mare Feldstern (by Stedinger x Quantus x Vollkorn xx) was named the reserve champion of the licensing. Acquired at the Oldenburg foal auction for 31,000 euro Quinzanos was not offered for sale in the auction and will stand at Gestut Vorwerk in Cappeln.
The gorgeous bay colt performed strongly on all three days. He was confident and rhythmical on the hard surface, he showed off his athleticism on the lunge line and in freedom he excelled with his cadence and suspension in trot. His walk was mediocre as the clarity of the rhythm was often compromised.
Like all Quaterbacks at this licensing, Quinzanos could also have more functional use of his back and put the hindlegs more towards the point of gravity to get a more uphill tendency, and like his half brothers he also squeezes his tail and sticks it out stiff like a witches' broom.
Nice Sport Horses, no Super Stars in the Premium Ring
The premium ring was filled with many lovely youngsters with good quality gaits but there were no super stars in Vechta this year. Many of the colts would make nice sport horses, but did not radiate breeding stallion potential. And then of course there were quite a few stallions who exceeded the qualities of some colts in the premium ring, but seemed totally overlooked by the comittee.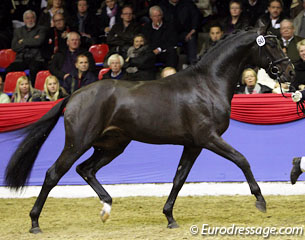 The third ranked stallion in the premium was Frank Kunzmann's Furst Romancier out of Elite Mare Wendy (by Plaisir d'Amour x Rubinstein I x Grundstein I). The dark bay colt is drop dead gorgeous. He's a modern type, nice neck, good activity from behind but again lacking clear understep. He could have been more supple in his gaits. His walk was quick and short and he grinds his teeth. This beauty was sold at auction for 170,000 euro. Mr. Brockmann of the Landgestut Celle acquired him.
Gestut Sprehe's Christ ouf of Feela (by Furst Heinrich x Famos x Benedictus) tied for third place in the premium ring. This handsome bay was a pain to handle. He needed two people to be lunged properly and was a brat in hand, grinding his teeth as well. Despite his unruly behaviour he had a big trot with nice knee action and good bounce off the ground, but the hind legs were sometimes out and in canter he became lateral losing the clear 3-beat rhythm. The walk was good.
The four other premium stallions were not ranked but tied on fourth place. The chunky Fackeltanz x Rohdiamant has a nice face, nice front and ok walk. If he generates a good tempo in trot he impressively bounces off the ground, but as soon as he slowed down his hindlegs lost engagement. He also looked unnaturally mature for his age. Bred by Jurgen Fetzer and owned by Rene Tebbel, this dark bay colt sold for 90,000 euro to Gestut Bon Homme.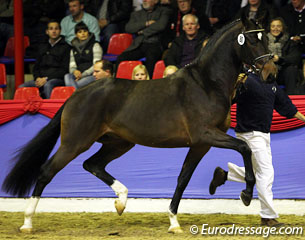 The slightly old-fashioned looking Sir Donnerhall I out of elite mare Kirudja (by Quattro B x Feiner Stern x Tiro) excelled with his powerful hindquarters. The heavy bay had wonderful cadence and spring in trot and showed a nice canter in freedom. He would have finished higher had his walk been better as it lost the rhythm as soon as tension appeared. This promising colt sold for 50,000 euro to Hermann Lenders from Rastede, Germany.
Niels and Mette Therkelsen's Slibowitz (by Sarkozy x Michelangelo x Davignon I x Pik König)  was one of the stallions with the nicest front: uphill built, wonderful neck and face. He is a bit short and steep in the croupe but he moved with an electric hindleg and always uphill in the frame. He could have some more roundness in canter but his walk was good. This colt sold for 70,000 euro to veterinarians Lieve Bertels and Veronique Swagemaekers and her partner Sebastiaan from Stable De Nethe in Mol, Belgium.
Burkhard Wahler and Johannes Westendarp's San Amour x Diamond Hit x Donnerhall x Glanz colt was the final premium stallion of the 2011 Oldenburg licensing. This bay stood out with the high elevation of his hindleg. He has much rhythm in trot, both in hand and on the lunge line. Also in canter he showed nice activity from behind but overall this horse lacked uphill tendency and while moving hard with his legs he sort of dug himself into the ground. The walk could have been better.
Underrated and Overappreciated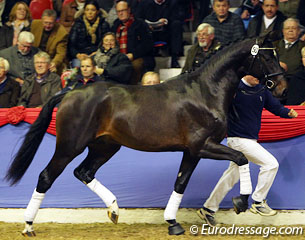 Several stallions were clearly missing from the premium lot. Dedi Leech's Dr. Doolittle x Rubino Rosso had, without a doubt, the best frontleg of all horses this year. The trot was active, ground covering, well carried with much bounce, and great lift in the shoulder. The canter could have been slightly more uphill but he had a good walk and that was a rarity at this approval. The dark bay, which is bred by Ruth Landwehr, was sold at auction for 210,000 euro to Hermann Lenders after a bidding duel with Swedish Johan Ifverson.
Markus Gribbe's bright bay Dimaggio x Landadel outclassed his peers with his self carriage and rhythm in trot. Dioptas was presented with much quietness and relaxation so the horse could fully show his potential. He has a big curb on his left hock though, which was a thorn in the eye, and the walk could have been better. Stallion selector Evelyn Schlotmann blamed the walk for him not making the premium ring.
Catherin Beckmann-Messfeldt's Fidertanz x Dream of Glory x Le Grand I x Tarino colt was also an above average stallion. The bay has a sporty type, quick hind leg and much bounce. He was a very elegant mover in trot but could have been more loose in the body in canter. His walk was good.
Sandy Phillips Sir Donnerhall I colt ouf of her 2006 British WEG team horse Lara (by Lanciano x Larome x Ehrensold) has dressage written all over his body. The bay colt was well cadenced with a powerful hind leg. He could have had more stretch in the front leg and freedom in the shoulder, though, both in trot and in walk.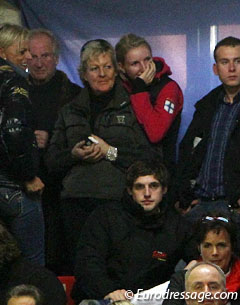 Miraculous approvals took place for the very stiffly moving De Koonig x Farewell III (owned by Heinrich Ramsbrock), Erich Stevens' weak Farewell III x Welt HIt II (which had no carrying hind leg at all), the disconnected Fidertanz x Don Schufro (which is drop dead gorgeous but had a weak back), and the old fashioned looking Sieger Hit x Waterford (could make a nice sport horse, despite the total absence of a proper walk).
The jaw-dropping approval of the day was the one of Paul Schockemohle's irregular and freaked out Sir Donnerhall x Don Picardi. This poor stallion was uncontrollable when shown in freedom. He wanted to escape the arena, jumped through the fences or stuck his head through them. He was afraid of his handlers and showed no walk at all.
Oldenburg Anemia Due to Marketing Priority
Eighteen stallions in total were sold at auction. The price for a licensed stallion was 226,400 euro but this average was so abnormal because of the two highlights. The average price for a non-licensed colt was 21,125 euro. A few other stallions sold really well, but a large majority of the colts hardly hit the 20,000 euro mark and several were bought back by the owners or had no bid at all! Only 4 of 18 dressage stallions sold aboard.  
"We are aware that the market is empty for normal horses," said auction director Uwe Heckmann . "If they are not special and there are no sparks on the audience, they won't sell. The consciousness is there with the clients. The world wants the absolutely special horse." Paul Schockemohle added that at this auction, "there were many nice horses that didn't get a good price and then you are not making back your money."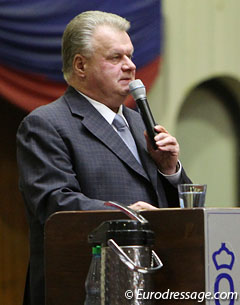 At the 2011 Oldenburg Stallion Licensing five out of eight premium stallions had Sandro Hit blood running through their veins. Since 2003, the Oldenburg society has been actively promoting, approving and selling Sandro Hit offspring. The gorgeous black SH bloodline has been selling like hot cakes and brought the Oldenburg society much glory.
However eight year later one can notice that the Oldenburg breed is getting anemic with SH-blood overshadowing and restricting the diversity and quality of the breed. It was striking to see how few stallions this year presented a proper walk and though they are modern looking, beautiful and have active hind legs most colts lacked self carriage and proper understep from behind.
The 2011 Oldenburg Licensing proved once again how limited the range of blood is in Oldenburg. The once great R-line of Rubinstein, which made the Oldenburg breed renowned, has now completely disappeared. At this approval there was not a single direct Rubinstein representative. The R-babies were famous for their high rideability and beauty but less marketable for a quick profit because they are slow-maturing. By continuing to approve  S-line stallions at liberty and selling them well at the auction the breeders are not spurred to try something new and diverse. It raises the question what the breeder wants: breed a beautiful horse that sells well, or breed a quality horse that can make it to Grand Prix and sell for even more? Oldenburg breeders seem to be looking for short term, financial satistfaction and the society is keeping this vicious cycle.
When asked about this restrictive breeding in Oldenburg, Heckmann replied that "it was like this in the past as well with Furioso or Weltmeyer. The well visited stallions get more chances to get more quality mares." According to Heckmann it's not the breed society dictating the direction of the breed but the actual breeders. "The breeders regulate that themselves. We can talk about it (different blood) but it needs to be put in practice. The offspring of the foundation sires are always highly paid. As long as the breeders get money they are happy and stay in their (breeding) area."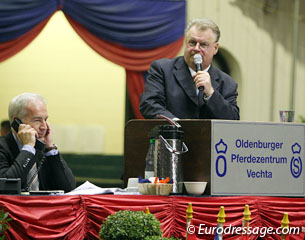 Heckmann said that through the foal auctions the society wants to get the message across that different blood is good. "We work at it to get more lines in front," he said. "It started with the foal auctions where new blood sells, like the Ampere foal. This is also thanks to the Dutch success as well."
Some of the consequences of this system are an absence of Oldenburg horses streaming into the FEI pool. Despite the gigantic amount of S-line offspring, only three S-horses so far have made it to international Grand Prix (Salieri, Sancette, Sancisco), whereas sires such as Donnerhall, Weltmeyer, Florestan and Jazz have innumerable offspring breaking through at small and big tour level. Furthermore, this year's licensing seemed to have been all about Furst Romancier, Quaterback and Sir Donnerhall while other bloodlines got little attention. The Oldenburg breed is also becoming a uni-coloured breed. Black and dark bay horses were omni-present in the collection and only six (!!!) out of 44 were chestnut. No greys nor coloured horses.
Another issue to be thinking about is that in Germany the soundness of the stallions is of less importance than in Denmark, The Netherlands and in Belgium. Looking at the X-rays of approximately 10 to 15 of the best moving stallions in the 2011 Oldenburg stallion collection, only three stallions would meet the requirements of the foreign breed societies and they are Tight Junction, Slibowitz and the Sir Donnerhall x Quattro. All the others either have one or more chips, OCD and even bone spavin. There is plenty of scientific evidence out there which proves the genetic and hereditary component of these conditions. Is it wise to breed with stallions which already have such issues at the age of two and a half? By being more strict in the selection of healthy stallions, or by at least publicly releasing the health status of the stallions, breeders would be able to make up their own mind whether they want to take the risk or not.
Text and Photos by Astrid Appels - NO REPRODUCTION ALLOWED!
Related Links
On the Scene at the 2010 Oldenburg Stallion Licensing
De Martino Captures Champion's Title at 2010 Oldenburg Stallion Licensing
Fairbanks, Champion of the 2009 Oldenburg Licensing
Furstenball, Champion of the 2008 Oldenburg Stallion Licensing
Sieger Hit, Champion of the 2007 Oldenburg Stallion Licensing
Sandro Hit Euphoria At 2006 Oldenburg Stallion Licensing
Marketing Above Quality at the 2005 Oldenburg Stallion Licensing
Furst Heinrich Fledglings Fly High at 2004 Oldenburg Stallion Licensing
Don Kennedy, Champion of the 2003 Oldenburg Stallion Licensing