2011 Pan American Games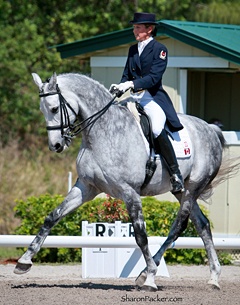 The Canadian equestrian federation has announced that Diane Creech and Robbie W, an 8-year-old Oldenburg gelding by Rubin Royal out of Rolling Home, have been withdrawn from the Canadian Dressage team which will compete at the 2011 Pan American Games in Guadalajara, Mexico, next week. Owned by Doug Leatherdale, the top scoring grey gelding is not fit to compete.
Robbie W was slightly injured before the final selection trials but was given the go-ahead for selection to the team to go to training camp. Team coach Markus Gribbe, the team veterinarian and chef d'equipe decided the horse was not ready to compete.
Robbie's owner Louise Leatherdale told Eurodressage that the minor injury the horse sustained the final weekend of the qualifications seemed fully healed but at the training camp he became tender again.
"Always, it was the prime concern that the horse would only go to the Pan Ams if he was totally ready physically," Leatherdale told Eurodressage. " All was perfect and then on Sunday afternoon he was in high spirits and in a pirouette he somehow tweaked the initial injury."
The owner and rider decided not to take any risk competing him at such a high profile event as the Pan Ams.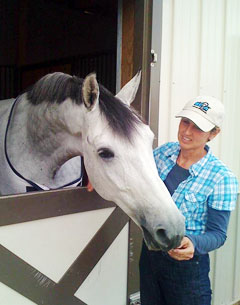 "We all agreed that we would not be able to send this horse to Mexico under these circumstances so we pulled him," Leatherdale added. "He simply needs more time to heal than the month we gave him.  He is a magnificent horse with true international talent and this is just one event in a huge career ahead of him.  The horse, as always for us, comes first.  We will give him more time and hopefully he will be ready to compete in Wellington this winter at full capacity with the true talent we know he has."
The withdrawal of Robbie from the team is a major setback for Canada as the grey Oldenburg was one of the highest scoring horses of the nation and a hopeful for an individual medal.
"Horses are heart breakers, but they give back the moon," Louise added. "We will be there for him as we always do. That is what the horse relationship is all about."
Roberta Byng-Morris of Godmanchester, Quebec, and Reiki Tyme, a 12-year-old Hanoverian gelding, join the team of Tom Dvorak of Hillsburgh, Ontario,  and Viva's Salieri W, Tina Irwin of Stouffville, Ontario, and Winston, and Crystal Kroetch of Calgary, Alberta, and Lymrix.
The Canadian and U.S. teams leave together on Tuesday ahead of the dressage competition beginning at the Guadalajara Country Club next Sunday.
Photo © Sharon Packer
Related Link
Eurodressage Coverage of the 2011 Pan American Games