British Dressage News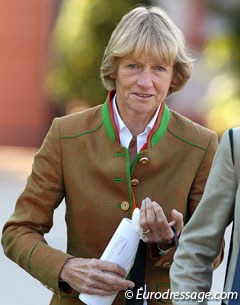 Isobel Wessels will join Jo Graham as a key speaker at the two day 2011 British Dressage Judges Principles Seminar at Hartpury College on 22 - 23 October 2011. Wessels is replacing Judy Harvey, who has been invited to compete at Biarritz CDI 3* at the same time.
Isobel is an FEI International Judge and in July she was promoted to the highest list of all and became one of only thirty 5* judges in the world.
The course content will concentrate on the way of going and movements up to Elementary level although there will be some discussion up to Medium level. Gillian Higgins will start the proceedings with a fascinating demonstration of how horses move by painting the skeleton and musculature on the sides of the horse.
This will be followed by a discussion of the Scales of Training and then demonstration horses will be used to give marks for the Way of Going of each pace. There will be plenty of opportunity to see and judge tests from Novice to Elementary level on videos with guidance from Jo and Isobel and other sessions will cover techniques of judging, general conduct, and discussions on the Way of Going and movements.
On the Saturday evening there will be an (optional) dinner followed by a 'Question Time' with the opportunity to put your queries or comments to Jo, Isobel and others.
The course fee is £85.00 which includes all the sessions, tea & coffee in the breaks and the dinner on the Saturday evening with a glass of wine.
Individual costs are:
Saturday plus evening meal = £57.50
Saturday only = £37.50
Sunday only = £37.50
Accommodation will be available on-site at Hartpury College at a cost of £35 per night (single rooms only) which includes breakfast.

Lunch is not included in the ticket price on either day but participants can purchase their own lunch from the College Restaurant.

If you wish to attend please book tickets via the BD Website Shop or Contact Claire Carter Education and Development Officer, on 02476 698833 or clairecarter@britishdressage.co.uk. Alternatively you can book tickets by sending a cheque to Claire Carter Education and Development Officer at British Dressage, Stoneleigh Park, Kenilworth, Warwickshire. CV8 2RJ.
Related Links
Gardner and Wessels Promoted to O-Judge Status