Spanish Dressage News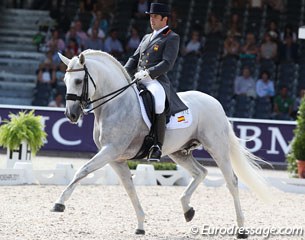 The Spanish team horse Jade de Mv has sadly passed away after a severe colic attack from which he could not be saved. Under Claudio Castilla Ruiz the grey stallion was a three-time Spanish team at major international championships.
Even though Jade de Mv was operated on yesterday by Joaquin Canto at the equine clinic in Jerez de le Frontera, the horse died early this morning.
The 12-year old Lusitano stallion was bred, reared and owned by Manuel Vidrié. The stallion was by Musico de Mv out of Bandolera II (by Neptune).
Castilla Ruiz and Jade de Mv were Spanish team members for three years in a row. They made their debut at the 2009 European Championships and finished 35th in the Grand Prix with 65.362% and seventh with the team. At the 2010 World Equestrian Games they were 34th in the Grand Prix with 67.319% and finished fifth with the team. At the 2011 European Championships they were fifth with the team and 37th in the Grand Prix with 66.900%.
Castilla Ruiz was a silver medalist at the 2008 Spanish Dressage Championships. He also won the Grand Prix and Special at the international dressage competition in Pompadour, France, in 2010.
"I can not describe how we feel," said a bereaved Castilla Ruiz. "We were so lucky to find him and together we have grown, matured, lived, suffered and built a dream. A dream that seemed like a utopia. A dream became a reality: two European championships, a World Championship and next we wanted to go to the Olympics. Nobody knew this when we saw each other the first time. This dream now seems to have been shattered, but nothing is further from the truth. For his spirit will always live on in Jade, me and all who have appreciated his great ability."
Source: Top Iberian
Related Links
Eurodressage Photo Database: Jade de Mv
Jan Bemelmans Prepares Spanish Riders for the 2011 Show Season
Spanish Grand Prix Team Heads for Germany in Preparation of Rotterdam
Spanish Team for the 2010 World Equestrian Games
Munoz Diaz, 2008 Spanish Grand Prix Dressage Champion
Spanish Team Returns to Its Winning Ways at 2010 CDIO Saumur