French Dressage News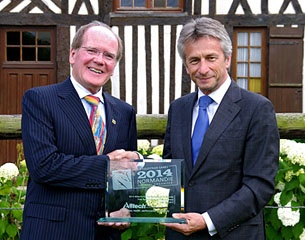 Laurent Beauvais, chairman of the Normandy 2014 Organising Committee and Dr. Pearse Lyons just announced that Alltech will be the title sponsor of the 2014 World Equestrian Games in Normandy. With the new sponsorship agreement, Alltech has committed itself to supporting their second, consecutive World Equestrian Games.
"These world championships of equestrian sport epitomise the values that we applaud: passion, excellence and performance. When the eyes of the world tune into watch the Alltech FEI World Equestrian Games in Normandy, France, we will be there," said Dr. Lyons.
This year marks the 20th anniversary of Alltech France and the kickoff to our 2014 sponsorship certainly provides a great excuse to celebrate. France and Normandy in particular, with its worldwide reputation of excellence in horse breeding, is a strategic location for our company. Alltech has a longstanding history of serving the agricultural community in France and we are thrilled to support the event in Normandy and to share in the pride of this spectacular event," said Dr. Lyons.
For more information on the 2014 Alltech FEI World Equestrian Games please visit, www.normandie2014.com
Related Links
2014 World Equestrian Games Are Awarded to Normandie, France
Eurodressage Coverage of the 2010 World Equestrian Games