2011 World Championships for Young Dressage Horses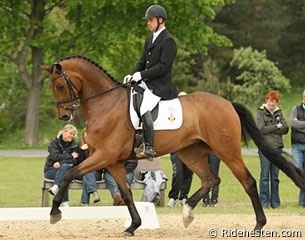 A big second group of horses qualified themselves at the selection trial in Middelfart for the 2011 Danish Selection Day held at Broholm 25 - 26 June 2011, where the definite team of horses will be picked that will represent Denmark at the 2011 World Young Horse Championships in Verden, 3 - 7 August 2011.
Two horses have qualified for Broholm based on video submissions. They are Luxembourg based Fabrix Miss Esandro (by Sandro King x Quilted xx) under Fie Skarsoe and N.O.H.'s Daijoubo (by Daddy Cool x Picandt).
The horses that qualified in Middelfart are:
5-year olds
Atterupgaard´s Final Kiss (FBW French Kiss – Diamond) - Sanne Henningsen
Rollo (Romanov – Romancier) -  Ulrik G. Sørensen
Don Soprano  (Soprano – Don Schufro) - Sabine Natalia Petersen
Romance  (Don Romantic – Lavallo) - Bettina Jæger
Højersmindes Rolex  (Romanov – Don Schufro) - Rikke Dupont
Monty Lindebjerg  (Michellino – Don Schufro)  - Jan M. Christensen
Divya Prydsholm  (Don Schufro – Aquilino) - Jan M. Christensen
Stasia Eg (Stedinger – Akinos)  - Matthias Tourbier
6-year olds
Rådbjergs Pari Piet  (Sandro Hit – Come Back II) - Anne Sofie Aaen
Tørveslettens Stamina  (Stedinger – Carano) - Andreas Helgstrand
Romando  (Romanov – Romancier) - Ulrik G. Sørensen
Halgårds Ca´Pri (Don Caruso – Lucky Light) - Nana Berg Christensen
Hønnerups Ecstacy (Romanov – Kalahari) - Lotte Straarup
Photo © Ridehesten.com
Related Links
Eurodressage Coverage of the 2011 World Young Horse Championships
Twenty-Five Youngsters Selected to Participate in 2011 Dutch WCYH Selection Process