2011 Bundeschampionate Qualifiers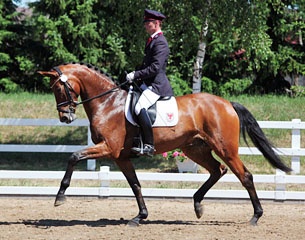 Paola and Repertoire swept the board in the Bundeschampionate qualification classes held at the Berlin-Brandenburg regional qualifier at the Sachs family's Julibellenhof in Prietzen on 3 - 5 June 2011. A modest field of competitors showed up for his qualier but three horses were able to score 8.0 or above, though one of them has already been victorious before.
In the 5-year old dressage horse test Christian Flamm topped the leader board with Paola, a bay Lord Loxley out of Poetin II (by Sandro Hit x Brentano II). The pair scored 8.20 to win the class and referred stall mates Lena Feistkorn on the stallion Quandolino (by Quando Quando x Lancer III) to a second place with 8.0. Both top ranked horses and bred and owned by the BHLG Neustadt Foundation.
In the 6-year old dressage horse test Ronald Luders confirmed his supremacy aboard his already qualified 6-year old stallion Repertoire (by Royal Olymp x Riccione). The Plaaz based pair scored 8.40 and left all competition leagues behind them. Wolfgang Schierloh and the Oldenburg stallion Leones (by Laurentio x Prinz Miro)
Results
5-year old Dressage Horses
1. Christian Flamm - Paola - 8.20
2. Lena Feistkorn - Quandolino - 8.00
3. Karin Winter Polac - Indian Queen - 7.60
4. Udo Nowak - Sinam - 7.30
5. Kristina Heuer - Rishu - 7.20
6. Julia Voigtlander - Christy - 7.00
7. Lena Feistkorn - Syriano - 6.90
8. Rene Mencke - Don Lyberty - 6.50
6-year old Dressage Horses
1. Ronald Luders - Repertoire - 8.40
2. Wolfgang Schierloh - Leones - 7.60
3. Julia Marrancone - Chica Nova - 7.50
4. Stephanie Fiedler - Furst Andiamo - 7.30
5. Ronald Luders - Sonique - 7.20
6. Patricia Munz - His Lordliness - 6.80
Back to the 2011 Bundeschampionate Index