2011 CDI Mannheim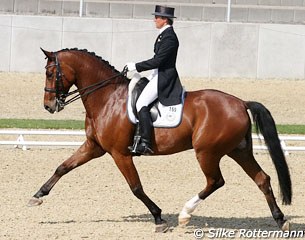 Is it a coincidence that the high pressure weather system dominating the weather in Germany for days now with its hot temperatures and sunshine, is called Uta? Probably yes, but it is befitting for the rider I am going to accompany a whole day at the 2011 CDI Mannheim. The idea of doing a different kind of show-coverage came myself when I realised my extremely tight time-schedule in May would not allow me to write extensive reports on the dressage classes at the traditional "Maimarkt"  show in Mannheim.
Some days before the show kicked off I phoned Uta Gräf, one of Germany's less renowned international Grand Prix riders but an absolute hidden treasure for the correct training of dressage horses. I asked if she would give me and the readers of Eurodressage the opportunity of hanging on her heels for one day at Mannheim.
The ever-cheerful Gräf, who lives not far from Mannheim near Worms, agreed and we came to terms to meet on the show grounds on Saturday morning, 7 May 2011.
8 am

I am already off and packing my stuff for Mannheim, an hour's drive from my home, when my mobile rings. It's Uta bringing bad news: Her Grand Prix mount Le Noir cannot start at Mannheim as he got a slight cold on Wednesday and is still not 100% fit. She sounds a bit disappointed, but reassures me we still can do everything as planned as her small tour horse, Dandelion, is going to start in the Prix St. Georges in the afternoon.
9.30 am

I am off to Mannheim and in contrary to last year everything goes smoothly.
No traffic on the exit to the "Maimarkt" exhibition area and a good parking place in the shadow on a day that promises to become one of the hottest so far this year.
I hurry to the press office to get accreditation and phone Uta so we can meet and start the whole thing. "Give me some minutes. I have just ridden Dandelion and I must take care of him," she tells me. "Let's meet at the warm-up ring, I have to train some of my students for the Para- dressage competitions."
10 am

While waiting for Uta, I watch the Para-dressage riders Grade IV warm- up in the three huge sand arenas behind the main (jumping) stadium and the dressage ring. I am amazed by the quality of the horses and the high standard of dressage the riders display, despite having more or less obvious disabilities to compensate.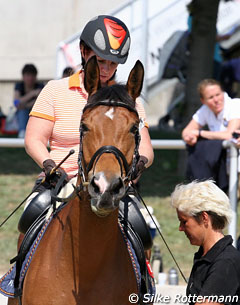 Soon I see bright blonde mane approaching me. Uta's dyed hairs and her unusual "wild" hair style are her trademark and cannot be missed! She welcomes me: "Hi. How are you? I have just groomed Dandelion and now I am going to teach my Para-riders. You know that I do this regularly at home and here the national coach is very busy, so I support Angelika and Britta a bit." Angelika and Britta are Dr. Angelika Trabert and Britta Näpel, two of Germany's most consistent and most successful Para- dressage riders for many years. Uta trains them now in her function of the Para-dressage trainer for the Rhineland-Pfalz area.
Mannheim is not only a CDI this year, but it traditionally hosts international Para- dressage competitions in all grades for years. This year it has a huge field of starters from all over the world.
Uta mounts Angelika Trabert's bright bay mare Ariva Avanti with whom she became World Champion in grade II in Kentucky last year. As Trabert was born without legs she has the permission that the trainer supples and exercises the horse for a maximum of 20 minutes. A steward in place checks this and also makes sure that the trainers do this according to the rules which say that wearing a safety helmet is obligatory. So Uta has to wait until Vivi, Trabert's groom, brings a GPA-helmet for her as she usually rides without. "I know, I know, one should wear a helmet. I admit I only do it with younger horses," Uta confesses.
After suppling Ariva she trains Trabert and the mare from the ground, giving quiet and careful advise. Meanwhile a radio reporter from Germany's well known SWR station interviews Uta for a report on Trabert. "Oh, I am only helping a bit as Angelika's home trainer only arrives later and the national coach is busy", she very modestly tells the reporter.
11.30 am

Helping a bit means Uta continues training her next student, 2008 Paralympic champion Britta Näpel on a small chique paint horse called Invisible Touch.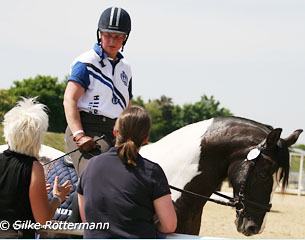 The sun burns now and the tribunes empty as lunch time is approaching while the Para-dressage grade IV is still in full swing. As the small paint works well Uta Näpel decides to stop after half an hour. Uta takes a look at her watch and says to Näpel: "Ok, I have a lunch now. You can bring the mare in 30 minutes, ok?"
In fact the next 30 minutes Uta has to split time between the stable tent not far from the warm-up arenas and her lunch. The evening before she has trailered her 9-year-old small tour horse to Mannheim and since then she is taking care of Dandelion by herself as her faithful groom Yasmin will only arrive prior to the competition. At home a stable of horses needs to be exercised before "Jassi" can head off to support her boss. We pass the exit to the "village" of stable tents. Here more than 1,000 horses, which take part in 58 international jumping and dressage classes, are housed during the huge Maimarkt-show. To my surprise the temperature in the stable tent is bearable and it is not very sticky, although outside the scale nears 30° C.
Some jumping horses are braided, one rider leads his grey up and down the rather narrow stable corridor which is even more narrow with many movable tack-boxes and cupboards standing in front of most boxes. Uta welcomes Dandelion who looks calm and content, resting a bit by having his head low, but he pricks his ears when his rider talks to him. Everything is fine and Uta goes outside and picks up a trunk with fresh water for the Swedish-owned Hanoverian.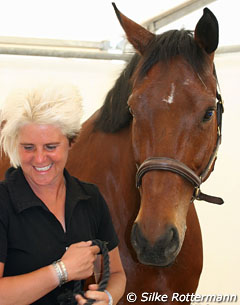 Having made sure that her horse is happy Uta and I leave the stables. We make it rather slowly to the VIP-tent approximately 100 metres from the stabling area. There we see so many riders, trainers and judges cross our way and some greet Uta who chats with them as if she has all the time in the world.
1 pm

Finally we are having lunch. The buffet is fabulous and we have a look from our table on the main stadium in which an international jumping class is being held.
One should assume Uta has to be stressed or in a hurry with her next Para-rider awaiting her in about 10 minutes and her own competition only 3 hours away. Neither her horse nor her tack is ready for it.
Instead the 39-year-old talks to me about her Grand Prix horse Le Noir who sadly has to miss Mannheim but she reveals her plans where she wants to show him instead. I ask about DJ, Prof. Hitschold's Rhineland stallion Damon Jerome, who was the talk of the day at the 2010 World Young Horse Championships in Verden. It is like I have lit a fire. Uta beams and her eyes are shining: "DJ? Oh, yesterday he won the Bundeschampionat-qualifier at Hofgut Petersau with 8,7. You know I love riding all my horses, but DJ is so exceptional. He is always completely relaxed and supple, dressage is an easy game for him."
1.30 pm

Uta is back at the warm-up to train Britta Näpel on her 2nd horse, the chestnut Aquilina which she competed at the 2010 WEG in Kentucky. In between the first riders of the CDI Grand Prix are preparing their horses as well as several jumping riders of which one catches my eye as he trains his horse with a gogue in a head position I would not like to have my own horses in.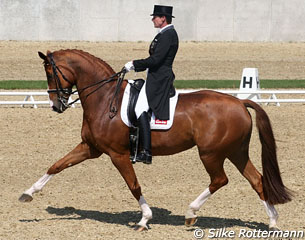 The Grand Prix unfortunately has only 9 starters which is a pity as Mannheim always used to have bigger fields. The Horses&Dreams show in Hagen held the same weekend obviously provides strong competition. However with Ulla Salzgeber and Isabell Werth from Germany, Emma Hindle and Anna Ross-Davies from Great Britain as well as Elisabeth Eversfield Koch from Switzerland the class still has several championship riders.
While Uta is fighting with Britta's non-working headphones I watch a chestnut formerly presented by German Juliane Brunkhorst. The mare Flirt de Lully CH is now ridden by a Dutchman, Marcel Schoenmakers. The warm-up rings are a kind of meeting point for riders, trainers, horse owners and judges alike. Some more, some less well known. A familiar face to Mannheim is Madeleine Winter- Schulze who follows her horses with great interest as her "jockeys" Isabell Werth and Ludger Beerbaum start there almost annually.
I am a bit in the dark concerning the many Para Dressage riders (one even from Mexico) who train their horses in between the able-bodied riders and sometimes I cannot even notice the difference! Meanwhile Uta has managed to make the headphone work and gives instructions and lots of praise to Näpel and her mare who moves in an ideal frame.
For some moments Uta's concentration switches from her student to a most beautiful grey stallion which has entered the ring: Birkhof's Denario, the 8-year- old former Bundeschampion for young dressage horses. "Isn't he gorgeous?" Uta mentions and I agree. Not only is the Bavarian (by Denaro) a very attractive horse, but he is also ridden masterly by Nicole Casper from Birkhof Stud.
2.30 pm

Uta has finished with her last student and we hurry back to the VIP-tent to get a cold drink before returning to the stables. The weather continues to be really nice, but standing in the hot sunshine for a longer time one really feels like being in the desert and we empty two glasses in record time.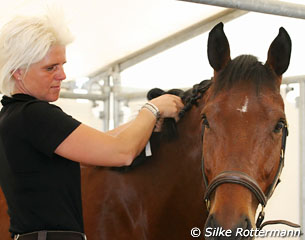 Again Uta is approached by several people and a student of her talks to her about a horse she intends to buy for Para-dressage. Uta listens with interest and takes her time to watch a video-clip of the horse and comments on it, so she must be behind her time schedule now. As the lady is not sure if she can sit this horse Uta generously offers to come with her next Tuesday and have a look herself. I am wondering what has to happen to make this woman stressed or nervous or to lose her cheerfulness. A tight schedule definitely not!
Finally we have returned to Dandelion. He has drunk half of bucket and still looks content and calm whereas other horses in the tent seem to sense their show time approaching and act like that. Opposite Dandelion dressage rider Leif Hamberger's Sandro Hit-offspring Stepdancer is being prepared for the same class Dandelion is going to take part in, the Prix St. Georges which is a warm-up for the Nurnberger Burgpokal qualifier on Sunday.
While Dandelion goes at half past 4 Stepdancer opens the competition 30 minutes earlier.
As Uta still has no groom Uta starts to plait and stitch the mane of her horse and I clean her tack and boots in the meantime. I need some moments to convince her that it's not hard work for a journalist before she agrees. Dandelion is tied up to the bars of the box and unlike his neighbour, a jumper which is less co-operative, he remains absolutely calm and seems to rest in himself. Uta stands on a block and starts plaiting his mane. She uses the time to repeat the programme of her competition and Leif Hamberger reassures her she knows everything in the right order. Both chat a little bit about horses.
3 pm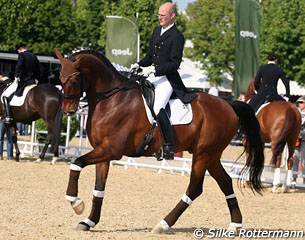 Dandelion is plaited and groomed and looks immaculate. Uta awaits her partner, Stefan Schneider and her groom, Yasmin Simon to arrive from her yard less than an hour away from the show ground. She has to switch her chique HV Polo riding breeches and polo-shirt for her tail-coat and white breeches and for that heads off to the car. I in the meantime hurry to the dressage ring to watch the last starters of the Grand Prix, Ulla Salzgeber and Elisabeth Eversfield-Koch. I take some photos of both rides as well as the prize giving before I return to Uta.
4 pm

She appears with Dandelion, who only wears overreach boots ("He doesn't bang his legs"), her partner, groom "Jassi" and Christian Rausch, a jumping rider working for her.
The PSG has already started and the warmup ring is rather crowded. More and more spectators appear.
Uta's relaxed state of mind can also be witnessed in her team: Nobody is tense, nobody stressed. Everybody seems to enjoy the little trip to Mannheim and awaits the boss' start with joyous apprehension. Uta starts warming up Dandelion and her team remains at the sideline watching her. Uta knows what to do. I climb up the grassy wall which separates the dressage arenas from the parking behind to shoot the warm up.
The bay Dandelion appears as relaxed and happy as in the stable. This gelding was trained by German Olympic Champion Martin Schaudt until autumn 2010 when he was sold to Swedish people who gave the ride to Uta. Sired by De Niro the friendly Hanoverian moves with a great smoothness and amazing power from behind. Uta is one of the riders training in an exemplary way. In between exercising single movements she allows Dandelion to stretch and take a breather before continuing.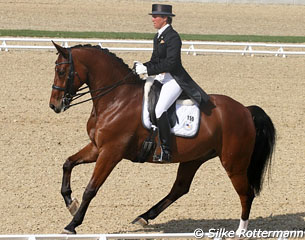 It is amusing for me to see that many obviously non-horsey visitors to the Maimarkt exhibition are more interested in Uta's hair- dress than her riding! A woman remarks that to her husband: "If these riders would wear such hair styles instead of these top hats I would find it almost interesting," she jokes.
4.20 pm

12 minutes left before Uta's start. She halts Dandelion at the exit and Jassi gives her the tail-coat which must be a "pleasure" to wear today. The groom gives the horse a final wipe with the cloth to make him shine. I cannot stay any longer as I have to head off to the dressage- arena and find a good place to take photos. I am lucky because I just catch the winner of the class, Hessian rider Thomas Wagner on the impressively trotting and cantering Amoricello (by Abanos).
4.30 pm

Dandelion appears in the arena. Uta trots and canters him around the arena and he is absolutely with her. The test begins and the trot tour is mind blowing. Dandelion is a horse that scores highly as soon as he begins moving. In all movements he is ideally elevated, nose in front of the vertical and obviously enjoying the whole thing. Unfortunately he makes mistakes in the flying changes which set him back to 4th place.
4.50 pm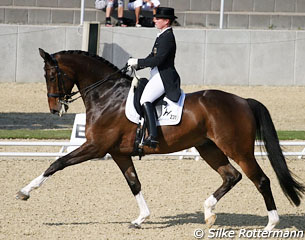 Dandelion is on his way to the stable-tent with Jassi. Uta and her partner discuss her ride while both watch Isabell Werth warm up her new talent, the huge Oldenburger Laurenti who is only 7 years old and came from her former trainer Dr. Uwe Schulten- Baumer senior. Uta heads to the arena to watch the rest of the class with Stefan Schneider.
6 pm

The last horse has done its programme and the prize giving ceremony is nearing.
Jassi has resaddled Dandelion and has bandaged him stylishly with four white wraps. Uta gets dressed herself with the tail coat and top hat again, even though she would have preferred remaining without them as the temperatures are almost tropical.
While waiting for the prize giving to begin she rides side by side with Isabell Werth and has some conversation with her famous compatriot. Next to the tall Laurenti Dandelion almost appears like a pony as Werth's youngster is really one of the biggest dressage horses I have ever seen in my life!
As we all know and have seen in the past prize givings are not always the most quiet occasions, but this one is harmless. Only Laurenti is a little bit excited, but at age 7 he is more than allowed to and Werth calms him down successfully.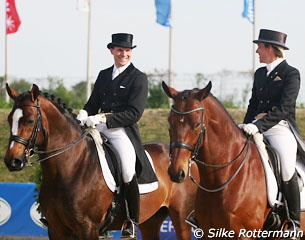 The 9-year old Dandelion stands with long reins next to the cute stallion Flatley (ridden by Matthias Bouten, Werth's bereiter). Uta's horse is rather a bit disinterested in the whole thing and may be dreaming of his field at home where he usually spends lots of time every day. Yet in his lap of honour he pricks his ears and canters obediently out of the arena where Jassi awaits him.
6.30 pm

For Uta Gräf a long day at the show grounds is finished; a day in which she was multi-tasked successfully in several fields. She always remained cheerful, positive and relaxed in whatever she did. I thank her for allowing me to follow her in all her activities and shortly before 7 pm I walk back through masses of people to my car.
The sun is still shining brightly and the temperatures are in the high 20s. Standing in the Mannheim traffic on my way back to the motorway home the radio announces the forecast: "High pressure system Uta continues to make us smile and might bring the first 30° C of 2011 tomorrow."
I have to smile indeed, because whoever has chosen the name "Uta" for this brilliant weather couldn't have chosen better!
Text and Photos by Silke Rottermann for Eurodressage.com
Related Links
Scores 2011 CDI Mannheim
So What a Feeling and Damon Jerome Win at 2011 Frankenthal Bundeschampionate Qualifier
A Walk on the Premises: Uta Graf and Stefan Schneider, a Kingdom for a Horse