Brazilian Dressage News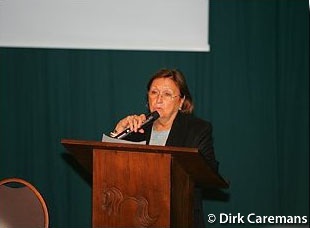 Belgian O-judge and former FEI Dressage Committee chairwoman Mariette Withages has been invited as keynote speaker and IDOC representative at a training seminar for 3 and 4-star FEI judges in Brazil.
Withages is the president of the International Dressage Officials Club (IDOC) and will be conducting the seminar at the Equestrian Club of Santo Amaro near Sao Paulo, Brazil, on 26 - 29 May 2011.
"We want to provide refresher courses for our national and international level dressage judges," aid Colonel Salim Nigri, international judge and dressage director of the Brazilian Equestrian Federation. " The Dressage Committee has invested in education over the years, because it believes this is one of the most projects for the development of the sport. knowledge not only benefits our judges, but also our rider and trainers."
"Being in touch with judges from more developed countries in the sport generates interaction, exchange of experience and knowledge," Nigri continued. "Good training techniques allow for a better understanding of what is assessed, for a more consistent and fair judging; in short greater transparency."
Brazil is working hard at developing dressage in its country. With Swedish judge Eric Lette as team trainer and Mariette Withages bringing the judging to a higher level, the country aims at improving the position of the sport on a continental level.
Photo © Dirk Caremans
Related Links
Eric Lette Called Back to Duty to Help Brazilians Towards 2012 London Olympics
Munoz Diaz Sets Brazilian Dressage Hearts Aflame at Tribuna Lusitana Clinic
First Ever Brazilian Team for World Equestrian Games Selected