2011 Bundeschampionate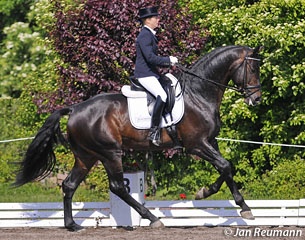 So What a Feeling OLD and Damon Jerome H were the winning horses of the Bundeschampionate qualification classes at the Rhineland regional qualifier at Hofgut Petersau in Frankenthal, Germany, on 6 - 8 May 2011.
Katja Galmbacher-Weisbrod won the 5-year old division aboard the Oldenburg branded So What a Feeling (by Sandro Hit x Ex Libris). The combination was the only one to score the qualification criterium of 8.0 or higher. With 8.10 they won the class and referred Meike Lang on the Baden Wurttemberger bred Wilander R (by Weltmeyer) to a second place with 7.50. Vanessa Siep and the Holsteiner Capo (by Cracker Jack) were third with 7.40.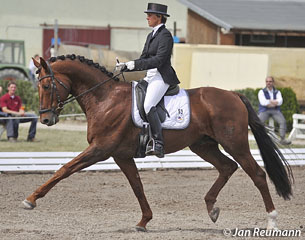 In the 6-year old dressage horse test Grand Prix rider Uta Gräf was unbeatable aboard Valerie Hitschold's brilliant Rhinelander bred Damon Jerome H (by Damon Hill). The combination won with an 8.60 score and was a league of her own. Luxembourg based Sascha Schulz was second on the Hanoverian Sacre Coeur (by Sir Donnerhall I) with 7.6, while Dutch Arjan van Loon slotted in third place on the Westfalian Sally Brown (by Sir Donnerhall I) with 7.3.
Photos © Jan Reumann - more amazing photos from the CDN Frankenthal at www.premium-images.de
Results
5-year old Dressage Horses
1. So What a Feeling OLD - Galmbacher Dr., Katja - 8.10
2. Wilander R - Lang, Meike  - 7.50
3. Capo - Siep, Vanessa - 7.40
4. Dirty dancing - Liss, Klarissa-Alexandra - 7.30
4. Fleur Roxanne - Luze, Oliver - 7.30
6. Laurice - Pfeiffer, Kim - 7.10
6. Donnerglanz - Siep, Vanessa - 7.10
8. Loriot - Rohr, Laura - 6.90
8. Der Dante - Schröppel, Volker - 6.90
10. Sir Hawk - Hidien, Alexandra - 6.80
10. Florentine - Schröppel, Volker - 6.80
12. Kowalski - Lang, Meike - 6.70
13. Danny Ocean - Pollmann-Schweckhorst, Christiane - 6.50
14. Laavanyo - Wüsthof, Uta - 6.40
Moosbachhof's Fidalgo - Galmbacher Dr., Katja - RET
Follow me  - Brünen, Stefan - DNS
6-year old Dressage Horses
1. Damon Jerome - Gräf, Uta- 8.60
2. Sacre Coeur - Schulz, Sascha - 7.60
3. Sally Brown- Loon, Arjan van - 7.30
4. Walk On Top K  - Baguß, Dirk- 7.10
4. Quiztime - Schön, Jennifer    RFV Wintermühle e.V.     7.10
6. Rosenstolz - Galmbacher Dr., Katja  -  6.80
6. Berlusconi - Hartmann, Ralf -  6.80
8. Lafayette le Grand - Wüsthof, Uta - 6.40
Back to the 2011 Bundeschampionate Index