2011 Bundeschampionate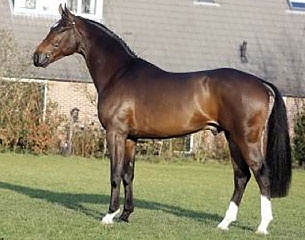 Dorothee Schneider's Showtime and Wolfhard Witte's For Romadour topped the charts in the Bundeschampionate qualification classes at the regional show in Bremen, Germany, on Saturday 30 April 2011. A staggering total of 12 horses achieved the Bundeschampionate qualification score of 8.0 or higher and got that entry ticket for the big Finals held in September in Warendorf.
Framersheim based Dorothee Schneider travelled 500 kilometers up north to ride several horses at this competition. With Gabriele Kipper's Hanoverian gelding Showtime (by Sandro Hit x Rotspon) Schneider posted a masive score of 8.9 to win the 5-year old division. She left all competitions miles behind her as second placed Nadine Plaster "only" got an 8.3 aboard Pferd 24's Hanoverian stallion Snap Shot (by Sir Donnerhall x Alabaster). Anne Lauderbach finished third with 8.2 aboard the Craig Perkins' and Laura Summerhayes' Hanoverian stallion  Fiderstar (by Fidertanz x De Vito). She tied with Tessa Frank on Helmut von Firck's Hanoverian mare Simply Nymphenburg (by Sir Donnerhall x Weltmeyer).
In the 6-year old dressage horse test, which is ridden at M-level, Celle state stud rider Wolfhard Witte achieved the highest score of 8.4 aboard For Romadour, a Rhinelander branded stallion by Furst Heinrich x Pik Bube I. The bay licensed stallion is owned by Josef Hüpen and Wiebke van de Lageweg and was previously competed at the 2009 Bundeschampionate by Christian Reisch. Dorothee Schneider followed closely with 8.2 on Mrs Ullrich's St. Emilion, a Westfalian stallion by Sandro Hit x Ehrenwort which she acquired at the P.S.I. Auction for 550,000 euro.  Two riders slotted in on third place with an 8.1 score: Annemarie Finger on the Hanoverian stallion Hightime (by Hochadel x Walt Disney I) and Julia Katharina von Platen on the Oldenburg gelding Rembrandt  (by Rembrandt Royal x Donnerschlag).
Photo courtesy VDL Stud
Results
5-year old Dressage Horses
1. Dorothee Schneider - Showtime - 8.9
2. Nadine Plaster - Snap shot - 8.3
3. Anne Lauderbach - Fiderstar - 8.2
3. Tessa Frank - Simply Nymphenburg - 8.2
5. Holga Finken - Balesteros - 8.1
5. Laura Hassler - Sissy von der Heide - 8.1
7. Hannes Baumgart - Roberto Cavalli - 7.7
8. Julia-Katharina von Platen - Boronia - 7.6
8. Anja Schoka - Willis - 7.6
10. Heiko Klausing - Bvlgari - 7.5
10. Stefanie Kerner - Darnell - 7.5
10. Steffen Frahm - Lord Laurie - 7.5
10. Yvonne Reiser - Royal Classic - 7.5
10. Andrea Mu?ller-Kersten - Sissi - 7.5
10. Annemarie Finger - Serrano - 7.5
16. Andrea Mu?ller-Kersten - Apassionata - 7.3
16. Lena Stegemann - Fabregas - 7.3
18. Kathrin Ilgner - Amadelio - 7.2
18. Friederike von Waaden - Darius - 7.2
18. Stefan Blanken - Doolittle - 7.2
18. Thomas Szestopalow - Fenicio - 7.2
18. Thomas Szestopalow - Jamiro - 7.2
18. Marco Bu?hrig - Seerose - 7.2
24. Desiree Ziolkowski - Caentino - 7.1
24. Iris Hanno?ver - Fjordor - 7.1
24. Marco Bu?hrig - Standsfield - 7.1
27. Antje Teute - Celine - 6.4
6-year old Dressage Horses
1. Wolfhard Witte - For Romadour - 8.4
2. Dorothee Schneider - St. Emilion - 8.2
3. Annemarie Finger - Hightime - 8.1
3. Julia-Katharina von Platen - Rembrandt - 8.1
5. Susan Pape - Harmony's Fiorano - 8.0
5. Hartwig Burfeind - Furstano - 8.0
7. Frederic Wandres - Sir Westerland - 7.8
8. David Taylor - Fergonn - 7.7
9. John Mc Cormack - Sonnenreiter OLD - 7.6
9. Marita Pundsack - GQ Ruling Cortes - 7.6
11. Heiko Klausing - Lauderdale - 7.5
12. Juliane Brunkhorst - Calimero M - 7.4
13. Eckhard Wahlers - Dandy Warhol - 7.2
13. Steffen Henjes  - Dark Doessier - 7.2
15. Insa Hansen - Dante - 6.9
15. David Taylor -  Samiro - 6.9
17. Insa Hansen - Del Duero - 6.8
18. Ingrid Wilkens - Falco - 6.7
19. Friederike von Waaden - Fantasia - 6.6
Back to the 2011 Bundeschampionate Index