2011 Preis der Besten Qualifier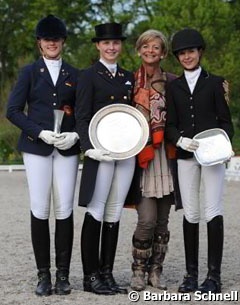 The 2011 Preis der Besten show circuit started last weekend with the central and south German qualifier held at Ann Kathrin Linsenhoff's Schafhof in Kronberg, Germany on 16 - 17 April 2011. Pony rider Jessica Krieg, junior riders Johannes Ruhl and Tara Annabelle Plewa and young rider Sanneke Rothenberger took the blue in the six tests that were ridden during the two-day event.
European pony champion Jessica Krieg showed she's still the number one to be reckoned with on her top pony, the palomino licensed stallion Danilo (by Dornik B). She won both pony tests with 813 points and 869 points keeping second placed Lena Charlotte Walterscheidt far at bay in the ranking. Walterscheidt placed second twice on the Baden Wurttemberger bred Lord Champion (by Le Champion) with 779 points and 839 points. Krieg and her second pony Ghost (by Going Top) finished third twice as well with 772 and 835 points.
In the junior riders division a tough duel took place between Johannes Ruhl and Tara Annabelle Plewa who were both once first and once second in the two classes. Ruhl won the first round aboard the Westfalian mare Flying Lady (by Florestan), while Plewa dominated the second with the Oldenburg bred Rero (by Regazzoni). Elena Betz and Rich Charly II (by Royal Diamond) were third in the first test, while Kristin Beer and Indira (by Donnerschlag) slotted in third in the second round.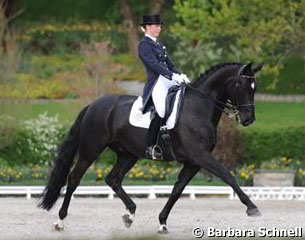 With Fabienne Lutkemeier having moved to the senior divisions, Sanneke Rothenberger now has free reign to be Germany's number one young rider. She placed first and second in both Young Riders tests with the Oldenburg Deveraux (by De Niro) and Hanoverian Wolke Sieben (by Wolkenstein I) scoring top notes. She won the first test with 74,6% and the second with 77,982%. Jill de Ridder and Jasmin Buttner were the two riders following closest in her wake by ranking third.
The second and final Preis der Besten qualifier will be held in Vechta on 30 April - 1 May 2011.
Photos © Barbara Schnell - CHECK OUT THE IMAGE GALLERY BELOW!
Show results click here
Related Links
Krieg, De Ridder, Roth, Lüttgen Score at 2010 Preis der Besten Qualifier in Kronberg
Rothenberger and Frenzen Win at the 2009 Kronberg Preis der Besten Qualifier
Rothenberger Dominates 2008 Kronberg Preis der Besten Qualifier