Veterinarian News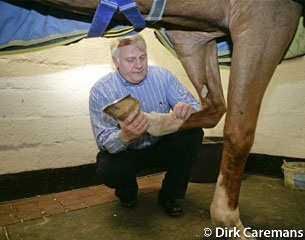 An equine regenerative seminar will be conducted at the Palm Beach Equine Clinic in Wellington, FL on 17 February 2011.  The PBEC will host the seminar at its Wellington clinic in co-operation with Equstem.
The two hour seminar will begin at noon and will discuss practical applications and uses of umbilical cord and bone marrow derived stem cells along with platelet rich plasma (PRP).  The use of these novel therapies and treatments in equine injuries will be explored.
EquStem's propriety process for collecting, processing and storing equine umbilical and bone marrow stem cells makes these therapies easy to perform and readily available.   In addition, the E-PET PRP system enables horse owners to utilize the latest technology for therapy in tendon, ligament, and joint injuries.  When a client stores their horse's stem cells, the cells can be used at a later date to effectively treat future injuries
In addition to supplying bone marrow stem cells and E-PET systems, EquStem was the first commercial equine umbilical cord blood derived stem cell bank in the United States.  Based in Hackensack, NJ with laboratories in Allendale, NJ, EquStem offers an autologus bone marrow stem cell service for veterinarians treating horses with musculoskeletal injuries.
Palm Beach Equine Clinic serves the Wellington, FL equine community in the breeding, general practice and surgery fields.  They have partnered with EquStem to make regenerative medicine available to the Wellington horse community.
"This seminar will enable the Wellington horse community to learn and see how the benefits of regenerative therapies can improve a horse's life and working career.  We thoroughly believe that regenerative therapies and the storage of stem cells can increase the value and performance of equine athletes," said Dr. Jerrold Grossman, President of EquStem.
Related Link
International Veterinary Sport Horse Congress at 2011 CDI-W Amsterdam