2010 World Equestrian Games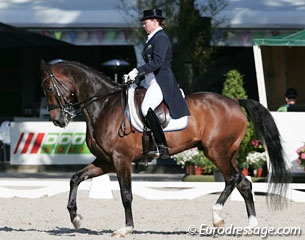 Sweden's number four rider Charlotte Haid-Bondergaard has been forced to withdraw from 2010 World Equestrian Games' participation because her Grand Prix horse Lydianus suffered from a colic. As the Swedish reserve horse Normandie JB (Anette Christensen) is injured, Sweden will be forced to travel to Lexington, KY, with only a team of three riders.
Charlotte Haid-Bondergaard's Holsteiner gelding Lydanius (by Lorentin) has a history of colic and on Monday evening he suffered from another bout. The gelding has been treated at Helsingborg equine clinic and was already able to go back home the next morning. Lydanius should now be completely recovered
However, Haid-Bondergaard has decided together with team veterinarian Jonas Tornell and chef d'equipe Bo Jena not to make the journey to the U.S.A.
Sweden will be represented at the WEG by the trio Patrik Kittel (Scandic), Tinne Vilhelmson-Silfven (Favourit) and Minna Telde (Larina Hom).
Back to the 2010 WEG index