2010 French Dressage Championships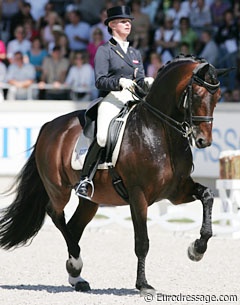 Arnaud Serre captured the  Grand Prix champions' title at the 2010 French Dressage Championships hosted at the National Riding Centre in Saumur, France, 9 - 12 September 2010. Serre accomplished this feat aboard the grey Andalusian Helio II, previously owned and competed by the late Sylvie Corellou, who tragically passed away in a car crash in February 2010.
Serre and Helio II were on form and took the victory in all three championship rounds. With 74.800% in the Kur to Music, Arnaud distanced himself from the pack and totalled 210.386 points in the overall ranking which placed him first.
"I'm very happy," Arnaud Serre told the French equestrian magazine Grand Prix. "It was really a great championships and it was a bit unexpected because I only got to ride Helio II a little while ago. To achieve such an accomplishment this quick is totally great." Serre rode the freestyle with Helio II for the first time in competition. "The judges seemed moved and it generated a lot of emotion amongst the crowds," said Serre.
Remy Issartel and the French bred Hilton du Clotobie became the reserve champions with 204.639 points. French rising star Sebastien Duperdu and the grey Dutch warmblood Passe Partout (by Gribaldi) climbed to a bronze medal position in his first national championship at the highest level. The combination made their debut at Grand Prix level this 2010 show season and competed at their first international in Vidauban a few weeks ago.
At small tour level, Haras de Hus in-house trainer Jessica MIchel was unbeatable aboard the Oldenburg mare Riwera (by Welt Hit II). The combination was first in all three rounds and pushed Pierre Subileau on Talitie (by Gribaldi) to a second place and Maxime Collard on the schoolmaster grey stallion Cockpit (by Cantus) to a third spot.
2010 French Grand Prix Championship Results
Grand Prix - Special - Kur to Music - Total score
1. Arnaud Serre - Helio II -  66,128 - 69,458 - 74,800 ---210,386
2. Remy Issartel - Hilton du Clotobie - 65,489 - 67,000 - 72,150 --- 204,639
3. Sebastien Duperdu - Passe Partout - 64,851 - 65,083 - 71,650 --- 201,584
4. Antoine Lion - Concerto - 65,574 - 64,875 - 69,950 --- 200,399
5. Ludovic Martin - Pastor GUB - 65,234 - 65,208 - 69,150 --- 199,592
6. Jean Noel Mychalysin - Hohwald des Cloets - 64,128 -  63,375 - 67,400 --- 194,903
7. Marc Boblet - Olivier - 63,957 - 62,292 - 67,550 --- 193,799
8. Michel Moure - Sultan - 65,489 - 62,792 - 65,100 --- 193,381
9. Anthony Astier - Celaeno - 61,149 - 60,875 - 66,900 --- 188,924
10. Muriel Leonardi - Walentina - 59,404 - 63,125 - 64,500 --- 187,029
11. Gabrielle Mathieu - Das Bin Ich - 61,702 - 61,542 - 61,850 --- 185,094
12. Bertrand Lebarbier - Jordy de la Rose - 60,936 - DNS - DNS --- 60,936
2010 French Small Tour Championship Results
Grand Prix - Special - Kur to Music - Total score
1. Jessica Michel - Riwera - 71,632 - 72,842 - 77,200 --- 221,674
2. Pierre Subileau - Talitie - 68,684 - 66,632 - 74,400 --- 209,716
3. Maxime Collard - Cockpit - 66,368 - 66,947 - 74,000  --- 207,315
4. Anne Chapron - Sweltmeyer - 68,050 - 68,158 - 70,950 --- 207,158
5. Alban Tissot - Le Whirlwind - 68,000 - 66,526 - 70,150 --- 204,676
6. Bertille Pelardy - Sable - 66,789 - 67,632 - 69,750 --- 204,171
7. Stephane Mazzacco - No Limit - 65,579 - 66,789 - 69,750 --- 202,118
8. Jean Pascal - Lutin des Neiges  - 65,789 - 65,421 - 69,500  --- 200,710
9. Laurence Blaya - Galliano - 65,000 - 65,421 - 68,450 --- 198,871
10. Sylvie Zarnowski - Dolcetto - 65,263 - 64,579 - 68,050 --- 197,892
11. Jean Paul Largy - Welfenkonig - 66,526 - 64,474 - 65,600 --- 196,600
12. Pauline Leclerq - Khallgazel du Maupas  - 64,842 - 66,316 - 65,050  --- 196,208
13. Fabien Godelle - Liaison - 66,421 - 63,158 - 66,400 --- 195,979
14. Philippe Limousin - Warina - 65,579 - 63,737 - 65,200 --- 194,516
15. Marie Emilie Bretenoux - Union - 63,947 - 64,263 - 64,450 --- 192,660
16. Sheila Terzian - Sunnyway - 62,684 - 63,263 - 65,800 --- 191,747
17. Charlotte Millier - Ulrike van Overis - 63,000 - 62,053 - 65,050 --- 190,103
18. Sophie Falconnier - Dacapo - 60,947 - 61,789 - 65,100 --- 187,836
19. Caroline Netter - Peppermint - 61,737 - 61,737 - 64,100 --- 187,574
20. Sandrine Page - Anke - 61,947 - 62,737 - 56,950 --- 181,634
Related Links
Siat and Collier Win at 2009 French Dressage Championships
Sylvie Corellou Died in Car Accident